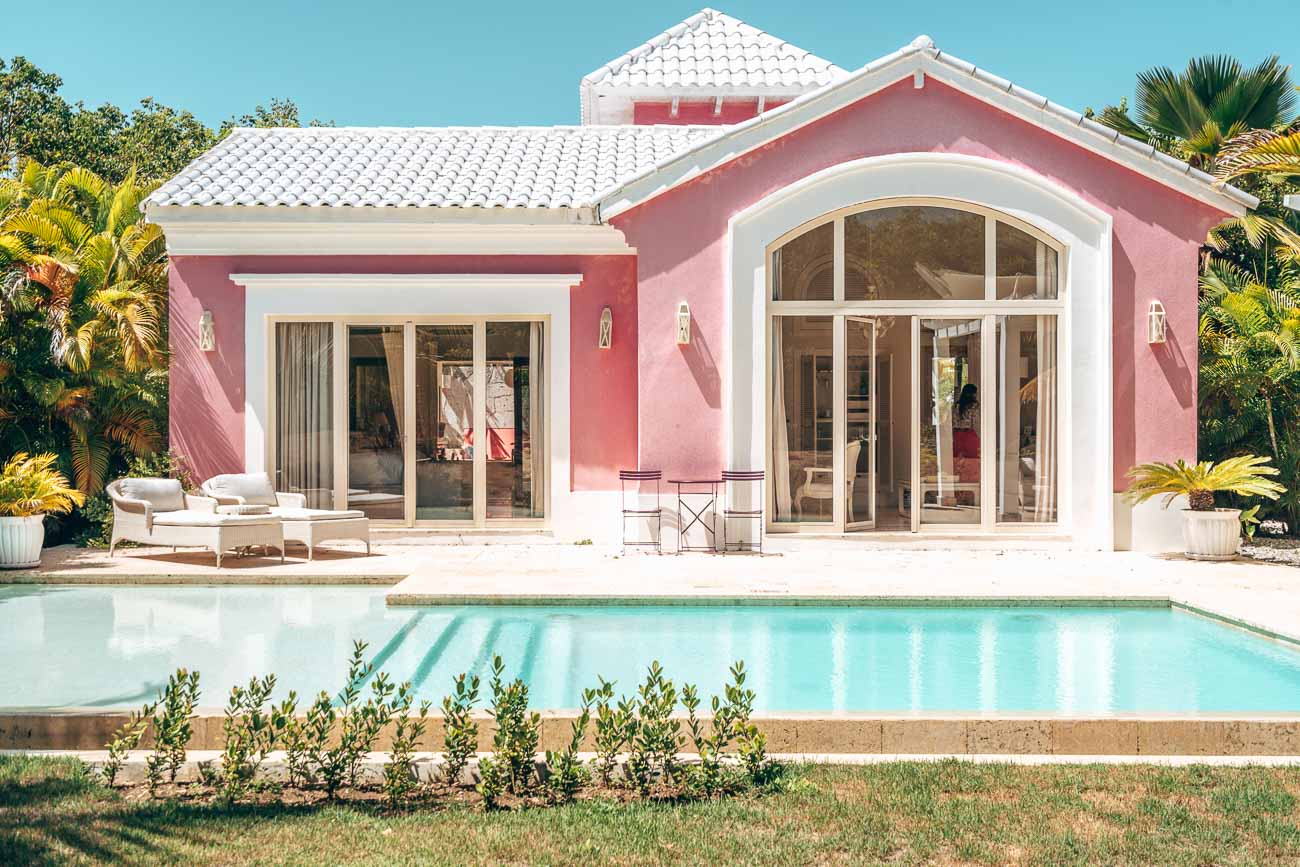 Max and I traveled to Eden Roc Cap Cana last week after spending 2 weeks in isolation in the Northern Dominican Republic. Before we jump into the review, I wanted to be very clear in that while we are traveling during COVID and are lucky to have the experiences we do, we take our position very seriously and wear masks in all public places, including restaurants. We also did quarantine ourselves for two weeks prior to entering into a number of media related activities. Times have changed and hospitality looks very different now. We urge you to travel cautiously and only when you can be sure you are not ill. Please be aware of all state or local regulations for any destination prior to travel.
Now that that's been said, let's jump in! Eden Roc Cap Cana is a spectacular property part of the Relais & Chateaux portfolio, boasting stunning villas and suites across an expansive, two-part property. There is a lot to explore at Eden Roc and inside Cap Cana as a whole. We were lucky to experience all three distinct room types, so we'll let you know our thoughts so you can decide what's best for you. Also, stay tuned, because at the end of the review, we will talk about our new COVID-19 rating where we evaluate hotels outside of our standard scale on how they have handled the coronavirus. This new rating does not impact their overall score to ensure a fair comparison to hotels in "normal" times.
Situated on a pristine, small bay within the gated Cap Cana community is the famed Eden Roc. Cap Cana itself is a beautiful, gated community that is home to a number of luxury resorts and condominiums. Eden Roc offers both a "beach club" side and the "villa" side, offering guests privacy and seclusion or quick access to the beach. There is also a Jack Nicklaus golf course in the middle of the property, making it an epic escape for golfers.
Eden Roc also has its own private beach and they've heavily invested in technology to reduce (and remove) sargassum from the shore. While most properties in the Punta Cana area are heavily effected by this seaweed invasion, Eden Roc has managed to keep it out and maintain their crystal blue water and white sand on their shores. They assured me that it is done with environmental concerns in mind and developed after multiple ecological studies. The end result is a pristine beach with soft waves lapping against the shore: it's pure heaven.
Guests are also provided with their own golf cart for the duration of their stay, which enables you to explore the entire Cap Cana community at your own pace.
Lobby & Check in experience: 4.5/5
All guests within the Cap Cana community have to register at the main sales and information office prior to entering into the gated community. We were coming from Sanctuary Cap Cana, inside the gated community, so we simply drove over to Eden Roc, which was approximately 6 minutes.
There are technically two lobbies at Eden Roc, catering to both sides of the resort. Since we were there during COVID times, only the beach lobby was open so we proceeded towards the beach. The lobby is beautiful – an open air palapa with soaring ceilings and wooden decor. It feels rustic and open. Eden Roc immediately was different from our previous property, because the valets opened our car doors, grabbed our luggage and escorted us to the front desk. We were checked in swiftly by the wonderful front desk manager. There was no welcome beverage and it was unclear if this is an always thing or a COVID times thing. Typically, we appreciate a cold beverage or glass of champagne upon check-in.
We were booked into a Luxury One Bedroom Pool Villa on the "villa" side of the resort so we were taken with our personal golf cart to our beautiful, pink villa. The Villa section is about a 4-minute drive from the beach lobby. During this COVID time, all activity at the hotel is centralized in the beach area, so there are no services or amenities open on the villa side – keep that in mind if you are traveling in the next few months.
Eden Roc offers travelers three very distinct experiences. We will explain each one and start with the villa that we were booked into:
Luxury One Bedroom Pool Villa – in the Boutique Pool Suites category
With over 1,000 square feet of interior bliss, the Luxury Pool Villas are a perfect escape for couples looking for a very secluded, dare I say, socially distant experience. The villas are very private, ours facing away from the property, making it very easy for us to run around in peace (aka, Max in a pareo). Outside our little pink villa was a golf cart parking spot waiting for us. I believe nightly they typically plug in your cart for you, however, ours was never plugged in but lasted the weekend.
Inside the villa is an expansive living room, with a dining table for two, desk and full minibar. Beautiful glassware and high-quality minibar items is reminiscent of the good old days of hospitality, when minibars were a luxurious amenity that is so often an afterthought these days.
The bedroom is also a large size, complete with a four poster king bed with sheets that were to die for. The bathroom is a real winner in this suite, with a full deep soaking tub, indoor AND outdoor shower and double vanity. The walk-in his and hers closet was exceptional as well, giving us ample room to unload our 2 months-worth of luggage.
Large toiletries from Agua di Parma completed the high-end look, and yes, I did steal them. Even the separate toilet room was luxurious, complete with a bidet and a floor to ceiling window that faced our private garden.
The patio was stunning- with a large private pool, two chaise lounges and an outdoor living room set. The pool was warm and offered a wonderful reprieve from the humid air. There is something very exciting about skinny dipping in your private pool, knowing no one can see you :).
Overall, the luxury pool villa was a great option for us. Keep in mind, however, it is a golf cart ride away from the beach, so if you are planning to spend all your time at the beach, the beach suites may be a better option for you. Honeymooning couples or those looking for some privacy and the ability to blast music from the integrated speakers in the suite will find this to be the perfect option for them.
Beachfront Suites
The Beachfront Suites are a newer addition to the property. Set up much more like a standard hotel suite, these one and two bedroom suites offer travelers a modern, upscale experience with gorgeous views of the ocean. Next time we return, I will 100% request the beachfront suites, mostly due to Max and I's love of the ocean. Beachfront Suites are excellent options for those looking to spend all day, every day at the beach and don't mind seeing other people around. Since these are more hotel-style, it lacks the total seclusion that you find in the pool villas.
Oceanfront Bungalows
The newest addition to the Eden Roc family are the three oceanfront bungalows. These are situated on top of the cliffs and are much more reminiscent of the thatched roof huts you may find in Bora Bora or Le Tahaa. These do not provide direct beach access, but rather beautiful views and privacy from your private pool. They would be best suited for travelers who prefer swimming in a pool, but don't want the tradeoff of giving up the ocean views. The bungalow we had the chance to experience was quite small in terms of the bedroom, but the bathroom was very spacious. The wraparound deck is nice, but it can get quite windy up on the cliffs.
Between the three room types, there really is something for everyone. Next time we return, we both agreed that the beachfront suites is more "our style" given the gorgeous views and direct beachfront access. That being said, the Luxury Pool Villas are a close second and we would highly recommend them for guests looking for total seclusion.
Between an incredible and beautiful golf course, expansive yet intimate beach club and a Natura Bissé spa, Eden Roc has everything you need for a quiet, wonderful vacation. We enjoyed spending our days at the beach, drinking Aperol Spritz's by the water's edge and swimming in our private pool.
For those that have been following our adventures since the beginning, you may know about my intense obsession with Natura Bissé, being the only brand that I have such love for. (I found them through a seemingly endless hunt for products that would help my psoriasis and when I reached out to their corporate office thanking them for existing, they sent me to an amazing facial in Barcelona at the Hotel Arts). The realization that Eden Roc had a NB spa meant I had to try it, pending COVID precautions. Thankfully, they met all the requirements and I did wear my mask during the massage.
Given the two sides of Eden Roc, there are technically also multiple pools and a kids center as well. However, due to COVID and low occupancy, the lagoon pool and kids center was closed on the villa side of the property. Next time, we'd love to see what that looks like.
A great benefit at Eden Roc is that all guests get their own golf cart. Guests can take the golf carts anywhere within the Cap Cana complex. You can take your cart anywhere to explore the beaches, restaurants and shopping inside Cap Cana. This is particularly beneficial since Eden Roc is not all-inclusive and therefore guests have many more options to explore dining at their leisure in the greater Cap Cana area. In the future, I'd love to see a Points of Interest map that highlights all the "Eden Roc" approved places in the area :).
Dining is where Eden Roc really shines. The food and cocktails are exceptional. Even though only one restaurant was open for breakfast and one was open for dinner, they offered a variety of cuisines and everything we had was fantastic.
The property also offers room service, which I am sure is great in normal times. However, we found the service from the restaurant to be very slow during our stay so we did not want to try out room service at this time. We dined both nights at La Palapa and enjoyed an assortment of dishes including a delicious seafood pasta, seafood paella (to die for) and ceviche, amongst other delicacies. Their cocktails were exceptional as well, my favorite being the Aperol Spritz :). The atmosphere at the restaurant is lovely, as you are eating on the edge of the cliff and looking out to the sea.
Breakfast was served at the main beach side restaurant, Blue Bar & Grill, and offered the standard options of eggs, pancakes, etc as well as some Dominican specialties. In normal times, there is a buffet as well, which we are excited to try next time.
It's worth noting that water when you are lounging by the pool and beach is complimentary. It is also complimentary in your room. Breakfast is included in the rate and does also include your standard beverages. At dinner, water is not complimentary, so worthwhile to note.
Overall, the dining experience was excellent and we would highly recommend indulging in dinner at La Palapa at least once. If you do go, make sure to test out the Tres Leches cake.
As long-timer readers may know, we are generally very nitpicky when it comes to service, particularly at world-renowned hotels. During COVID, we have been fairly generous in our service ratings, given that most hotels are severely understaffed and also learning how to run a hotel with brand new procedures around COVID and social distancing. We completely appreciate and understand how difficult this time is for hotels and resorts around the world. In general, staff at Eden Roc were super kind, very helpful and for the most part wore masks in public spaces. Housekeeping was particularly exceptional and turndown service ranks in one of the best we have experienced thus far.
Service at the spa was also exceptional. The staff were incredible, the massage was excellent and the facilities were spotless.
Where service did fall short was when requesting items to the room. Either the item took 4 phone calls and 2 hours to get to you, or it simply didn't come at all. Even given the lower number of staff and new protocols, there were also very few guests and it frankly, should not have been that slow.
Small issues aside, we really appreciated the service experiences we did have. The service was subtle, professional and certainly in normal times, is likely a full 5 stars.
We absolutely loved the style at Eden Roc. While offering three distinct experiences across the property, the style is somehow cohesive, high-quality and incredibly elegant throughout. The music, the decor, the architecture is incredibly well done across the entire resort. We loved the little pieces of decor everywhere that made you feel like there was no room just like yours. The sheets and linens at both restaurants and in your suite felt expensive and never used. In our pool villa, we even had access to bluetooth speakers that were built into every room and the patio of the suite. Despite the villa being on the older side, they had made upgrades and changes to accommodate new technologies and devices.
Overall, style is one of the areas we loved most at the property and can't wait to visit again when occupancy is higher and the "vibes" are at full capacity.
Overall, we absolutely loved our stay at Eden Roc. While at a much higher price point than you'll find at the high end all-inclusive properties, it is in a ballpark of its own with it's 60 rooms and bespoke service. The beach, the dining, the spa were truly one of a kind and we can't wait to return in the post-COVID world to enjoy the rest of the dining outlets and experiences the property has to offer.
Disclaimer: We were hosted by Eden Roc on a media stay. Please know the opinions expressed are all our own and may not reflect the hotel's own views.