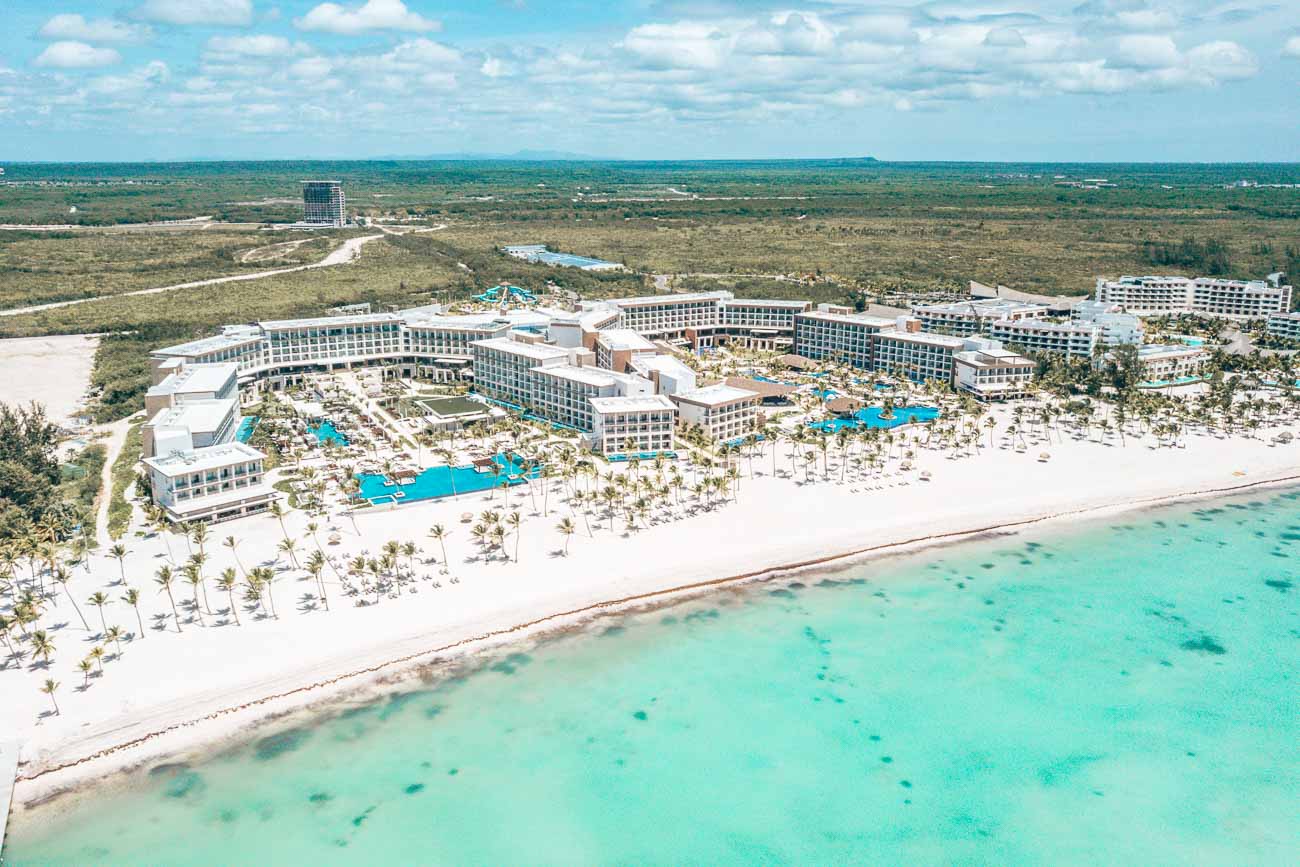 Max and I checked in on DAY ONE of the grand re-opening of the Hyatt Zilara Cap Cana in July 2020. The joint Ziva and Zilara properties had opened just before COVID-19 hit in November of 2019 and had only been open a few months before they had to shut down due to coronavirus. This reopening really felt more like a grand opening – complete with a big band, ribbon cutting for all guests checking in on day 1 and so much excitement. The property truly blew us away in every category – and that's saying a lot as we have stayed at a number of hotels in the Punta Cana area (more of those here). We had previously been in contact with the property to be part of the video they were filming for the first guests and we had no idea what we were in for – it was a blast! More about that in lobby & check in…
The Hyatt Ziva and Zilara are located as part of one complex on the beautiful Playa Juanillo inside the Cap Cana gated community. Cap Cana is a newer development with tight security that includes a number of luxury hotels, apartments and homes. Arguably, Cap Cana has the most beautiful water in Punta Cana and it feels exclusive and safe.
The Hyatt properties, while technically two hotels, share an expansive property and guests have access across both. Zilara is the adult's only property where guests must be 18 or older to enjoy the amenities. Ziva is the family-friendly side. Both properties offer a distinctive style, but share the same incredible view and endless teal water that is, for the most part, free of Sargassum seaweed thanks to a large border along the entire beach. The only other hotel next to the Hyatt is Secrets Cap Cana and to the right is a beach club, so the beach, while not private, shares only with a few other entities.
Lobby & Check in experience: 5/5
While our experience was exceptional, thanks for arriving on Day 1 of the reopening, the lobby and check in experience is generally wonderful. Due to the opening, we checked into the stunning Ziva lobby with a band, ribbon cutting and greeting from the entire management team of the hotel. It was honestly incredible and we'll be sure to share the video here when it launches from Hyatt :).
If you're not arriving on opening day, here is what you can expect. Both lobbies offer the same experience – they are beautiful, open air lobbies with ample seating areas, a bar and a coffee shop. We were checking into the Club Level so Club Level guests proceed to the Club Lounge behind the lobby to check in. All guests receive a welcome cocktail and are checked in by friendly staff. At the Club Lounge, you meet your butler and are given a tour of the property on the way to your room. Your luggage is handled by the bell staff and meets you at your room.
The lobbies have views of the entire property and sea beyond. We usually don't spend much time in lobbies, but this was an exception. The coffee shop here provides delicious coffee-to-go as well as a beautiful bar in the evenings.
We had the chance to see rooms in both Zilara and Ziva and both have their own unique design (while we did prefer Zilara's style). We checked into our Ocean View One Bedroom Master Suite on the 5th floor and were floored the moment we walked in. At 1,238 square feet, the living space was large, comfortable and beautifully designed. The outdoor balcony spanned the entire length of the suite and included an outdoor jacuzzi, seating area, table for two and beautiful views.
There is a dining table, large sofa and massive 55 inch TV (trust me, big deal in the Dominican) in the living room as well as an equally-big TV in the king bedroom, complete with a luxurious bathroom with a soaking tub and shower. There is also an entirely separate second bathroom in the living room, complete with a shower.
While we don't love the toiletry products the Ziva and Zilara have, but they were plentiful. We loved sitting on the balcony at night, watching the teal blue sea from above and sinking into a delicious king bed at the end of a sunny day.
We saw a few comparable rooms at the Ziva and did enjoy those as well. The Ziva offers more "family friendly" furniture and decor, as well as sofa beds to accommodate additional family members. We personally preferred the style on the Zilara side because we really loved the artwork and decor in the room.
Club level at the Hyatt properties are a great value, in our opinion. Typically, at all-inclusives, I am not sold on club level since everything is already included and I don't usually feel the need to pay more for slightly better alcohol at one or two bars that you have to go find as a club guest. However, at this Hyatt complex, club guests have access to breakfast and lunch at the two beachfront a-la-carte restaurants. Guests not in the club level only have access to those restaurants for dinner and we loved our morning meals at Chinola's. Typically, Shutters is also open but due to the occupancy being so low, they only opened Chinola's during our stay. We are not big buffet people so having access to excellent, oceanfront a-la-carte options is ideal for us and a worthwhile upgrade.
Between the two Hyatt properties, you will never be bored. There is a large spa, water park, multiple pools, incredible beachfront with activities, paid excursions and 29 bars! We were there when there were maximum 100 people there so we had the entire resort to ourselves and can honestly say there is too much to do in three short days. There are endless pool and beach chairs so as occupancy gets higher, it feels like there won't be issues there.
There is a club level pool situated behind the main pool as well with their own seating and cabanas for those concerned about seating. The club level pool bar has upgraded alcohol as well and is a great area if you are not super focused on the beach. Our style is typically to relax on the beach, but we had a cabana on the main pool facing the ocean so we were happy as could be.
To be totally honest, the food and beverage experience here really shocked us in the best way possible. We've stayed at the Hyatt Ziva Los Cabos and the Hyatt Ziva Puerto Vallarta and let's just say the F&B was incomparable. The restaurants are clever, well designed and the themes were so much fun.
While several of the outlets were closed due the rotational schedule of the restaurants, we were able to try a number of them and can highly recommend the following:
Brandos:
Brandos was by FAR our favorite, and not just because you get to sit in cool nest-like structures over water, but because the food is impeccable. Nice portion sizes, beautiful presentation and delicious cocktails make for a perfect meal with excellent service. Rainny and Gabriella were excellent hosts and due to COVID, we had our own entire nest all to ourselves.
Journeys:
Journeys is the Indian themed restaurant that also has a train car. We sat inside the train car, which makes for an incredible experience that really did make us feel like we were in India. The food was excellent, particularly the Samosas (YUM) and the butter chicken. We let the staff choose their favorites to serve us and we don't regret it. We were really impressed with the quality of the food overall as well as the delicious, creative cocktails.
Private Dining:
Typically, in good weather, private dining experiences happen outside on the beach. However, due to the iffy weather, we were invited to a private dining experience inside at Brando's. We were very excited about it because we love that restaurant style. We had a pre-fixe menu with wine pairing (including some of my favorite wines) and it was exceptional. This elevated experience also was accompanied with a video before each course that detailed how the chef made the course. It's about as close as you'll come to a chef's table in Covid times.
Chinola:
We went to Chinola each morning for breakfast and once for lunch. The food is classified as more of a "healthy" "California" style cuisine. They offered everything from Paleo, to vegetarian to vegan to Keto items on the menu. The breakfast was pretty good, but lunch was exceptional. I probably wouldn't recommend the avocado toast for breakfast- I consider myself an expert Avocado toaster so I wasn't too impressed ;). However, their lunch was delicious – particularly the fish dishes. I loved the seared tuna.
Presto:
We had lunch at Presto (located behind Waves near the pool) and the pizza is made in a real wood-fired oven. They make a variety of pizzas, but I have a whey allergy so I asked if they could make me a goat cheese pizza instead. Fabio didn't have any goat cheese but he asked if we could give him a few minutes. He returned five minutes later with a plate FULL of delicious goat cheese from god-knows-where. It ended up being an excellent pizza and I was so happy because it's something I usually don't get to indulge in. They also ran to the club lounge to get us Rosé wine because they didn't have any at the restaurant. Needless to say, I love them.
Room Service:
Room service is also included 24/7 and during COVID they are delivering room service in a contactless format. The delivery is put on a fold up stool outside your door. They ring your doorbell and when you answer they wait for you down the hallway and grab the stool once you get your bag of food. It was really clever and very much like Uber Eats. The food is served in surprisingly nice compostable containers with bamboo forks and knives. We enjoyed a few snacks out on our balcony, thanks to the great room service.
Overall, we absolutely loved the food. We're excited to return once the opening days are over to see if they've been able to maintain the same quality and service as they did during this time. I have no doubt they will as our conversations with the director of food and beverage left me confident that they have figured out a way to scale this amazing experience. The management and quality of the food was incredibly high. We're also very excited to experience their other restaurants (always wanted to try Shutters!)
We have nothing but wonderful things to say about the service at Hyatt Zilara Cap Cana. From the moment we arrived, we felt very well taken care of and safe, particularly with their COVID-19 precautions. Enger, our butler, was attentive via Whatsapp and always around to help us. He brought bottles of Sauvignon Blanc to our room because he knew we liked a glass before dinner on our balcony and brought anything we needed when we needed it.
Service at restaurants was excellent across the board as well. Felix and Leidis at the cabanas ran around constantly and Felix even made Aperol Spritz's for me without me needing to ask because I love them. Their cocktails were excellent across the board and everything was serviced with a smile. They remembered our preferences at restaurants for sparkling water, remembered our room numbers and were generally very focused on providing excellent service. I will be so curious and excited to return to see if they've been able to maintain the level of attentiveness I became very used to in our stay there.
Housekeeping was also excellent. They came daily to service our room and did an excellent job. They never disturbed us and always came when we were out to breakfast or out on the beach. During this time, there was no turndown due to COVID-19 and typically housekeeping comes only every 3 days unless you request otherwise.
A worthwhile mention is the welcome cocktail party the management hosted the night of the re-opening. All of the management were there to say hi, they even made a video welcoming every single guest by name to the property. There were fireworks, cocktails and cleverly served appetizers. All-around, it's clear that management cares deeply about their guests.
The Style at the Zilara and Ziva were both unique. Ziva had more of the natural woods, jungle vibes and Zilara had more of the "sophisticated" lines and modern elements. Both were beautifully done and different. The restaurant styles were also exceptional – from the train car to the nest-structures in Brandos, dining is unique and a true experience. The rooms were beautiful, clean and had great decor. While you know that every room looks exactly like yours, it still was a very comfortable and luxurious place to come home to at the end of the night.
We loved that there were so many different bars and seating areas around the property to relax as well as stylish firepits, cabanas and lounge areas. The property is still new but we are excited to see how the property develops over time.
Overall, we had an exceptional experience at Hyatt Zilara Cap Cana. The service, the beachfront, the food truly blew us away and we're very excited to return. Of all our Hyatt all-inclusive experiences, this one tops the list and we can't recommend it enough. We do hope to have the chance to return in a few months as their occupancy grows to see how they've been able to scale their incredible offerings.
COVID-19 Safety Rating: 4.5/5
As promised, we have our brand new COVID-19 Safety Rating that we do not count towards the overall rating for our hotels. We feel it's incredibly important to highlight what hotels are doing to make guests feel comfortable and safe during this pandemic. Hyatt Zilara is part of Playa Hotels, the same company that runs the Sanctuary Cap Cana that we had previously stayed at. Therefore, many of the same elements in terms of COVID safety were prevalent.
The valets who took our luggage did also sanitize our bags before they entered the property. While we did not have our temperature checked, we did have this done at the gate when we arrived a few days before. There is plexiglass between the check in desks and guests and all staff are required to wear masks and face shields at all times. We never saw a staff member without a mask. All the staff also had nice photos on pins of themselves, which we loved, because you were able to see their name and face under the mask.
Our room had a sanitized label stuck to it and when we opened the door for the first time, it was clear that we had been the only people to enter the room since it had been disinfected. The room was spotless and multiple items were removed to make it easier for staff to clean, including coffee machines, robes, slippers and some decor. You can request these items, which we did, and they arrive in a sanitized bag.
Room service arrives in compostable, sanitized bag on a foldout stool. The staff member stands at a distance, waits for you to pick up the bag and then retrieves the fold out stool. This was impeccably well done. There was no confusion, no fumbling and you never had to get too close to the delivery person. Room service menus are on the TV, as well as the hotel info. Guests can also find restaurant menus, activities and hotel info on an app for your phone.
We couldn't give them 5 stars, however, because they did not require guests to wear masks in public spaces and even went so far to tell us "don't worry, you don't need to wear your masks- you're on vacation!" Unfortunately, just because you're on vacation doesn't mean you can't get sick. COVID doesn't go away and you cannot pretend it doesn't exist. We strongly hope this changes during this time and we are particularly sensitive to this. We wear our masks 100% of the time in public around others and when interacting with guests and staff. Out of respect to the staff and other guests, we encourage all travelers to wear masks in public and when interacting with others.
Overall, we were very impressed with the COVID precautions the hotel took and we felt very comfortable during our stay. We wouldn't hesitate to recommend this property to others looking for a relaxing, and safe, place to stay.