45-minutes by seaplane from Male International Airport is the brand new, beautiful Heritance Aarah. One of the many new premium all-inclusive properties to sprout up in the last few years, Heritance offers travelers a truly premium all-inclusive offering, with a spectacular wine selection and 5-star food that rivals even the most revered restaurants. While the property is not without it's opening issues, particularly around management, the hotel has SO much to offer. Here are our tips for booking at the Heritance Aarah.
The newest hotel in the Aitken Spence portfolio, the Heritance Aarah experience begins in the older Aadaran lounge at Male international before taking to the skies and sea by seaplane. Raa Atoll is one of the more densely populated atolls, home to many of the best hotels in the Maldives. The water is a teal, white blue that extends as far as the eye can see.
The Heritance has adopted a completely different, elevated style than its sister properties, with sand covered flooring, exposed bamboo beams and beach-chic vibes. Due to a mixup in our rooms, we were able to test out two different room types, the Beach Villa and Ocean Villa. As you'll hear in our video, we would not recommend the Beach Villa due to the poor location, lack of a butler and proximity to neighbors, The Ocean Suites would be the optimal room booking due to the upgraded experience, option for room service and far better location.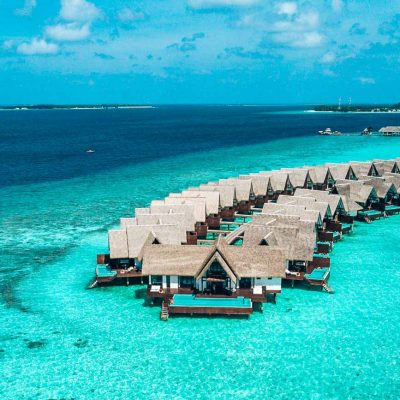 HOTEL REVIEW: HERITANCE AARAH, MALDIVES
Want to learn more about this property? Read our full written hotel review of the Heritance Aarah, Maldives.
Read More
Dining was the highlight of our stay: from exceptional breakfast to 5-star dinners under the moonlight, you cannot go wrong at any dining outlet on property. Our favorite experience was the chef's table that only seats 10. Each night, the restaurant featured different locations from around the world and the chefs would cook in front of you.
If you do book at the Heritance, be sure to make dinner reservations for every night before your stay. Due to the number of management issues, it's clear that they do not quite have a good way to handle demand at restaurants and manage reservations. We hope this changes over time, but be prepared to be turned away from an empty restaurant, particularly on your first night. Your butler will be able to secure reservations for you, but same day can be quite difficult.
New

to

our

channel?


Here's why you should subscribe!

We create weekly videos from video hotel reviews to travel tips, showing you to the best things to do in the best destinations around the world. We'd love for you to join us!
Disclaimer: We were hosted by Heritance Aarah on a media stay. Please know the opinions expressed are all our own and may not reflect the hotel's own views.