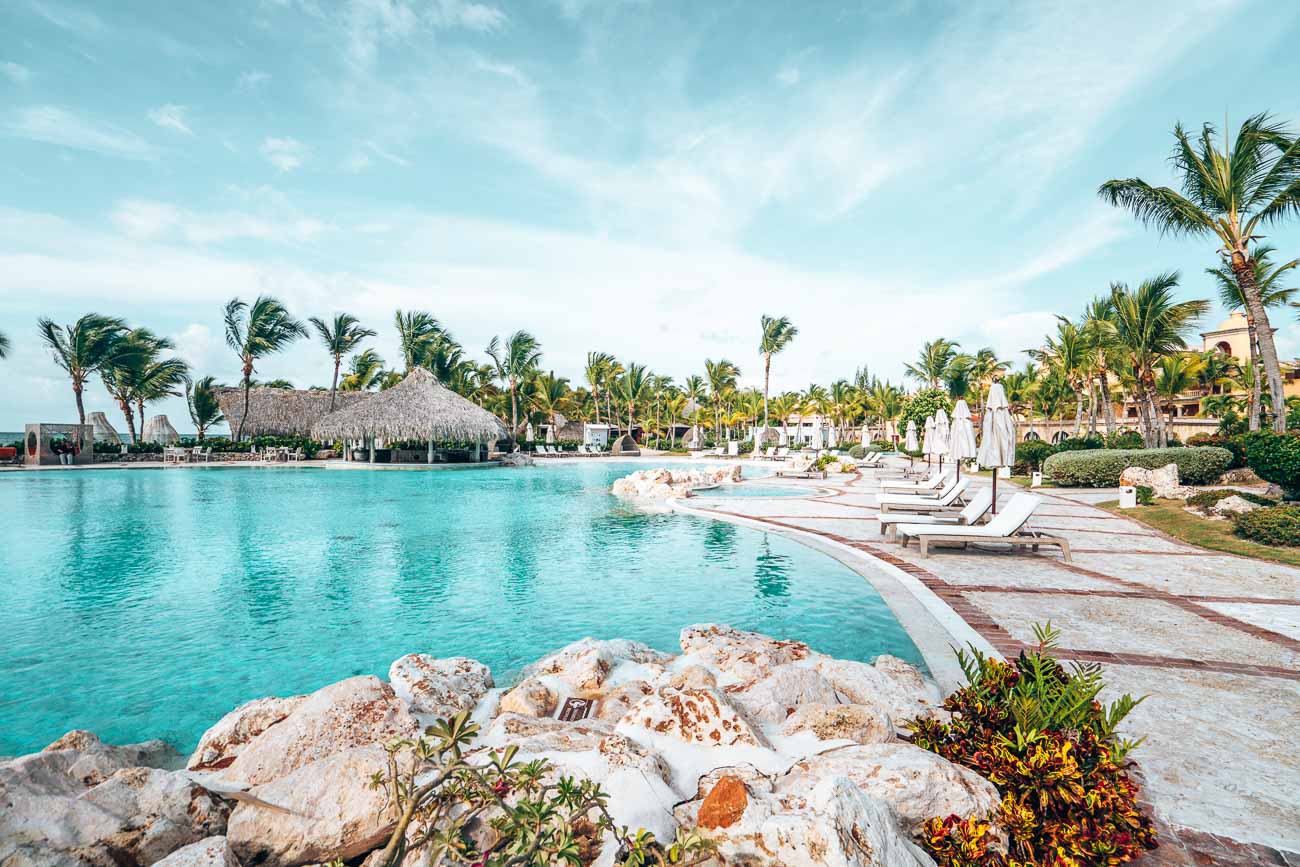 Max and I traveled to Sanctuary Cap Cana last week after spending 2 weeks in isolation in the Northern Dominican Republic. Before we jump into the review, I wanted to be very clear in that while we are traveling during COVID and are lucky to have the experiences we do, we take our position very seriously and wear masks in all public places, including restaurants. We also did quarantine ourselves for two weeks prior to entering into a number of media related activities. Times have changed and hospitality looks very different now. We urge you to travel cautiously and only when you can be sure you are not ill. Please be aware of all state or local regulations for any destination prior to travel.
Now that that's been said, let's jump in! We spent two nights at the beautiful, adults only, all-inclusive Sanctuary Cap Cana and it really blew our minds. Not only is the property one of the most interesting complexes from an architectural standpoint, but the food, service and hospitality were top notch. Stay tuned, because at the end of the review, we will talk about our new COVID-19 rating where we evaluate hotels outside of our standard scale on how they have handled the coronavirus. This new rating does not impact their overall score to ensure a fair comparison to hotels in "normal" times.
Sanctuary Cap Cana is located inside the gated community of Cap Cana, home to a number of million dollar homes and luxury hotels. Cap Cana is at the very tip of Punta Cana and is well known for its beautiful beaches and teal water. Sanctuary sits on a very interesting area of Cap Cana, with small coves and bays between the rocky shores. The property is very long and spans across three main buildings. While the property has invested in a barrier to keep the Sargassum seaweed at bay, during the warmer months, they do appear to have trouble keeping the seaweed outside the barrier. The water had a tinge of red out to the barrier, so most guests preferred swimming in the pool at this time.
Aside from that, the sunrises on property are stunning and we experienced multiple beautiful sunsets, one even had a rainbow!
Lobby & Check in experience: 4.5/5
All guests within the Cap Cana community have to register at the main sales and information office prior to entering into the gated community. Most guests don't drive themselves into the complex like we did, rather they arrange transfer in advance, so we were super confused. However, we appreciate the security and love that the entire complex is completely monitored. Once you arrive to the property itself, the main lobby greets you with stunning ocean views and a gorgeously decorated castle vibe. There are three lobbies at the property, since it is very expansive. Guests can access any of the lobbies for requests or if they need assistance.
Since we were there during COVID-19 when the hotel had just reopened, we weren't sure what to expect. At the main door, guests handle their own luggage and it is immediately disinfected by the valet. Then you need to wipe your shoes on a mat and stand in front of a subtle camera for 3 seconds for a temperature scan. Following that, you are allowed to enter into the lobby. The front desk and concierge desks have large visqueen barriers between the staff and the guests. They also sanitized every document and object that passed between the front desk and you using a UV light filter. The whole experience made us feel immediately safe, comfortable and protected.
While the property surely offers welcome beverages during a normal time, during these particular times we live in, staff minimized contact as much as possible. That was fine by me since we had masks on anyway. The lobby situation was excellently executed and we knew the tone for our stay was set on a positive note.
To be honest, every room type at Sanctuary is unique and looks beautiful. Even the standard rooms have some small view of the ocean. It's a very "fun" hotel in the sense that there are so many options to choose from when booking, even their most standard rooms are beautifully designed and unique. We were upgraded to the King & Queen Suite, an overwater bungalow with a stunning bedroom, living room and gigantic patio with a small pool. Suite level rooms also come with a butler (ours was Henry), and they are a great benefit to help make reservations and make sure you have everything you need.
The decor was absolutely stunning- every piece of furniture was something we would buy for ourselves if we could. White-washed walls, beautiful chandeliers and boho-chic furniture make the suite homey, luxurious and comfortable.
The suite also had one full bathroom as well as a half bath. Outside, behind the bathroom is a private deck area with a tub. On the ocean-facing side of the patio is a small plunge pool/jacuzzi, a lounge set and chaise lounges. There is also a full dining set for 6.
The mini bar includes beer, water and snacks. Guests cannot have bottles of wine sent to their room as part of the all-inclusive, but you can purchase wine bottles. We did request a bottle of wine since we were very uncomfortable going to the bar one night and they did send us a few mini bottles considering the situation.
Overall, the rooms are beautiful, elegant and so unique. We spoke with a number of guests who loved their rooms, particularly the ones in the Castle as they feature exceptional ocean views.
Sanctuary is an incredible paradise for travelers looking for a relaxing vacation in Cap Cana. The property has a large spa set inside the castle as well as a large gym, 5 swimming pools and a wide range of food & beverage outlets. They have also built a Sanctuary Town just outside the main lobby, offering a number of restaurants (2 of which are included on the all-inclusive) as well as a few shops. The town was not open when we were there, so I hope to explore it when we return :).
The pools are large and offer seemingly endless seating options in the form of chaise lounges, nest-like structures with beds in them and cabanas. Guests can move freely about and enjoy any of the cabanas or pools. There is one saltwater pool, but note that it is only accessible via the swim-up suites in the castle.
The beach is small, but does have a large amount of seating as well as a bar. In normal times, I'm sure they provide beach service to guests, but it was close enough to wander up to the bar to grab a drink. Due to the sargassum seaweed, most of the guests hung out by one of the many beautiful pools on property. The water is very calm and warm so in times of less seaweed, I can imagine spending the entire day floating around in the ocean. My favorite pool is the one located on top of the castle. It offers incredible views and a great bar.
Overall, Sanctuary offers so much to guests. Even if you are spending 7 nights, there is so much to see and explore within the property and within Cap Cana – I can't imagine ever getting bored. We encourage you to explore the castle and grounds because we discovered so many hidden gems! Hint hint: a secret waterfall, a gorgeous "instagram" spot on top of the castle and more.
Max and I are huge fans of luxury all-inclusives. In recent years, all-inclusive resorts have popped up touting delicious a-la carte options and focus on local cuisine, healthy food and quality over quantity. We were very impressed with Sanctuary Cap Cana's many options and focus on high quality cuisine. While many outlets were not open during our stay due to the COVID precautions, staffing and low occupancy, we did get to try a number of restaurants.
Our favorite dining outlet was Blue Marlin. Located over the water, Blue Marlin features delicious options, such as ceviche, grilled lobster tail, meat and salad options for lunch. We loved the atmosphere, food and service. We also absolutely loved that the lobster was included, as often you will find all-inclusive resorts stamping ridiculous add-on prices for dishes like lobster and steak.
We also tried The Steakhouse and Capriccio. The Steakhouse features indoor dining for dinner and we loved the BBQ for Two special. We highly recommend this option as we heard this is by far the best dish. The BBQ for Two comes with numerous steaks, chicken and sausage presented on a hot stone grill, so your food is still cooking as it comes out. It was a fun, exciting experience for dinner.
Capriccio is the gourmet Italian option that also features indoor dining, complete with white table clothes. It is the elevated experience and one of the only "formal" dress code restaurants. I personally don't love being forced to wear specific types of clothes on vacations, but I respect the choice. The food was excellent as well, our favorite dish being the Seabass. The pasta was also excellent and we wouldn't hesitate to eat here again.
Breakfast is served at the buffet restaurant, and they've done an exceptional job transforming the buffet during COVID times. The hotel has completely encased the entire buffet in glass, cleverly creating small slits in the glass for the chef to hand a plate through with anything you want on it. Guests can walk down the line and pick what they want from the many options. We thought this was an incredibly safe and effective way to still have the buffet experience. Frankly, I hope this becomes the new normal for any buffet. That aside, the food options were plentiful. From omelettes, pancakes, side dishes, meat, a giant leg of prosciutto fresh sliced in front of you and endless juice options, we were thoroughly impressed.
The cocktails were good, although, I never found a great Aperol Spritz at the bars. The wine selection is ok as well, the Sauvignon Blanc being the best option in terms of taste, in our opinion. Since it is all-inclusive, the nice thing is you can always reorder ;). Some bars did seem to be better than others.
Playa Resorts has done an exceptional job at the transition to the "new normal". The additional training, social distancing features and service have been a tremendous effort, to say the least. While we are notably being a bit generous when we review service for this reason, we were quite impressed with the service overall. Staff were friendly, helpful and made sure to enforce social distancing guidelines if they saw guests forget to step back, etc.
Service was a little bit slow, particularly when it came to room service. One guest we spoke with even said they never received the room service they ordered. While much of the slow service can be chalked up to the adjustments in staffing and COVID precautions, it is important to note the slow or forgetful service. We are always the first to bring up service related issues to ensure they are rectified quickly, so we recommend you do the same.
Aside from the few service issues we noted, we loved the staff! Service at the Blue Marlin was particularly excellent, thanks to Jhonny, as was the housekeeping. Our butler, Henry, was responsive, helpful and did an excellent job handling our requests. Yery and Johan were a breath of fresh air at the Steakhouse and they both remembered who we were every time they saw us. Sandro at breakfast knew our preferences and was attentive and kind, along with Edward. Overall, all the staff were wonderful.
The style is impeccable at Sanctuary Cap Cana. From the boho-chic furniture, to the excellent lighting around property, to the waterfall pools and lush landscaping, the style was truly 5 stars. The style was also consistent across the entire hotel, with a modern, elegant, colonial style that was all very unique to the hotel.
The hotel is also built around one of the first churches in the Dominican Republic, which is such a cool historical note. That church is now the Love Bar at the hotel and still has the old stained-glass window.
Each room type is unique and offers a slightly different experience to guests. Should we have the opportunity to return, we'd love to try out the suites atop the castle with private infinity plunge pools – the view and location of these rooms look absolutely incredible.
Overall, we absolutely loved this hotel and can't wait to return when occupancy is a bit higher and the outlets reopen. The service, food, decor and style was incredibly unique and exceptional. There is so much left to explore at the beautiful property and we look forward to revisiting in the future.
COVID-19 Safety Rating: 4.5/5
Last, but not least, we promised you a COVID-19 Safety Rating. As we are traveling during this unique time, we have been asked over and over again about the precautions hotels are taking during COVID-19 to help prevent the spread and keep guests safe. From the moment we stepped onto the Sanctuary property, we felt comfortable and safe.
Staff are required to wear masks at all times and we did not see even one staff member without a mask at any point. They also wear gloves during food service and require all guests to use hand sanitizer upon entering any restaurant. There are blue social distancing stickers on the floor as a reminder to guests to queue up 6 feet apart near hostess stands, etc. and each restaurant has an entrance and an exit to ensure guests do not have to pass by each other.
Upon entering your guest room for the first time, there is a safety seal, indicating that no one has entered the room since it's been cleaned. Staff deliver any items to your room, but are not technically supposed to enter your room, unless it's housekeeping. Room service is delivered in to-go containers with safety seals indicating they have been sanitized.
As part of your toiletries kit, you are provided with a safety pack, including hand sanitizer and wipes.
My favorite update to the property was actually the use of QR codes to access menus at the restaurants and bars. Rather than handing a guest a menu, every outlet made you scan a QR code or access the new "hub" app on your phone to see menus. This was a great way to ensure guests didn't touch anything unnecessarily and to help staff minimize how much they have to constantly clean. Tables, chairs and the floor surrounding tables was cleaned after and before any guest arrived. Lastly, all paper/binders/information packets were removed from the room as well.
As we mentioned earlier, the staff did a great job ensuring guests followed the social distancing guidelines and ensured that all guests did use the hand sanitizer upon entering any restaurants. The only reason we could not give them 5 stars is because they did not require guests to wear masks in public spaces or when interacting with others. The Dominican Republic requires only citizens to wear masks, but travelers do not have to. While we understand that the hotel is simply following the same laws, we feel it is of utmost importance to not downplay the severity of this pandemic. In our opinion, it is not only respectful to wear a mask as a tourist, but it essential to protecting yourself AND the staff who are putting themselves at risk every day to serve you. Max and I wore a mask every time we were in public and interacting with guests and staff alike.
However, small detail aside, the hotel did an exceptional job with the transition. While the world looks quite different in this time, the hotel is stunning, the experience was excellent and we wouldn't hesitate to call this a safe place to stay.