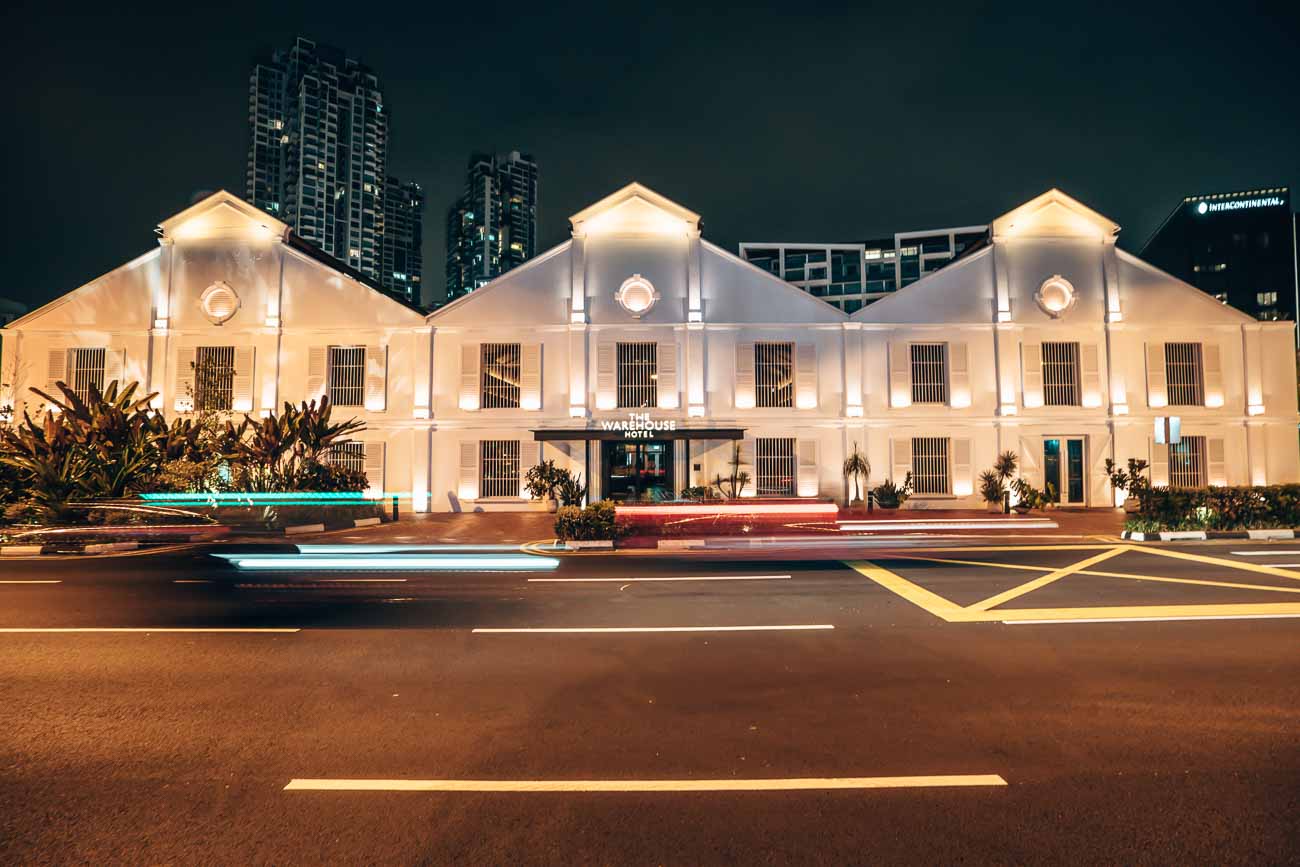 If you've ever been to Singapore, you've probably stayed in one of the many mega hotels that tower over one another in downtown. These colossal giants are some of the coolest hotels in the world, with their hanging gardens, vast lobbies, and incredible architecture.
What you might not know, however, is that incredible 5-star service and amenities can also be found in some of the smaller more quaint boutique hotels of this modern city, such as The Warehouse Hotel. While I've stayed in my fair share of giant, shiny new hotel complexes, I opted for a more intimate experience during this last trip to Singapore. The Warehouse Hotel is an extraordinary blend of historical architecture and modern design. Located in the center of the city, this boutique hotel couples intimate, 5-star service with elegant design, making for a local luxury experience, unlike any other.
The Warehouse Hotel is part of the luxurious Design Hotels collection, a curated selection of boutique luxury hotels around the world focused on style and quality. This was our first Design Hotel and we can't wait to share what we loved, so read on!
The Warehouse Hotel is situated on the banks of the Singapore River in Robertson Quay, a central hub of shopping and dining in Singapore. Robertson Quay has become a hot spot for intimate restaurants and a close shot to some of the best hawker fare in the city. We personally went to Lau Passat, about 8 minutes by taxi.
It was very convenient for us as we were traveling around the city and we were just a short 5-10 minute cab ride or 20-30 minute walk from the Fullerton Bay and Marina Bay Sands area.
The location of The Warehouse gives you easy access to every part of the city, making it great for business and leisure travel alike. It's also only about a 30 minute taxi ride from the airport in traffic, making it easy to get in and out on a short trip.
Lobby & Check in experience: 5/5
We checked into The Warehouse Hotel around 8:30pm and the check in process was swift and easy. To be honest, we were in a bit of a haze after our wedding weekend and walking into the beautiful, expansive lobby was like entering into Heaven.
The incredible mood lighting, dimly lit bar and sexy music playing throughout the lobby made us instantly relax. Our check in agent was friendly, helpful and walked us up to our room. He gave us a brief history of the hotel, which was a really fun treat. He pointed out the features of the hotel that were saved in the renovation from 1895 warehouse that turned into the stunning hotel it is today.
The lobby itself pays homage to the history of the property, incorporating the 1800s oil machinery, as well as the more "naughty" history from the days of prostitution and debauchery. We could have spent hours exploring the lobby alone and getting to understand the full history of the property through the art pieces displayed.
One of my most valued traits of a 5-star hotel room is the silence in a room. There's nothing worse than listening to the glaring AC or your neighbors all night.
This silence is an often forgotten feature when constructing hotels, particularly in older buildings. When we were presented our keys at the top of the stairs, I was very anxious at first to see that our room was right above the open lobby. My first thought was: Oh gosh, I'll be able to hear everything. I guess this is why they tell you not to judge a book by its cover.
We opened the door only to notice that there was another door right after it, almost like we entered into a small mudroom before entering the main room. We then opened the second door and the moment the door closed we heard it: the sweet sound of absolutely nothing. It was so quiet, in fact, that Max had to turn on white noise to sleep! That has got to be a first.
We entered our River View Loft and instantly fell in love with the design and coziness of the dark woods and greys. The design was so thoroughly considered, moving seamlessly from the moody lobby into the comfortable rooms. While the room itself is small, only 34sq meters (~360 sq ft), it had an incredibly expansive ceiling, including the beautiful original beams from the 1800s warehouse.
One important thing to note in this room type is that the original window is in tact. While the window itself is large, it is not floor to ceiling and does not give you the sweeping city views that some of the larger, newer complexes provide. That being said, I loved the original look of the warehouse and the room did have ample natural lighting during the day.
There was a large, comfortable king bed, small desk and large soaking tub. The rain shower was incredible and included delicious local products from Ashley & Co. There was also a minibar filled with local products (for a fee) as well as a free glass bottles of water. Overall, the room was very impressive.
The Warehouse Hotel is home to a number of 5-star facilities including a rooftop pool and their in-house restaurant, Po. The front desk staff is also available 24/7 to assist with any needs, including calling taxis within just a minute or two to take you anywhere you need to go.
The rooftop pool was my favorite feature as it offered a great retreat after a long day of site-seeing. It's a glass pool and has ample seating around it, as well as full pool service during the day.
Dining at The Warehouse is definitely 5 stars. While we did not have dinner at Po, we did indulge in their breakfast. They offer cold-pressed juices, freshly made-to-order dishes as well as a continental buffet. They also offer fresh coconut water out of an actual coconut!
The Lobby Bar is another distinguishing feature of the property. This expansive bar offers delicious craft cocktails and gives the hotel lobby a fun, vibrant energy.
We experienced nothing but excellent service during our stay here. From check in to check out, the staff were willing to help and to go above and beyond. We called down on the first night and requested an extra water bottle (they are free in the room) and the staff brought up 4 extra bottles. I found that to be a really nice touch and very much appreciated.
Similarly, we wanted to photograph the bar late at night after it closed and the staff was super accommodating and stayed late to make our photo shoot happen. No one ever told us "no". We loved that we felt welcomed and right at home, regardless of the request or need.
The Warehouse Hotel is a Design Hotel, so style should be an obvious winner. I was truly surprised at the thoughtful and intricate details throughout the property. Everything appeared to be so new and so high quality. They absolutely excelled at bringing the old, 1800s warehouse features into the brand new, modern design.
The entire design felt very natural and as if the warehouse was always meant to look this way. No element of this property appeared out of place or unnatural. Even down to the custom-built closets in the rooms, they appeared as if they had always meant to look like this.
The property has also partnered with a number of local brands, which I absolutely loved, bringing awareness to local products and companies.
Overall, I would not hesitate to stay at The Warehouse Hotel again. This award winning hotel deserves every accolade. It's proximity to business and shopping, high quality design and luxurious comfort make this an excellent choice for travelers looking for 5-star service with a personal, boutique experience in Singapore.
Disclaimer: We were hosted by The Warehouse on a media stay. Please know the opinions expressed are all our own and may not reflect the hotel's own views.