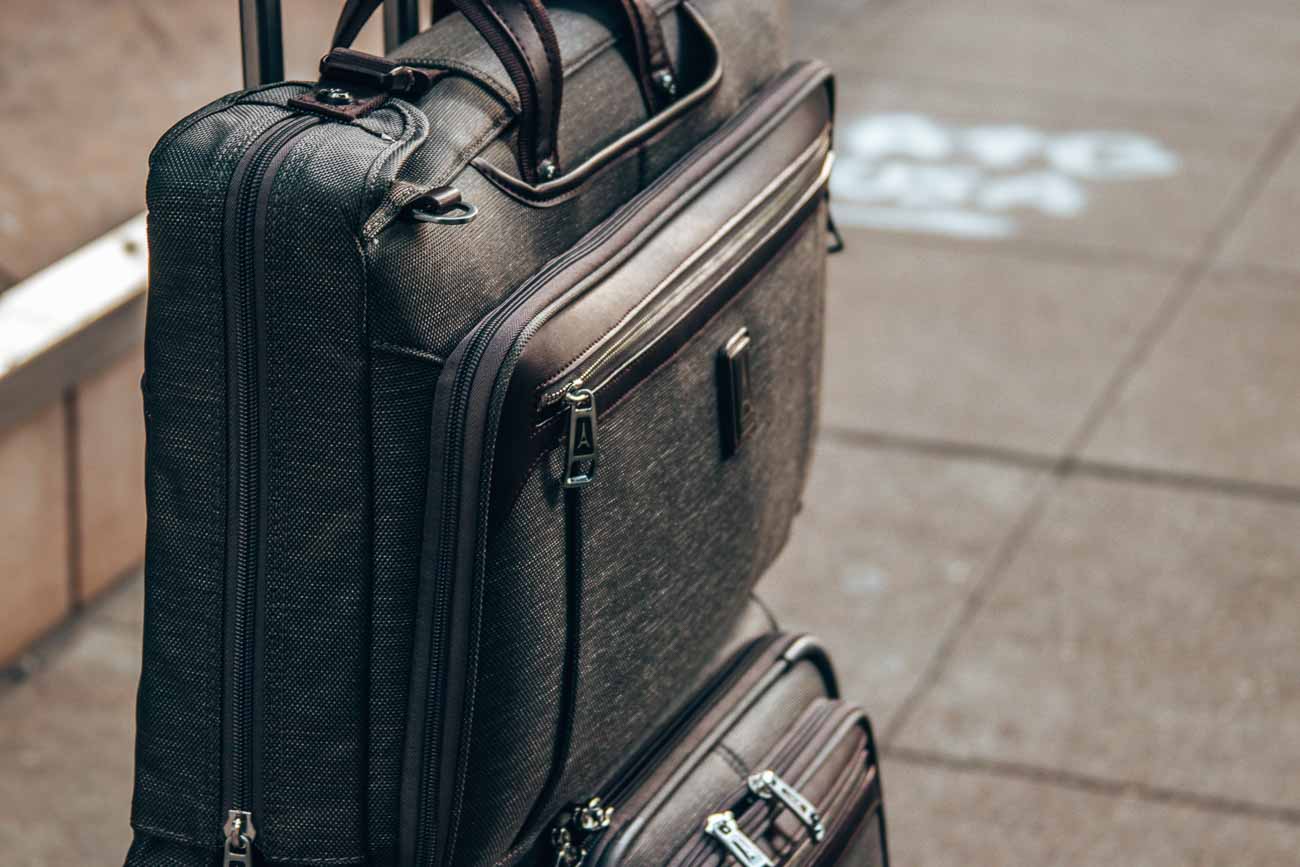 Thank you Travelpro® for sponsoring this post. Get the Upgrade with Travelpro®!
Have you ever been waiting at the airport baggage claim, anticipating being reunited with your belongings, only to notice that you think you just saw a cute leather jacket go by on the turnstile that looked an awful lot like the one you bought in Barcelona last year? … and then a bikini bottom that you could have sworn was the one you were wearing yesterday on the beach in Cabo? Yea….been there. Whether my luggage has shown up, exploded open from a faulty zipper, or I've somehow managed to stab a hole in it when I put the luggage into the overhead bin incorrectly, I feel your pain. There's a lot of mediocre luggage out there that breaks, rips, combusts from a bad zipper or simply looks like crap after a single trip. With that said though, I recently discovered Travelpro® and here's why it's my luggage of choice!
I was disappointed when my previous suitcase broke a few trips ago. I was on a serious mission to find the perfect piece of luggage that would last more than a few around-the-world trips and have customer service to match. Luckily, we recently got in touch with Travelpro®, and their new Platinum® Elite Collection. They sent us a gorgeous set that includes the Travelpro® Platinum® Elite 21" Expandable Carry-On Spinner and the Travelpro® Platinum® Elite Tri-Fold® Carry-On Garment Bag to try out!
During this recent trip for our wedding and honeymoon, we were on more than 15 flights and spent literal days in airports and in the air. To say that high-quality luggage to protect my wedding dress and Max's suits was a high priority, is an understatement. We're excited to share our initial thoughts about the luggage based on their 30-year history of being the luggage-of-choice for airlines and crews. I feel like if it can stand up to being a crew bag, it has got to be able to stand up to us!
The number one thing on my mind when considering new luggage is the ease of packing. I had been specifically looking for luggage to accommodate a month's worth of my stuff during our big Thailand, Singapore, Maldives trip. There are so many things I had to take with me, that being able to easily pack, sort and organize everything was crucial. The luggage has some very convenient zip pockets as well as a drop-in, fold-out suiter that can keep my dresses wrinkle-free during travel. The accompanying Platinum® Elite Tri-Fold® Carry-On Garment Bag is quite sizeable and roomy enough to organize Max's wedding suits. The luggage is deep and has ample space between the handlebars, to allow for extra room in the bottom compartment.
So keeping my clothes protected is great, but let's be honest, looking good on the outside is equally as important! I'm always so disappointed when my luggage looks like it's been through the wringer after a single trip. Given how much we travel, I look for luggage that fits my packing style and my style in general. The Travelpro® Platinum® Elite set has beautiful leather details and a deep, rich grey tone and you can feel how luxurious the materials are. I think of luggage the same way I think about my outfit: I want to look good, from head to… the luggage wheels. Travelpro® luggage goes through extensive testing to make sure it will withstand anything you put it through, so I feel fairly confident that those beautiful details on the luggage will stay beautiful after our trip.

Along those lines, it's important for the luggage quality to be such that it rolls effortlessly and is comfortable during the entire trip. After playing around with Travelpro®, I feel that they were able to accomplish both aesthetics and functionality. The hand grip is smooth, elegant and sturdy, while the wheels effortlessly roll without the "stickiness" of some pieces. The Elite 21" Expandable Carry-On Spinner also comes with a huge functional bonus, with a built-in USB charger. So, when I'm waiting at the gate between flights, I don't have to worry about running out of battery on my phone. The USB charger is subtly placed at the rear of the suitcase and does not take up a lot of battery space (unlike the design flaws of another one of my ex-suitcases). The only thing to consider here is that the USB battery is sold separately, so know that before buying if you're relying on that.
To be totally honest, I don't think I had given Travelpro® a fair shot in the past, from a "fashion-forward" perspective. I knew the luggage was high-quality but I never looked at it and thought, "Damn! That's sexy!" But wow, my mind is blown. I am obsessed with the leather details, convenient and thoughtful compartments, and the worry-free warranty. Overall, I'm super impressed by the luggage set and can't wait to take it on the road.
The Travelpro® Platinum® Elite Tri-Fold® Carry-On Garment Bag retails for $269.99 ARV, and the Platinum® Elite 21" Expandable Carry-On Spinner retails for $299.99 ARV.
I was selected for this opportunity as a member of CLEVER and the content and opinions expressed here are all my own.