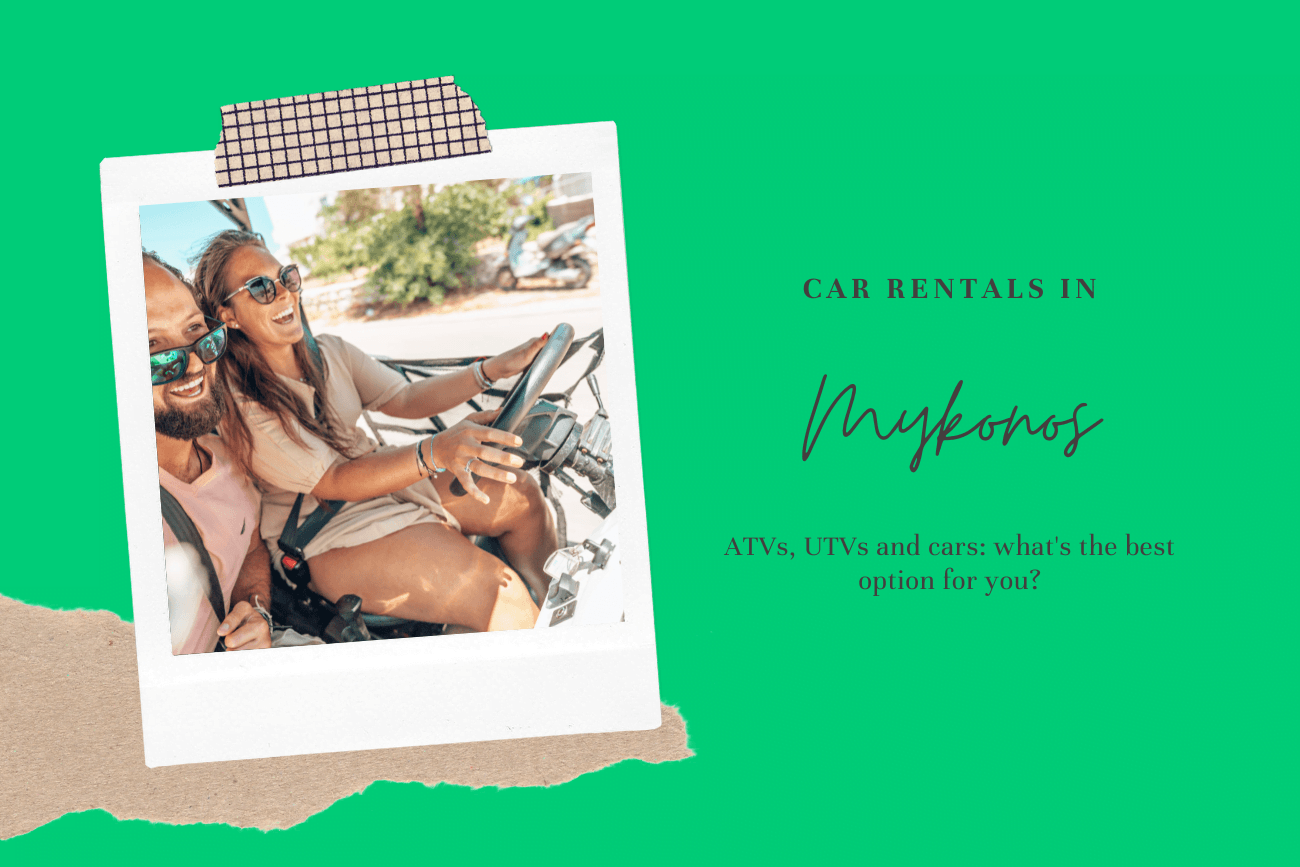 While Mykonos is a small island, it's surprisingly difficult to get around. Uber, Lyft and the services we're typically accustomed to don't exist and there's only about 34 licensed taxis that operate on the island. There's a decent selection of unlicensed cabs, or "black cabs" that charge 15-25 euros regardless of where you go, what time you go and how far. If you plan to explore the island at all, a car, UTV or ATV is a great option. Now, there is a time and place for each so let's break down the pros and cons of each option.
Renting a car is going to be the best value in most cases. While cars can get pricy, especially in high season, a car provides comfort, security and air conditioning. A number of the local rental car companies do also offer free parking in Mykonos Old Town, a much coveted perk, since parking is often expensive or impossible. We ended up renting a car from Anemos Mykonos (linked here). While you can certainly rent a car from one of the international providers like Avis, we found their pricing to be significantly higher and the local companies will come to you, whether that's the airport, your villa or your hotel for no extra charge.
Car rentals in high season will run you somewhere between 50-120 USD per day, depending on the car. We rented a Fiat 500 convertible for about 70 USD per day for three days. It ended up being the right decision for us because the weather was over 100 degrees traveling with all our camera gear, it seemed much safer than an open-air UTV and we could have the top down when we weren't dying in the heat.
Now, let's get into the UTVs…we rented a UTV on Paros for 70 USD a day and it was a blast! In Mykonos, UTVs are about double that. For 140 USD a day, you get a gas-guzzling open air vehicle that really is a fun time, but it is very expensive. When we rented a UTV for 4 hours, we ended up having to fill up the gas tank as it was completely empty at the end. Versus the car, we never had to fill up… oddly enough. So if you're looking for a savings, it's not a UTV. If you're looking for something more heavy duty and more comfortable than an ATV, this is for you.
You can rent UTVs at any number of locations in town, but we would recommend checking pricing online as well to ensure you get a good rate. You can rent UTVs online that will come to your villa or hotel from a number of sites including:
Finally, you have the most popular choice, an ATV. ATVs start at just 25 USD…for a 50 cc engine. These ATVs are NOT advisable thanks to the fact that they can barely make it up a slight incline, much less the real hills of Mykonos. We do not advise renting an ATV of that size as you will spend more time pushing it up a hill than actually riding it. That being said, they do offer additional ATV engine sizes, but then the price is essentially comparable to a UTV, but without the sun protection of the roof and the safety of the cage.
Renting ATVs is even easier than UTVs. Should you find yourself interested, you can find them on the same websites as the UTV rentals. They also will bring them to you at your hotel or villa.
Renting a vehicle of any kind is often a more cost effective way of exploring the island. Cabs are unreliable and expensive and most hotels offer free parking to guests. Our best recommendation is to rent a car as early as possible as the prices do increase the closer you get. Lastly, Mykonos is a small island so you don't drive super far and need to pick up gas much less than most vacation destinations.