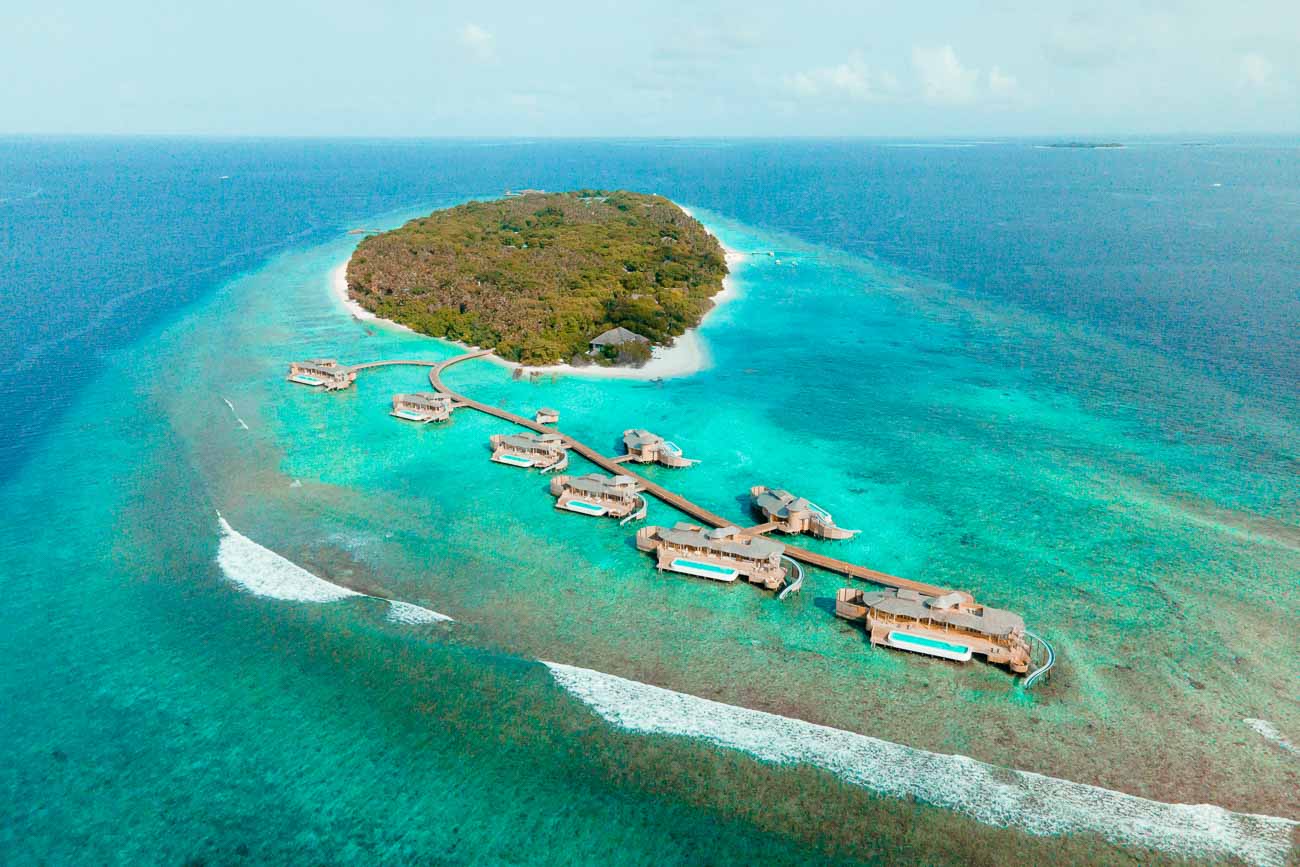 Soneva Fushi is one of the most "insta-famous" hotels in the Maldives, and for good reason. Offering a unique, Swiss Family Robinson experience, Soneva Fushi welcomes guests to its overgrown jungle paradise with its "no news, no shoes, no mask" motto and it takes about 5 seconds to realize this isn't like any other hotel you've ever been to. For travelers looking for a unique experience in the Maldives, Soneva Fushi may be just the right place for you.
Soneva Fushi is located in Baa Atoll, arguably one of the most revered and bio-diverse atolls in the Maldives.Baa Atoll is aso a UNESCO World Biosphere Reserve and is home to the largest Manta Ray feeding station as well as stunning fish and coral life. Soneva Fushi is one of the early resorts in the area, meaning, its natural island is lush and its surrounding reefs are rich and alive.
Soneva Fushi is a short 35-minute flight from Malé via seaplane. The island sits quite close to a neighboring local island, Eydhafushi, which can be seen from the entire south-western side of the island. Our recommendation is to book the "sunrise" side of the island to avoid the bright lights in the evening.
Lobby & Check in experience: 5/5
If you've read some of our other reviews from the Maldives, you'll know that we look at lobby & check in differently in the Maldives. Your check in experience begins at Velana international airport and if there's one thing Soneva knows, it's how to make a first impression.
Typically, you will be greeted by Soneva staff upon arriving at the international arrivals terminal, however, we we were arriving from the Ritz-Carlton by boat so we were greeted at the dock. We were taken directly to the waiting Tesla while the two staff members went to check us into the sea plane. We never entered the airport – the staff took our passports and luggage so we didn't have to do anything but relax in the air conditioned SUV. There aren't exactly a lot of Teslas driving around Malé, so it was quite an experience to be the center of attention while other travelers were taking photos of the car and getting very excited about it.
Once our luggage was checked in and we had our seaplane tickets, we were driven the (way too short) 5 minutes to the seaplane lounge. Soneva has a small lounge for guests to await the seaplane transfer and they serve coffee, tea, water and some granola and snacks. Max and I had a very early start that morning and due to some weather over Malé, no flights were coming in and out so we had an unexpected wait. The staff in the lounge was so kind they went and found us some toast since we hadn't had breakfast. It was a very nice gesture and much appreciated.
Once flights resumed, we were taken the the private Soneva seaplane. A nice perk of the private seaplane is the oversized seats, a very comfortable experience compared to some of our other very hot and crowded flights.
To minimize noise from the seaplanes, Soneva has a small dock out in the lagoon where you are picked up by their speedboat: so begins the Robinson Crusoe experience! On the boat, a staff member takes your shoes and explains the motto. Upon arriving at the dock, you're taken to your room by a temporary butler to take the COVID-19 PCR test and quarantine until the results come back. Later, we'll explain the COVID-19 precautions that blew us away.
One thing you'll notice when you're looking to book a room, is that there are a lot of room types and they're all very different. Of all the hotels we've stayed at, I'd say this is one where you really have to pick what is best for your lifestyle and priorities.
All of the rooms have natural elements, handmade furnishings and are extremely unique from a layout perspective. Technology is certainly not the main focus here, as TVs are cleverly tucked away inside suitcase-looking coffee tables and light switches are a combination of old-school switches and colorful knobs and oddities. While it takes an excruciatingly long time to find all the lights at the end of the night, the style of the knobs and "homemade" switches is a very Soneva thing to do. While we feel it would be a better guest experience to modernize and make things a bit more consistent, it's also part of the "charm".
The bath amenities are all-natural and very nice. They are available in refillable containers, which is not something I love unless they refill them and sanitize them between guest stays. Some of our rooms did have half empty bottles, while others were full. Regardless, they offered after-sun lotion, reef safe sunscreen, mosquito spray, shampoo, conditioner and body wash.
We had the opportunity to try three different rooms: a Family Villa Suite with a pool on the sunset side, a 2-bedroom Crusoe Suite with a pool and the 2-bedroom Water Retreat.
The Family Villa Suite with a Pool was not our favorite, to be honest. It was quite outdated, with a non-functioning water kettle, doors that couldn't quite seal correctly and a view of the neighboring island that included a very bright light straight into the room all night. Since the doors didn't seal correctly, the AC didn't quite get the job done. Also, small note but the wine glasses in this room were not nearly as nice as the wine glasses in the two other rooms we were in. There is a very small second bedroom with a queen bed. It's not quite an ideal kids room since there is only one bed, but I'm not sure how you could fit two beds in there. I eluded to this earlier, but in general, I would personally avoid the sunset side due to the local island that is so close. Frankly, this villa category feels like it's "left behind" and may even end up being converted to something else in the future as I can't imagine too many guests are elated with the views, in particular. The room did have a nice outdoor bathroom with a sunken tub and garden area, which was our favorite part of the room.
The next night, we were moved to a Crusoe Suite with a pool on the sunrise side and wow what a difference. The Crusoe Suite is large, open, much newer and features an upstairs bedroom as well as a small kitchenette with brand new appliances and fixtures. The pool is about three times the size of the Family Villa Suite and there is a gorgeous stretch of beach out front. Everything about the Crusoe felt so much more luxurious than outdated Family Villa. It, honestly, felt like a whole new island. The bathroom was similar to the family villa, but much larger, with a newer tub and shower and outdoor lounge area.
On our last night, we were able to try the Two Bedroom Water Retreat with a slide and that was our all time favorite. If you can swing it, book the water retreat, whether it's the one bedroom or two bedroom. These are the newest rooms on property and no expense was spared here. They feature stunning views, dozens of glass floor-to-ceiling windows and massive pools. Our two bedroom has a cinema room, a living and dining room, kitchen, two bedrooms and enough outdoor space for a party. There is even a secret upstairs lounge area for tanning and relaxing. There are glass bottom floors across the villa and our absolute favorite feature is the ceiling in the primary bedroom that opens up to the sky. Of course, they decided to keep the frustratingly unique light switches and knobs with no master switch, but overall, this category is why you come to Soneva.
The service at Soneva Fushi is very laid back in general. Each guest is assigned a Barefoot Butler and ours, Mickey, was fabulous. They are there to take you around, book reservations and help you with anything you need. Butlers are certainly the highlight of the service experience at Soneva for all guests. It also seems the butlers have tremendous power and can make anything happen to surprise and delight guests.
There are also some incredible experts on property that Soneva has hired to run programs that are important to Soneva's mission around the environment and conservation. We had the opportunity to spend a lot of time with their resident mosquito expert, Bart Knols, who not only is tasked with finding creative, eco-safe ways to reduce mosquitos, but he's also running incredible experiences for kids and families focused on education. He was a truly passionate person and we practically begged him to take part in his kids program because it seemed so fun. The addition of people like Bart are what make Soneva Fushi an exceptionally unique property. While guests can find experiences typical of any vacation, guests can also take the opportunity to learn something new, try something they've never tried and spend time experiencing programs that Soneva has been passionate about for decades.
While most of the service was generally good, we did experience a few outliers. While most of the staff we interacted with were passionate and would do anything to help, there were a few more "jaded" members of the staff. For instance, we were scheduled to do a chocolate tasting at 2pm, but when the chocolate guru didn't show up by 2:25pm, we just decided to go. There wasn't any service recovery, and while I understand "island time", the guest's schedule should always come first.
It's worth noting that the water sports staff were excellent. Their knowledge and passion for showing guests the underwater world through the excursions was incredible.
Overall, we really enjoyed the laid back energy and really loved our barefoot butler experience. The barefoot butlers, in particular, are what make this property so outstanding. The longer you stay at Soneva, the more you find yourself falling into this calm, go-with-the-flow, casual energy that many of the staff exude.
The dining experiences at Soneva Fushi are as unique as their room types. There are a number of restaurants on property, including the treetop dining experience, overwater and beachfront. The breakfast was perhaps the most incredible of them all, with what felt like dozens of rooms dedicated to different types of food: a cheese room, chocolate room, bread room, fruit room…and the list goes on. There was so much to choose from, I cannot fathom getting bored at any point.
They also offer complimentary ice cream and chocolate all day, both at the breakfast restaurant as well as the overwater chocolate room. They also happen to have the best, and most extensive, coffee menu we've experienced in the Maldives. Every cup of unique coffee is a fun experience.
Fresh in the Garden is a beautiful, treetop dining experience next to the observatory in the center of the island. Guests can dine in this unique jungle restaurant after crossing a fun swinging bridge. The food is excellent and plentiful.
Out of the Blue was our preferred happy hour spot and lunch spot. With comfortable lounge seating and overwater hammocks, guests can access to an extensive menu featuring healthy seafood, sushi, salads and sandwiches. It's worth noting that the entire property is beef-free. However, they always have some on hand in the event a guest requests a steak.
We dined at Down to Earth one evening with our toes in the sand and it was a wonderful experience. They serve a variety of seafood dishes and delicious shared plates.
We enjoyed room service during our quarantine (more on that below) and it was very good. They have an extensive menu, including Maldivian, Indian, American and Italian cuisine. While we didn't particularly love the pizza, everything else we had was excellent.
We also had the chance to test out their floating breakfast and it was delicious and very fun. It's a great treat for honeymooners and romantics!
On our last day, we grabbed a quick lunch at the bar (close to where you have breakfast) and the lamb burger and chicken sandwich were delicious. We highly recommend the bar if you're looking for something quick and delicious.
We heard they just opened a restaurant that you have to zip line to, so we will look forward to trying that when we return ;).
Overall, the dining was excellent at all meals. They feature an extensive wine list, massive menus and delicious, fresh food. While the dining experiences are unique, they are also very comfortable and welcoming. It feels as though you can sit and dine all night without feeling the pressure to leave.
Soneva Fushi has been around a long time, 25 years in fact, meaning they have continued to build on and develop the island to further their goals of sustainability, fun, adventure and pushing the bounds of what is a "normal" luxury experience. There is a fun playful element to almost everything they offer on property, whether you're climbing a bridge to dinner or riding a bicycle along a winding jetty to get to your bungalow.
With sustainability in mind, they have developed some very unique programs for guests to enjoy. One of our favorite offerings was the glass blowing studio. Every day, the resident glassblowers work with recycled glass on property to create beautiful art, as well as all the glassware in the restaurants. We had the chance to watch the artists work and it was an incredibly fun experience. They do also offer glassblowing classes where you can actually make something and we'd recommend it if you can.
They also have a wonderful water sports center. One of the major advantages of the location is that it is a very short 20 minute boat ride away from Hanifaru Bay, the most popular manta ray feeding stations in the world. Each day, the hotel calls the rangers at the bay to find out if the Mantas are there. If they are, anyone who signs up for the excursion will go. Since they are so close to the bay, its easy to ensure you have the best experience on the excursion. They won't go if they don't have manta rays that day.
They also offering snorkeling, scuba diving and a number of other activities. We did a snorkel trip to see turtles and it was incredible. The staff were so incredibly knowledgeable about the biodiversity, sea life and types of turtles, which made it extremely fun to experience. It's not that often where you will learn so much about your surroundings on a snorkel trip. It just goes to show that the staff who work on the island are genuinely interested in the marine biology and ecosystem of the Maldives.
We also had the chance to do a dolphin tour. While we didn't actually see any dolphins, we had a beautiful sunset cruise all to ourselves with canapés and champagne. Dolphins are, of course, never guaranteed so the offer of champagne and snacks was a great way to ensure guests have an enjoyable experience.
The property's recycling plant was a pretty impressive site to see. Situated in the middle of the island, guests can look at their process for reducing waste and melting down metals to turn into usable goods for the property.
Soneva Fushi has one of the earliest observatories and it sits high above the jungle. Guests can attend an informative session with an expert and learn about the visible stars and planets. It's a great pairing if you have dinner at Fresh in the Garden since it is conveniently located nextdoor.
There is a nice fitness center in the middle of the island with ample equipment and weight sets. It has a lovely jungle view. There is also a tennis court and you can rent equipment if you'd like to play.
I mentioned this earlier, but Bart Knols offers a number of experiences for kids and families that sound like incredible learning experiences. He even offers an overnight experience where they take kids out to a local sandbar and teach them survival skills. We desperately wanted to join — maybe we'll convince him to let us do it next time ;).
At the time of our visit, they were renovating the spa and building the cinema under the stars, so we will be sure to update this blog on our next visit.
Lastly, there is no public hotel pool. However, there is a overwater deck at Out of the Blue. There is a water slide that is incredibly high speed and fun at high tide. Many of the villas do have private pools, so if a pool is important to you, be sure to book a villa with a pool. If you like to swim laps, your best bet is to book a water retreat an the pools are longer than most of the beach villas.
Soneva Fushi certainly has a unique, rustic style. Their furniture is beautiful, mostly handcrafted and incredibly well considered. Their sofas and seating areas are oversized, with massive pillows and what feels like the comforts of home. Their style is very consistent across the property and particularly in the newer, or renovated, villas. While some of the older villas are a bit dated and uninteresting, if you pick the right room type for you, the style feels so incredibly deserted-island-meets-luxury.
We love that Soneva Fushi doesn't just preach sustainability, but rather incorporates it into their very core: from furniture, to recycled handblown glassware, to art and so on. There is zero single use plastic onsite and they even have a garbage recycling plant in the island to reuse and recreate as much garbage as possible.
Overall, the more we learn about Soneva Fushi, the more we came to fall in love with it.
Overall, we really enjoyed our time at Soneva Fushi. While some properties are love at first site, Soneva was more of a slow burn that ended in us begging our butler Mickey to cancel our seaplane out of there. We can absolutely see why guests come back year over year to this magical island. If you're looking for modern amenities and design with the white-glove 5-star service, this is certainly not the place for you. However if you're looking for a more unique, personal and laid back approach to hospitality that incorporates sustainability and learning, it's a truly incredible experience.
Disclaimer: We were hosted by Soneva on a media stay. Please know the opinions expressed are all our own and may not reflect the hotel's own views.