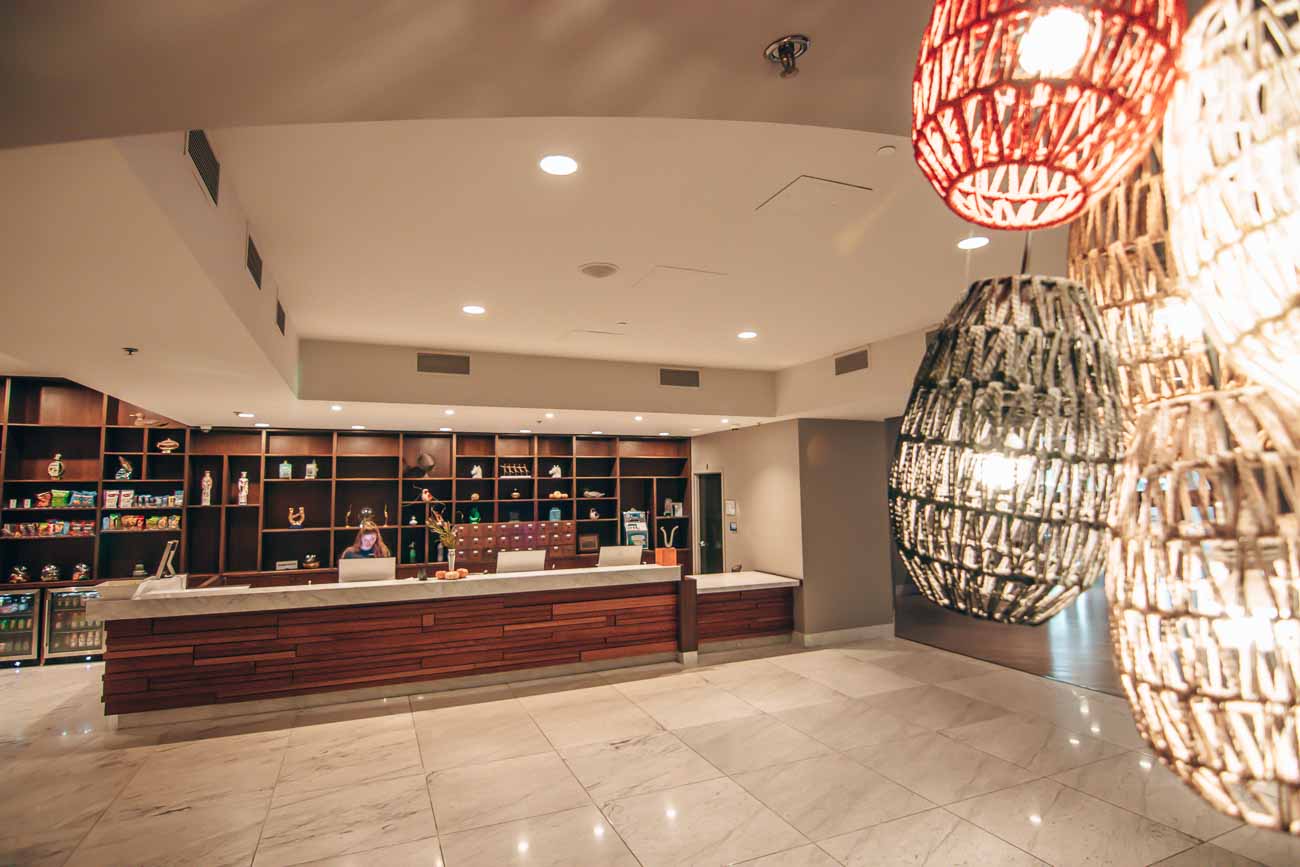 Before you make any judgments about what you think you know about Reno, know this: Reno is amazing! Constant festivals, beautiful hipster coffee shops and gourmet cocktail lounges are popping up everywhere and a focus on nature and wellness is creating an incredible culture in the littlest big city in America.  On the banks of the river lies the beautiful Renaissance Reno Downtown. We had the pleasure of experiencing everything Reno had to offer in one picture-perfect weekend: nature, culture and delicious cuisine. Read on to find out what we loved!
If you're looking for a peaceful retreat, this is it! It's the only riverfront property, featuring a riverfront restaurant and an expansive bocce experience with arcade games and a sports bar.
The Renaissance Reno is across the street from my favorite underground market (The Basement) and it's just a few short steps from the heart of downtown Reno (where you'll find the casinos, Whitney Peak and all the great festivals). We never got in the car as we chose to walk the short distance to town. The property does rent out bicycles for $10 for 4 hours, so you can explore the area on a beautiful cruiser if you want to.
Lobby & Check in experience: 4.5/5
We arrived at the Renaissance Reno fairly late (around 8:30pm), but the bellman immediately helped us with our luggage and I headed inside to check in. The front desk agent was efficient, friendly and told us to head to dinner and the bellman would deliver our luggage straight to the room for us.
The Renaissance Reno lobby is quite large and has some beautiful features: a wall of dog tags of past furry friends, a nice seating area with board games, shelves lining the wall with odds and ends and a little minibar area where you can purchase snacks and beverages. There is also a deli area to pick up a to-go style breakfast or snack.
One feature I loved in the lobby was the endless candles in the evenings! It was so unique! They had candles around the lobby, lighting up the area in a warm glow.
We entered a large 1-bedroom corner suite on the 7th floor, with a beautiful river view outside our many windows. We entered into a nice entryway and were immediately greeted by a very cool, artistic coat hanger. To the right was a massive living area with a closet lining the back wall, sofa, desk area and king bed.
Since it was a corner suite, we had many floor to ceiling windows facing the mountains and river. It was so peaceful! The bathroom was also large and had a jetted tub, double vanity and deliciously comfortable shower. I am a big bathroom fanatic and this one definitely passed the test. Not to mention, the toiletries were to die for. Rosemary Thyme Aveda products only made me think: spaaaaa.
Overall, this property has 5 star facilities. From the heated pool, to the beautiful fitness center, to the massive bocce experience located on property, you really don't even have to leave to have an amazing time. The website says the pool closes on the 1st of October, but I was so happy to hear that it was still open and warm.
We had the opportunity to test out Bundox Bocce, which was such a blast! The bar and courts were huge and super cool. We had a blast playing our game for an hour and ordering drinks. After a quick game of bocce, we sat at the bar and enjoyed a real feast of amazing bar food.
Bundox Bocce also has a number of arcade games and fun games like Jenga. We ended up playing Jenga, which was awesome because the Jenga pieces were basically human size pieces of 2×4. I won ;).
The dining at the Renaissance Reno is what surprised me the most. When we arrived on Friday night, we went straight to dinner at The Shore and it honestly blew my mind. Chef Jacob and his crew were incredible. We were completely mind-blown by the Mediterranean-Greek style.
The ironic thing was that we both thought the Greek food at The Shore was better than most of the Greek food we had in Greece…this coming from us, who lived on a boat for a week with a Michelin chef. We were served delicious Tzatziki, Hummus and other Mediterranean dips. We then had some ridiculously delicious grilled cheese (yes, just cheese that was grilled) and lamb lollipops.
At that point, we were both full and determined to enjoy our entrees. We had a lamb chop and the pork chop and WOW. It was so good that we couldn't stop eating it. Throughout the course of the meal our waiter, Toby, recommended wines that went with each dish and was incredibly knowledgable.
We had dessert out on the patio by the firepits with a delicious cocktail. It started raining, but the head navigator (concierge), Robbie, sprinted outside and put up an umbrella and gave us blankets. The whole experience was such a dream.
The next morning, we headed to the Italian Festival that was happening in Reno and spent the day wandering the streets, eating delicious Italian food. The Italian festival is one of Reno's largest events and was such a blast.
The second evening, we played a round of Bocce and ordered dinner at the Sports Bar. The pizza was a clear winner (SO GOOD!). We also had buffalo chicken dip (drooling right now), Mozzarella sticks (omg.), tater tots and wings…all amazing. Bundox Bocce had delicious pub-style food and great drinks, so definitely give it a try.
The staff at the Renaissance were such genuinely kind people. Starting with the front desk agent who checked me in, pretty much everyone we encountered were super kind and willing to help. The housekeeping team was organized, efficient and our room was crystal clean.
Robbie, the head Navigator for the property, was around to help us with anything we needed, and was running around to make sure guests were happy and had what they needed.
The first thing I noticed upon entering the Renaissance around 8:30pm was that every surface had candles! It was so amazing! Not even fake candles…real, beautiful candles. It lit up the property in a really nice warm glow. I don't think I've seen this at any other hotel before.
The second thing I noticed was that the walls were lined with bookshelves and odd nick nacks. The whole lobby, lounge and bar area are made to feel like you're in your living room and we loved it. Cole Adams, the incredible singer/guitarist on property was situated in the living room playing great music and serenading the guests. I felt so at home on the massive couches.
Overall, the style was super modern, clean and cozy at the same time.
The Renaissance Reno Downtown was truly a stand-out property in this adorable little town. It brought a modern, sophisticated edge that still felt so homey and warm.
I genuinely didn't want to leave our 1-bedroom corner suite or the confines of the living room to head the short ride back to the bay area. Couple that with the incredible meal at The Shore and they might just find me back there sooner than they think!
We highly recommend this property if you're looking for a fantastic, luxury experience near Lake Tahoe. Also keep in mind, you can earn valuable Marriott points as this is a Renaissance (AKA Marriott) property- so really, it's a no brainer.
Disclaimer: We were hosted by Renaissance Reno on a media stay. Please know the opinions expressed are all our own and may not reflect the hotel's own views.