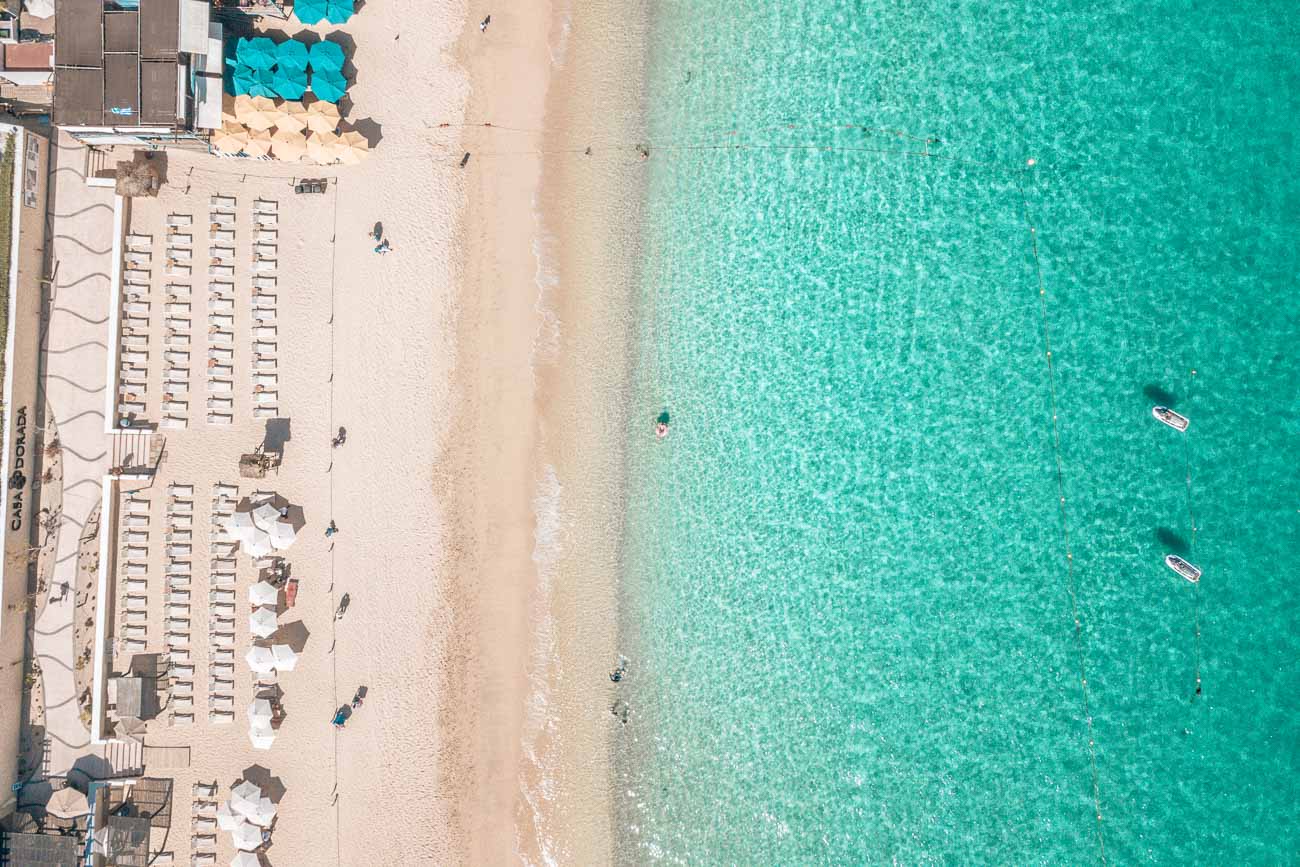 I've been to Cabo a lot this year and stayed at some spectacular properties, all of which have been all-inclusive up until this point. I was excited to try something new and not all-inclusive on our latest trip to paradise. Overall, the our stay at the Casa Dorada, Los Cabos was lovely and situated on one of the only swimming beaches in Cabo. Read on to find out more about what we loved about the Casa Dorada!
In terms of beach location, you literally can't find a better beach in Cabo! The Casa Dorada is situated on Medano Beach, which is well known for it's activities, proximity to Lover's Arch and great parties. It's also one of the few swimming beaches in all of Los Cabos. Many hotels line the expansive beach and more properties are being constructed as we speak. So, if you're looking for a fun beach vacation with long walks to check out the other hotels and people watching along the beach, this is definitely for you.
The only reason the location got a slight ding is because the Casa Dorada is right on top of The Mango Deck, an infamous party spot for spring breakers and partiers. If that's what you're into then it's fantastic. However, on this trip, we were not looking for a party, so the music, wet t-shirt contests and loud inebriated people (while fun to watch) were not so fun to experience from the outside. However, if you grab a beach chair on the other side of the property, it's hardly noticeable.
Lobby & Check in experience: 3/5
The lobby at Casa Dorada is very pretty and overlooks the beautiful view across Medano Beach. At sunset, the lobby lights up with a beautiful rosy-gold tint and it's quite breathtaking.
The check-in experience however, was a bit of a mess. The staff seemed very confused and there was a lot of friction and frustration in the whole experience. To avoid any issues, be sure to print out your reservation documentation as well as call ahead to make sure they have everything correct. The last thing you want when you show up after a flight is to deal with something being incorrect. Several people in the lobby were experiencing the same or similar irritation, so I think it was just a training issue. Regardless, once everything was settled, we were sent up to our correct room.
We were booked into a junior suite at a glorious 885 square feet. The rooms were a very nice size with a separate living room and bedroom, and with a large bathroom and soaking, jetted tub. I was actually really pleasantly surprised with the size of the rooms at the Casa Dorada.

There was also a large balcony that spanned the two rooms so you could enter and exit from the bedroom or living room. The balcony had a small table and 2 chairs, as well as a chaise lounge.
The bed was nice, firm and king-sized with a lovely view of Medano Beach and the surrounding area from the 5th floor. Some of the rooms around us appeared to have slightly different configurations, with larger balcony, but not the same style separated room.
Being that Casa Dorada is not an all-inclusive resort, the mini bar was not free (coffee, water, beers, etc), however the prices were very reasonable. The room also featured a small kitchenette, with a coffee maker, microwave, small fridge and sink area. It's great to have access to this if you want a relaxing morning in bed or a chill evening with dinner in the room.
There is a fitness center with weight machines and cardio equipment available that had the equipment we needed, which is always a plus on vacation. Casa Dorada also has a nice looking spa that we did not try this time.
I did, however, have a nice foot massage on the beach courtesy of the spa ;). I enjoyed it!
There is a large pool area that overlooks the beach and offers poolside dining and service. We never spend much time in pools when we go on beach vacations, so you can find us down by the water. There is also a nice beachfront area with comfortable chairs, umbrellas and beach service. We had lunch, cocktails and service every day of our stay down at the beach. As with most hotels, there is a roped off area across the beach so the vendors cannot enter onto the property to sell you things. They can be quite aggressive trying to sell their various tourist nicknacks, so the rope is nice to at least keep some distance. That being said, we gave in, and bought a lot of great stuff from them…hehe.
There are four restaurants on property at Casa Dorada and a couple of bars. The drinks were excellent. I greatly enjoyed their margaritas and piña coladas :). For dining, we preferred to explore the beachfront restaurants in the area so we did not dine in much. However, the lunch was tasty (the nachos being the outright winner).
Overall, the service at Casa Dorada was great, with the exception of the front desk confusion. The beach staff were lovely and very attentive throughout our stay. Housekeeping was done in a timely manner and the room was always sparkling clean afterwards. The restaurant managers were also constantly checking on you to make sure everything was ok, which is always a nice touch. Tipping at this resort also went a long way to ingratiate us with the staff. Tipping was clearly expected, unlike many of the all-inclusive hotels we've stayed at in the surrounding area.
Pro tip: Take out cash before you get to Cabo. We always take between 50-100 USD depending on the length of a trip just in tip money. Trust me, you'll notice a difference in service at some of these resorts.
The rooms at Casa Dorada had beautiful modern showers and nice furnishings. It's a very comfortable hotel and super clean, which is really all that matters on a beach vacation. The property has the stucco "casita" vibe and the pool area has a number of hammocks around, which makes you feel very comfortable all around. The updated pool loungers and restaurant decor were a nice touch and make the property feel very updated.
Overall, Casa Dorada was a really nice experience and we're 100% planning on coming back. While I tend to go for an all-inclusive experience first, the fact that this property is on Medano Beach (aka a swimming beach) and offers beachfront service and comfortable, large rooms make up for any front desk mishaps or downside in my opinion. It's an easy walk to a number of restaurants and the town center so eating out is really no issue at all at any price point.