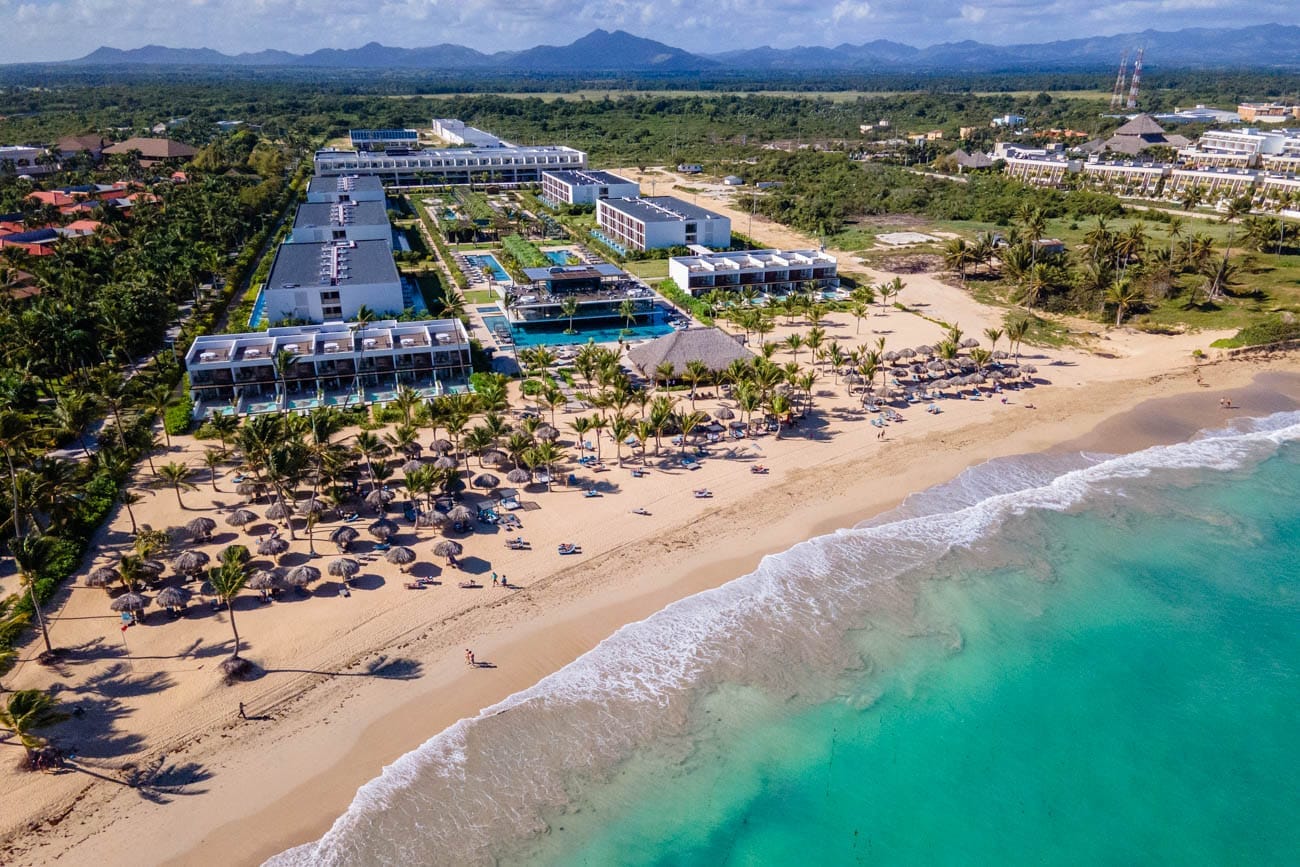 Live Aqua is one of the new kids on the block in Punta Cana, just recently opened in May 2021. With the high price tag, we had high expectations for this self-proclaimed 5-star hotel and it, frankly, did not live up to our hopes. While the hard product (facilities, infrastructure, decor) all met the mark, the arguably-more-important soft product (service, food and beverage) left a lot to be desired. Before you book this property, here's everything you need to know.
Located in Uvero Alto, on the north end of the Punta Cana region, Live Aqua sits on a gorgeous bay, approximately 45 minutes from the airport in Punta Cana. It's surrounded by Now Onyx to the left and Dreams on the right. While the majority of the rooms face into the property, the low buildings give it a small-property feel with an openness that many resorts simply don't have. From the buildings closes to the beach, you have a slight ocean view from the second and third floors.
Uvero Alto, much like the rest of Bavaro and Punta Cana is lined with hotels and gorgeous blue water. The sand this far north is a bit more golden than the stark white sand you find in Cap Cana (like at the Hyatt Ziva and Zilara Cap Cana) or lower down in Punta Cana. In the winter, the water is blue with minimal seaweed. However, come summer or late spring, the entire coast line is infested with Sargassum. We were there in December and it was already starting, so fair warning that summer is not the time to see this area at its finest.
Lobby & Check in experience: 3.5/5
We arrived to the lobby at 3pm and when you pull up, there is a large automated door that gives the hotel a very exclusive vibe. Whereas many lobbies in the area feature expansive views immediately upon pulling up, Live Aqua hides what's inside with a modern entry. The lobby itself is quite impressive, with water features and a two-story area complete with the majority of the restaurants and bars on property.
When we mentioned the hard product versus soft product, this is where it started to unravel a bit. I want to preface this by saying that the experience we had is not uncommon and therefore we will detail what we experienced. While we typically try to remove our personal experiences from reviews to give you the best picture of a typical guest experience, what happened to us was typical of every other guest on property at that time. We also sat in the lobby for a while the next day to verify if what we experienced was indicative of others. We spoke with 10 other people who had the same exact experience we did, or worse.
Within seconds of walking inside, we were approached by gentlemen seated at a desk that features images and rolling TV ads of hotels around the world, part of a "collection", not Live Aqua hotels, to the immediate right hand side inside the main door of the lobby. They told me to sit down, and yet, the front desk right in front of me told me to proceed to them to check in. I was a bit confused and said I was going to the front desk. The gentleman asked Max, "what's her problem?" Max stated that we were not interested in timeshares, we just wanted to check in, to which, the gentleman said "we don't sell timeshares, we only work at the hotel and are here to help you". Not only did we find out later that they were completely lying to us, but they did the same thing to everyone and lured people into a "VIP breakfast" and then told them they weren't allowed to leave because it was too late once they had committed to this breakfast. We watched this unfold the next morning when a couple was told at their "breakfast" next to us that they now had to proceed to a presentation. The couple resisted and the gentleman told they they don't have a choice because they were already on his list. Those poor guests who did not fight back spent the next 2-4 hours of their vacation in a timeshare presentation with the same employees asking me what my problem was. Regardless, in all the commotion, I did start crying and somehow managed to get through the check in process and off to our room sans a welcome beverage, water or anything else 5-star. To say this was an unpleasant experience would be a dramatic understatement. While not everyone had a confrontation like I did, I would argue that being signed up for a timeshare presentation under the guise of a VIP breakfast the next morning is significantly more inappropriate and, frankly, despicable for a 5-star property than the bizarre confrontation I had that resulted in my tears and feeling guilty over brushing off a supposed-employee of the hotel.

As a pro tip for you, when you enter the lobby, go straight to the front desk. It can be a bit confusing to identify who the timeshare people are because they don't announce themselves and they do not dress any differently than the bellman or front desk staff, but just trust me. Go to the front desk, do not sit down with anyone who approaches you in the lobby. If you are approached for a "VIP breakfast" or ANYTHING else that seems too good to be true or unusual, just be aware that it is a timeshare presentation that you will not get any value for your stay from. Unlike other hotels where the staff professionally (or sometimes aggressively) tries to get you to join a presentation in exchange for a free night or activity, this property does not comp rooms, offer free excursions or anything truly of value and the timeshare sales people lie about their job at the property to get you to agree. We did hear someone who was promised two free massages after they sat through the scam of a breakfast + presentation, only to find out that it was actually a buy 1, get 1 free massage. We were traveling with two friends who were almost roped into the "VIP breakfast" by a gentleman claiming to be a manager wanting to dine with them. When I ran up to our friends to ask them why they were with the timeshare guy, they were upset because the gentleman had told them he was a manager. Unless you are genuinely interested in doing a presentation, our guidance is to really just avoid the lobby area for the duration of your stay.
Apart from the horrendous experience of check in, the lobby is the central point of the hotel. The majority of the restaurants are attached to the lobby, as well as the shows at night.
We booked a Premium Pool View king, which is the second lowest room type. You can book the standard (Garden view), but you will face away from the property. We actually really appreciate being able to book the property-facing rooms versus exterior facing, because that's not often an option at hotels in the DR. The pool view rooms are excellent as you get a gorgeous view of the property's many gardens and pools. Rooms that face away from the property face the cart path and the next door hotels, which I believe is not an ideal experience, particularly on the swim out rooms (where you are watching staff walk or drive by all day and night).
The room itself is spacious, at 592 square feet. The modern design and simple lines do make the room feel clean, comfortable and very spacious. There is an open concept bathroom with a double vanity, frosted-glass toilet room and a shower with two shower heads. The bathroom amenities are Molton Brown, which is a very nice touch.
The bedroom features a comfortable kind bed that faces the view, a small dining set, sofa and chair. In our room, we had a beach bag gifted to us, however, our friends room did not have a beach bag.
The patio is truly the highlight of the room, with a large soaking tub, sizable lounge bed and dining set. We were on the second floor in building 6 (room 6202) and had a small view of the ocean when we slanted the dining set towards the view.

If you are a light sleeper, note that they use the rooftop bar as a nightclub and they blast very loud music, even if there are no guests, until 2am. While the doors are very good at keeping sound out, it's worth requesting a room in the buildings near the center of the property to try to avoid the bar-turned-nightclub.
There is a club level at the hotel, and it is only accessible to the suites. The club level gets you priority access at restaurants as well as a private beach area.
Overall, the room size and style is excellent and we loved the outdoor lounging space.
As alluded to in the check-in and lobby section, service is quite a disappointment for this caliber of property. There are a number of issues that really boil down to lack of management oversight and lack of expertise in luxury experience at the management level. There are so many wonderful, friendly staff on property that try their hardest to please you and make you happy, but ultimately many of them are not trained to the level a 5-star hotel requires.
Housekeeping did daily cleaning and turndown as well as daily minibar replacements. They do offer extra water on request. The minibar has some beer, water, soda and one snack (Nutrigrain bar??). Our friend's minibar had an Oreo packet. Much like other service experiences, the minibar is just as inconsistent with bizarre snack options that seem more like someone left behind a protein bar than something the hotel actually provided.
The service in restaurants was interesting. While the staff themselves were polite and friendly, they have been told to operate a certain way, both from an ordering standpoint and personality standpoint. It was clear that a number of them had been told to make odd noises and yell things like "oo la la" and "familia, my familia" very loudly because it makes tourists laugh. However, rather than make us laugh, it was distracting and odd. We would ask a basic question like "can we order wine" and the response would be a string of oddities that would be repeated until we laughed, before asking for our order. Along those lines, there is no such thing as ordering a few appetizers and then later ordering more food. Everything at the hotel is completely built around efficiency. All food items and service interactions were focused on getting through an order as quickly as possible. We would try to order a few appetizers and they would ask "what for main?" and we would say something about not wanting mains and they would not leave until you ordered a main. Alternatively, if you wanted a side of fries, you had to order the burger. There is no such thing as thinking outside the box. We were told multiple times that we "took too long" to eat and it was time for us to leave.

If guests have any issues on property, they're told to fill out a form and someone will "find a resolution" within 3-5 days. That's just simply not acceptable for a hotel of any caliber, much less a 5-star. Short of sobbing in the lobby loudly, there is really nothing that you can do as a guest to get management's attention. There are some staff members that are willing to work with you if you refuse to step down, but it should really never have to go that far.
I would not be surprised to experience this at a 3-star hotel, but we have stayed at dozens of 5 star hotels that go above and beyond when it comes to service and the food and beverage experience, all-inclusive or not. As a pinnacle differentiator between a 3 and 5 star hotel, the food service is generally where a 5 star hotel earns its reputation for luxury. This was, sadly, not the case on property. We do hope management spends some time at a 5-star hotel, like the Hyatt, where they can truly understand what good service is and bring that back to their staff. We found ourselves saying multiple times that we'd love it if the management at Hyatt Zilara Cap Cana came in and restructured the entire service experience.
Live Aqua has 8 dining outlets, including the breakfast buffet. There are three additional bars, one in the lobby, a sports bar and the Moonada on the 3rd floor of the secondary dining building near the beach. We tried a large variety of restaurants during our 4 night stay as well as room service.
Liberi (buffet)
We ate breakfast at the buffet a few times and it was good. There is a generally good selection of foods as well as juices. There are multiple omlette stations, waffles and pancakes, fruits etc. The coffee is not very good, but there is a coffee shop next door with a real espresso machine.
Sheishin (Japanese)
We ate here the first night for sushi and it was not edible. The sushi is pre-made, like most of the food on property, and it sits out all day since prepping early in the day. They use canned tuna and canned salmon in the sushi. There is no fresh fish, and that is unacceptable. We kept trying to order different dishes to find something that was decent, but it was all very bad. We heard the hibachi is slightly better. However, it was truly not good and I can't imagine the hibachi being much better given the sushi was that bad.
Sospiro (Italian)
The Italian food was good, approximately 3.5 stars. They did have a good tomato mozzarella salad, but the pastas generally lacked flavor, as did the meat. Unfortunately, if you have allergies, like a friend of mine, there is generally a lack of concern – which we noticed at this restaurant. They served my friend mushroom soup, despite three different people asking her about allergies. If she had been deathly allergic, this would have ended very differently.
Miraflores (ceviche)
Miraflores was by far the best dining on property and unfortunately only open for lunch. They serve fresh fish ceviches and seafood dishes that were far better than any other outlet. They are also located beachfront, which is a beautiful setting. We highly recommend their toasts, ceviches and salads.
Moonada (bar)
Moonada, for afar, looks like a beautiful, chill vibe. However, they have decided to turn this into a nightclub and blast very loud pop music all night. We genuinely felt this was a missed opportunity because the general vibe on property was not a crazy party vibe. They served drinks that were way too strong to "get you drunk", rather than focusing on quality.
Overall, the food quality was disappointing and we felt they missed out on simple opportunities to offer a 5 star luxury dining experience. Often, the drinks were far too strong, not strong enough or simply poorly made. The quality of the alcohol offered were more in line with a 3 star hotel, such as off-brand Russian vodkas and very mediocre spirits. The wine selection went from offering a decent Astica brand ($5-7) to offering the ultra-low-end $2 bottle of wine after they ran out or they assessed that people were drunk and wouldn't notice. The lack of consistency was quite underwhelming. The complete lack of regard for allergies was also a major issue when it comes to food. I would simply not trust them if I had a real allergy. When comparing the property to Hyatt, or even Royalton, it is not able to compete on the F&B front.
There are four quiet pools and one main pool. The pool bar was roped off for most of our stay for undisclosed reasons, but I suspect it's very popular when it is open. The quiet pools do not have drink service, but they do have lounge chairs. There are dozens of cabanas available around the property for a charge of $200. The pool chairs are not plentiful and are taken by 8am.
The beachfront is beautiful, with golden sand and great access to the water. There are far too few beach chairs, however, and they are taken by 8am. The club level area also has issues with filling up on popular weekends, so bear that in mind. They do have drink service at the beach.
The hotel does not offer any water sports of any kind. They have no activities center, no dive center and no access to boats, paddle boards or anything else you may be familiar with on a beach vacation. They are, however, happy to offer you paid romantic dinners or other upsells at the concierge. They do have volleyball daily and some other fitness-related classes on the beach throughout the day.

Overall, the facilities they did have were good. However, they really miss the mark on the one thing people come on vacation for: to lie on the beach. We hope in the future that they invest in more lounge chairs and train the staff on how to find pool chairs and bring them to the beach if guests aren't able to find anywhere to sit, rather than suggest they lie on the sand with a towel. We also hope they partner with another resort to allow access to a water sports center, even if it was for a charge. It's quite odd that there are very few activities that guests have access to.
We like the style of the property overall: it's clean, modern and comfortable. Despite being open less than a year, the foliage is incredibly lush and creates a cocoon of privacy for rooms and walkways. The patios are massive and comfortable in the rooms and generally, the style across the decor on property is consistent. They miss some areas when it comes to "vibe" and seem to focus a bit heavily on loud pop music blaring at the bars at night or even along the walkways at times. We feel they should lean more into the luxury, beach "chill" vibe that the property exudes to create a more relaxing environment that matches better with the sophisticated design.
Overall, we are disappointed to say that we didn't fall in love with this hotel. We were so excited to try this new, modern 5-star property, but it simply did not stand up to what it promises. It has all the potential in the world to be a 5-star property, thanks to the stunning location, architecture and rooms. However, they need a complete management overhaul to dig itself out of this 3.8 star hole it finds itself in. We hope in the future that the brand implements a brand new management team to truly make Live Aqua a 5-star experience for guests.