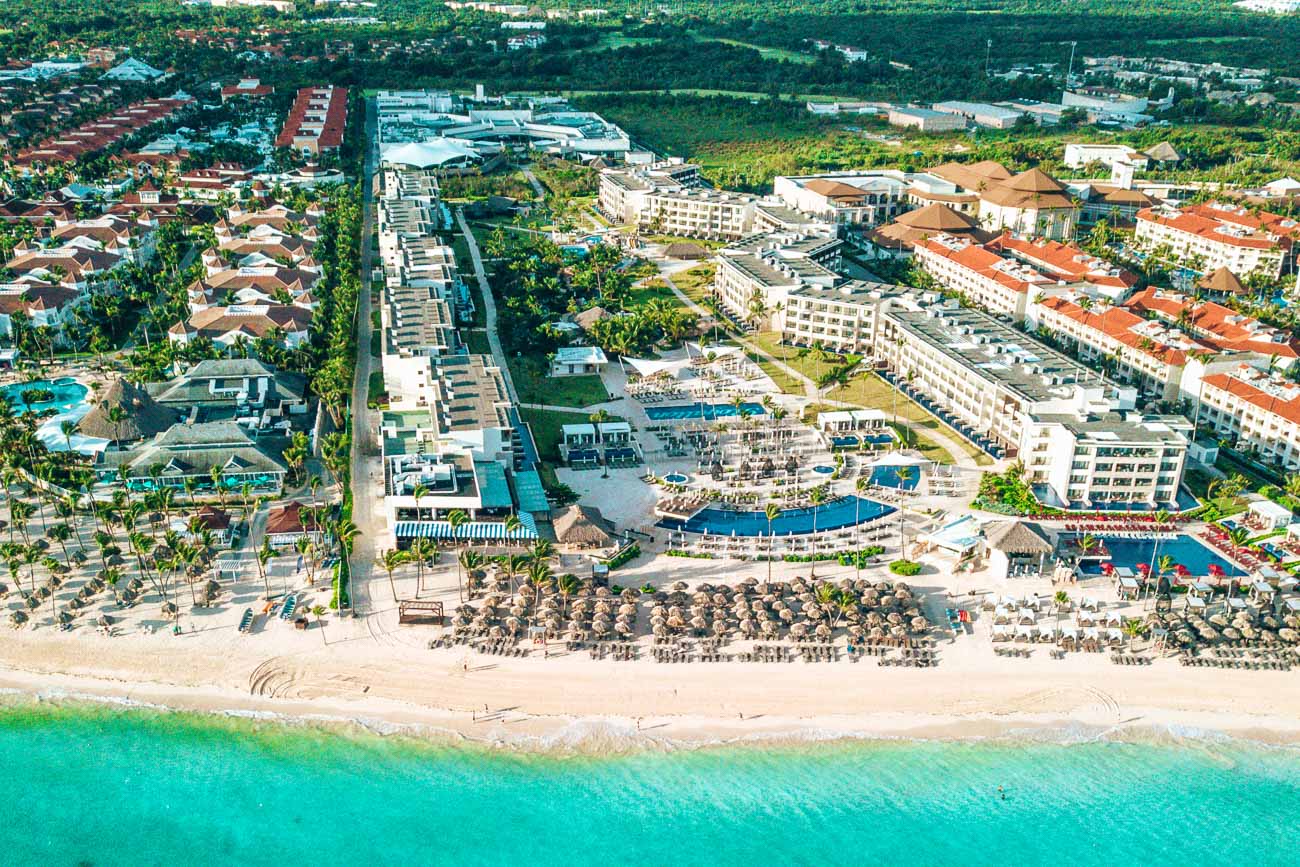 Max and I were invited to spend 3 nights at the Royalton Bavaro in the Diamond Club in April 2021 and we had a great time. This was our first stay on the hotel zone of Bavaro Beach and overall, the facilities, style and property itself are incredible.
Playa Arena Gorda is a stunning white sand beach with very flat, clear water. The beach is lined with a number of hotels, making it optimal for people watching, shopping and walking. The property is about 20-30 minutes from Punta Cana International Airport and the center of all excursions and activities. Boat tours leave directly from the beach of the Royalton.
In the winter, cooler waters make this beach absolutely pristine and sargassum free. Unfortunately, there is no seaweed barrier built up, meaning in the summer, that whole beach does suffer from sargassum more than the gated communities of Cap Cana and Punta Cana Resort Club. If Sargassum is of concern to you, we recommend checking TripAdvisor photos from the time of year you are planning to travel to compare what it was like the previous year.
Lobby & Check in experience: 3/5
The lobby of the Royalton Bavaro is incredibly grand. It is shaped like a round atrium and the majority of their restaurants and bars are located in the lobby area. We love the concept of the lobby because the property itself is long and narrow, so having the entertainment and majority of the restaurants in the lobby allows there to be more noise later at night away from the majority of the rooms.
The check-in experience itself was a bit disorganized, particularly if you are checking into the Diamond Club. The bellman throughout the three days were not particularly helpful or forthcoming and at times were simply not around. According to other guests, they experienced a similar welcome to the property. We discovered that most people wandered their way to the Diamond Club lobby on their own, lugging their bags and wandering around trying to find the Diamond Club with no bellmen by their side. There was never an offer of a ride via bell cart or simply a walk down to the club level check-in about 10 minutes walk from the main lobby. We did some reading into TripAdvisor reviews and did see many people experienced a similar issue with check-in, while others had the exact opposite experience. My hope is that it is only an issue during COVID and that they are more prepared or properly staffed in normal times.
We were checked into our room promptly once we did enter the Diamond Club lobby and taken to our room by our butler. The staff in the Diamond Club offered us a cold welcome beverage while we awaited our room keys. Fun fact, the room keys are integrated into the wrist bracelets so there is no need to carry around keycards at the resort. We thought this was a brilliant upgrade, particularly for such a large property.
There are essentially two offerings at Royalton: Standard and Diamond Club. All the room types are available in both standard and Diamond Club offerings and are the same exact rooms, but Diamond Club features some additional services and a Diamond Club pool and section of beach.
We were booked into a Diamond Club Presidential One-Bedroom Suite and don't be fooled by the same- there are many One Bedrooms Suites and we thoroughly enjoyed the additional space the suite afforded. The One-Bedroom Suite features 2 bathrooms, a full living room, bar area and a double-sized balcony. It's just over 1,200 Square Feet and our favorite part was the dual-shower heads in the master bath. The master bath includes a nice jacuzzi tub in the bathroom and a large closet. We were in Suite 16-328 and building 16 is one of the few with a slight ocean view due to its angle on the property. Overall, buildings 16-20 offer the best sunlight and position on property.
We really enjoyed the room itself, but were disappointed to find that the minibar was very sparse, there are no bottles of wine or liquor available and there are no snacks. When we inquired if bottles of liquor or wine are available outside of this COVID time, we were told they do not, which was surprising because there is a mini-wine fridge in the room as well as something that appears to hold bottles of liquor. We were told separately as well that bottles of wine in the room cost extra, which has not been our experience at other properties in the Dominican, even during COVID times. Even in standard rooms, we have been able to acquire a bottle of wine since I am allergic to beer. Given that it is not even an option for Diamond Club or "presidential rooms", there appears to be no difference between the actual rooms, whether you are in DC or not.
However Diamond Club does feature some great extras such as free room service ($5 for standard rooms per order), access to the Flo-Rider surf wave for free during certain hours daily, 30-minutes of hydrotherapy (I know the website says 1 hour but according to the Spa it was 30 minutes) for free per day and access to the water park during your stay for free. If you plan to utilize these services, it's an easy justification to upgrade. We found ourselves doing room service in the afternoons instead of going to the buffet lunch, which is a great perk as it is included. There is currently no Diamond Club dining option that is separate from standard rooms.
If you are debating the upgrade due to the added amenity of a butler, I would recommend thinking twice. I would upgrade solely based on the private beach area, pool area and access to amenities for free, rather than the butler service. The butlers were incredibly hit or miss and I am certain that some are significantly better than others, but we did not have a great experience and therefore cannot recommend it as the sole reason to upgrade (I can recommend several hotels with AMAZING butler service, like this one). As long as you know this going in, you will be fine. What we would recommend doing is deciding which restaurants you wish to eat at on day 1 so you can give your butler the list right away and lock in the reservations. The butler is the one to make any "preferential" dinner reservations for you.
If you're like me and get anxious about ending up in a "meh" room on vacation, Royalton has a very good option for you. There is a pre-select room option that starts at $60 and I imagine increases based on views etc, but it may be a great option. Having the option to select a room can save you the phone calls to the front desk begging to be moved if you end up in a less than ideal view or configuration to your liking.

Overall, we enjoyed the room – it was quiet, the air conditioning is excellent and we loved the master switches and AC controls located directly next to the bed.
While we interacted with a number of kind, genuine, hardworking employees at Royalton Bavaro, we did find there to be a significant amount of discouraging service experiences as well. It was made quite obvious that tipping is mandatory if you are hoping to get service at bars and the pool and since we purposely do not tip on media stays (at least not on the first day) to provide accurate comparisons of service across our hotel stays, we immediately saw the service flaws.
However, we met a number of staff members who were EXCELLENT, including Niciana at the Diamond Club beach, Emilio at breakfast, Yocasta at Turndown and Erinson with the minibar. They were bright, shining beacons of hope for service at the property and we hope that in time and better occupancy that the service will increase to the level of the 5 star experience that we know the Royalton can be.
Regarding tipping, we would recommend tipping the service people that you do have positive interactions with, particularly if you are hoping for swift service on the beach or at the bars. Carrying small bills is helpful in case you do have positive interactions. In the Dominican, 50 pesos is just under $1.
We really enjoyed our dining experiences on property. During COVID travel, Max and I do not eat indoors, so we stuck with the restaurants with nice outdoor seating. We ate at Rio, Hunter Steakhouse and Grazie. All three were good, and Grazie was by far our favorite thanks to the great service and good food. We also tried the Food Truck for lunch, room service for an afternoon snack and the lobby buffet for breakfast. While the room service menu photos look absolutely nothing like what shows up, it was still a decent snack. I would recommend the Chicken Salad wrap – the fries are quite good as well.
At Rio, the chicken was the standout, followed by the sausage. They serve the same wine across the property and it's fairly standard all-inclusive wine – not particularly good, but decent enough. The red wine was the winner of the three. The restaurants and bars do not have drink menus, so we tend to stick with what we know. At Rio, they come around like at a traditional Brazilian Steakhouse with various meats as well as serve you salad and bread rolls to start.

At Hunter Steakhouse, the fish fillet was a grouper and was quite good and the sirloin was also quite good. As with the first night, we stuck with the red wine and enjoyed the meal. Hunter has a menu featuring meats, one fish option, a vegetarian option and two paid options: Lobster and Prime Rib. The prices are not listed and one must inquire with the staff for the price of the day.
Grazie was our favorite, thanks to the great setting, service and good food. They offered us the traditional Dominican beverage of Mamajuana after our meal and I wish we'd known that was an option before! It was such a treat. Their menu featured pizzas, risotto, pasta, salads and a number of good appetizers. They also featured the Lobster and Prime Rib that they had at Hunter as well.
There is also a coffee shop on property that serves great espresso beverages – we highly recommend a stop here after breakfast in the morning for a delicious iced beverage. They also serve pastries and ice cream.
The facilities and the property itself are truly where the hotel shine. Between the lazy river, the Flo-Rider, the endless activities and pools, guests will never be bored at this resort. The property is massive, spanning a huge distance from the beach inwards and Royalton has done an exceptional job using the space to create a tropical paradise with everything adults, and kids, could possibly want out of a vacation. The space is well organized and stunning. Guests also have access to certain amenities at their sister properties such as the waterpark and the casino. The other property is about 5 minutes away by car.
One note about the Flo-Rider – DO NOT wear anything with strings. Both Max and I ripped our bathing suits, which was a real bummer. Wear only stringless bathing suites – for men, try tucking strings into your shorts. They get caught and rip off! It's worth it and it's fun, but don't wear your best suits like we did. They did say something about how they must have been cheap and unfortunately, they were actually very expensive. Again, a related a service issue where it's never really their fault, it must be the guest. We chose not to say anything further and not let it ruin the day, but just remember to wear non-string bathing suits!
Many of the high end resorts in the area have Skyline furniture, a great luxury furniture company and we are obsessed. The furnishings on property are stylish, chic and really elevate the hotel. The style overall feels very elevated and new. It has its own vibe and we like the modern, clean look. Restaurants are well decorated based on the theme of the food and the seating is comfortable. Quartz countertops adorn every table, countertop and vanity in the hotel. Overall, the style really comes together to create a high-end feel at the property.

The lighting is also exceptional across the hotel. There is recessed light everywhere, beautiful highlighting lights at night that emphasize the beauty of the property and excellent lighting in the rooms at night.
Overall, we really enjoyed our weekend getaway to Punta Cana. The resort is beautiful, expansive and feels very high end. While the service left a bit to be desired during our stay, the price point is great for the value and nothing beats a gorgeous beach like Bavaro.
COVID-19 Safety Rating: 3/5
As a reminder, our COVID-19 rating is not factored into the overall score of the hotel as it is a unique and (hopefully) temporary addition. This separate rating factors in the rules and recommendations the hotel advertises and the follow-through of both staff and guests. Max and I are particularly sensitive to COVID regulations at hotels due to our extensive travel and absolute lack of desire to contract or spread the disease. Overall, the hotel did an ok job. There are no mask requirements for guests anywhere other than the buffet and even that was never disclosed to us at check-in. I had to ask someone to find out what the "rules" were. The wait staff at restaurants all wore masks pretty consistently, but butlers, barmen and maintenance staff consistently had them pulled below their chins or off entirely. We were particularly disturbed to see a gentleman in our guest room without a mask.
While we understand that COVID is exhausting and we all want it to be over, we found this to be pretty unacceptable. Guests also did not wear masks across the board since there are no regulations at the resort other than the buffet. There are signs all over the resort that say "monitor your health", but not one of those signs recommends mask-wearing. We found the temp checks and hand sanitizer to be inconsistent as well. We did not have our temperature checked at check in and we were not offered hand sanitizer. We had our temps checked twice in the 3 days across 5-6 meals and did have to ask for hand sanitizer when we wanted it. We did our best to purposely avoid staff and guests who were maskless.
What did help the situation in general was the lower occupancy. Thankfully, there were generally not that many guests and it gave everyone a bit of space to social distance. I do hope that as occupancy starts to come back to normal levels, the hotel takes greater care in enforcing the regulations that they, themselves, have set.
Disclaimer: We were hosted by Royalton Resorts on a media stay. Please know the opinions expressed are all our own and may not reflect the hotel's own views.