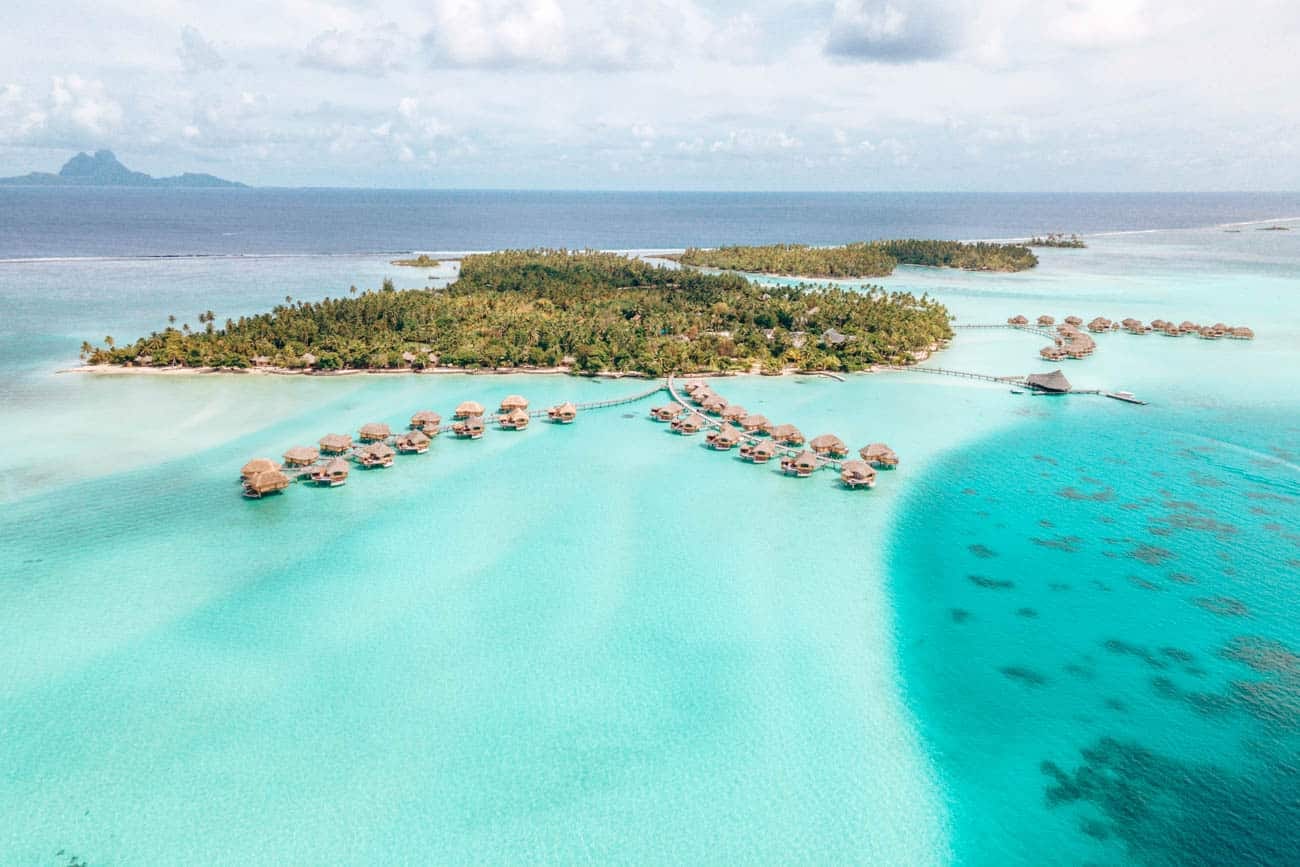 Le Tahaa by Pearl Resorts is a truly unique and down to earth destination. We had the chance to experience this Polynesian gem on our recent trip to French Polynesia and the spectacular setting took our breath away. While just 20 minutes from Bora Bora, it feels a world away from the more commercialized heart of French Polynesian tourism.
Located approximately 45 minutes by air from the main island of Tahiti, Le Tahaa sits next to Raiatea. Guests looking to book this property should expect to fly into RFP (Raiatea Airport), which is typically a stop along the way to Bora Bora on Air Tahiti. The hotel is not located on a private island, however, it has a large property that sits right next to the famous Coral Garden, one of the most incredible snorkel experiences in the area.
The lagoon is pristine, calm and completely swimmable. Shallow blue lagoon extends as far as the eye can see and guests have access to explore the entire surroundings via kayak and paddleboard or snorkeling. It's located just 5-10 minutes by boat from the main island of Tahaa where guests have access to exploring the local island that includes a rum factory, vanilla factory and some shops.
Overall, the location of Le Tahaa is, frankly, unbeatable. With nothing else in site, the resort is a quiet, peaceful paradise with zero interruptions from neighbors or other properties nearby. It feels like what Bora Bora might have been many years ago – untouched and barely developed.
Lobby & Check in experience: 4.5/5
Guests are greeted at the airport in Raiatea by representatives from Le Tahaa and quickly escorted to the waiting boat. The entire process of deplaning to getting to the boat was about 10 minutes and once we picked up our luggage we didn't see it again until we were in the room. The boat ride is approximately 20 minutes and we were offered water as well as some music by the hotel representative who played the ukulele for us. The boat ride was magical, with beautiful scenery and gorgeous music.
Upon arriving at the hotel, the three groups were seated in the lobby to start the check in process with a fruit juice. Where the transfer was smooth and luxurious, the lobby experience did fall a bit short. There was only one staff member checking everyone in and no information was provided about the property, hotel, activities or amenities. It felt a bit rushed, while somehow being incredibly slow because there weren't enough staff people checking guests in. It also happened to be Max's birthday on check-in but no one ever said anything to him about it. Even after I reminded the staff during check-in, they said "oh, ok". It was a bit of a strange situation, to be honest. Regardless, we were escorted to our villa about 20 minutes later.
I would expect to wait approximately 15 minutes if there are more than just you checking in. The lobby itself is beautiful and serene with incredible sculptures and water features throughout. It felt like a romantic jungle oasis.
Le Tahaa offers a few options when it comes to lodging. They are currently renovating a number of beach villas, so for this review, we will focus on the overwater options. There are standard overwater bungalows that primarily face the beach or into the U-shape with other bungalows. These are a fantastic option if you're looking to just get into that room category. All the interiors of the bungalows are the same, it's just the view you are upgrading. If you are looking at upgrading, you are looking at either Sunset view or Bora Bora view.
We were booked into the Bora Bora view and it was fantastic. The Bora Bora view rooms are facing the small private motu that stands in front of the framed view of Mount Otemanu in the distance. Rooms 004-007 are the best options in this category to have the best view. We were in room 001 and had a nice view, however, this room is not private at all as it does tilt towards the beach, bar and restaurant.
If you are looking for the most private rooms, I would recommend the Sunset view. These are farther from the hub of the hotel, but offer far fewer snorkelers and on lookers thanks being on the quiet side of the island.
The rooms are approximately 969 square feet and feature king beds with a spectacular picture window facing the view. Behind the kind bed is the bathroom featuring double vanities, a boat-shaped soaking tub (best for 1 person), shower and separate toilet room. The bathroom can be entirely closed off to the bedroom.
There is a small sitting area with a twin-bed-turned-sofa. It would be nice if they added cushions to the seating bench in front of the picture window for maximum comfort.
The exterior features a large terrace with covered patio and two chaise lounges as well as direct access to the lagoon. The patio is very private (with the exception of room 001 and a few standard overwater that face the beach).
They feature their own products in the bathroom, including body oils, shampoos and body washes made of vanilla and the Tahitian flower, Tiare.
The rooms have undergone a small refresh and the style is very rustic. While they are missing some cushions and comfortable nooks, we love the Tahitian style and use of beautiful woods and natural elements. There is also a glass bottom table built into the bed that makes for amazing nightly viewing.
When you come to French Polynesia, you'll typically find genuine, authentic and kind hospitality for the most part. Most employees are just genuinely happy to see you and talk to you. Some of the nicest people we have ever met have been in French Polynesia and Le Tahaa staff really makes you feel at home. The dining staff and bellmen, in particular, are true gems and assets to the property. They remember who you are, what your drink preferences are and really do their best to serve you.
The front desk and operations does lack a bit of refinement and true luxury training, particularly around dealing with guest issues or expectations. Things seem to be fairly reactive, and guests are rarely ever met with an apology when things go wrong, but rather somewhat awkward "ok's" and "we'll look into it's". An interesting area of opportunity for the property is to celebrate special occasions more proactively. After all, most people coming to such an exotic destination are celebrating something: a birthday, an anniversary or a honeymoon. Yet, no one we met ever received a mention of their special occasion or a gift in the room, for example. This is an area I would be conscious of. If you are celebrating a special event, it is my recommendation that you tell them in advance, but also make sure you mention it on property.
While they may not do anything about it, if you mention it face to face, they may at least offer a decorated table at dinner or similar. When nothing happened on Max's birthday (not even a happy birthday wish from any staff member), I mentioned it to the hotel. They did go a bit overboard on the overcorrection the next night, but we did appreciate that they tried to correct the experience.
Overall, you can expect relaxed and laid back service at this resort. The friendly and authentic interactions we had with staff are one of the reasons we absolutely love this hotel.
Dining at Le Tahaa was one of the highlights of our stay. As a Relais & Chateaux property, there is a huge focus on cuisine. The property offers a few options for dining:
Hawaiki Nui is the main restaurant on property. If you have a half-board package, this is the restaurant you will have access to. They service breakfast and dinner here and it's situated on the second level above the lobby. For breakfast, they offer a good variety of foods including omelettes, pancakes, waffles, breads and local dishes. They have a variety of milk-alternative products such as coconut and almond as well.
Fresh fruit is always available and there are lots of delicious delicacies to try from the buffet.
They have some juices, however, we did not have any detox or green juices available throughout the stay.
Ohiri is their gourmet restaurant that offers a set tasting menu. We did not try it this time, but it is about $140 without a meal plan and $70 with a meal plan as an upcharge.
They offer room service as well as the pool bar and tiki bar. The pool bar has happy hour daily and the tiki bar has a happy hour from 6-9 on Tuesdays.
Overall, the food and drink quality was very high and there were plenty of options for all types of diets.
Le Tahaa has incredible amenities that really fit with the rustic vibe of the property. There is a beautiful beachfront pool and pool bar with an attached restaurant that we saw many guests lounging at throughout the day. There is a nice spa that offers massages over an inland pond at fairly reasonable rates. There is a fitness center with ample machines available to guests to use at any time of day and there are also two shops in the hotel.
They also offer a shuttle to the main island for guests to go exploring if you wish to leave the resort. This is a great opportunity to experience the local culture and island-life, while still getting to spend most of your trip lounging in your overwater bungalow.
There are not a lot of group-led activities on property such as basket weaving or flower crown making, however there are paid excursions you can book through the hotel. They do work with some local partners on different activities.
The highlight of all the facilities on property is the coral garden. The coral garden is public access and has more fish than most aquariums. Bring water shoes because it can be quite sharp. You essentially walk up a pathway on the island across from the hotel to the top of the garden. Once you enter the water, you simply float through the coral garden and there are thousands of fish.
The style on property is rustic, homey and very traditional to the Tahitian style. We love the natural wood elements, the artwork throughout and the incorporation of natural features into the construction of the rooms. The decorated door panels to the bathroom are beautiful and elegant and this is present throughout.
While they miss on some luxurious comforts such as some modern amenities and comfortable cushions, the rooms and property overall do make you feel a sense of home and comfort.
Overall, this is not the highest rating we have given a hotel, but it is nonetheless one of our favorite places in the world. There is no mistaking the striking beauty that Le Tahaa sits amongst, between the spectacular views of Mount Otemanu and the pristine, quiet and utterly perfect blue lagoon. Le Tahaa is one of those somewhat hidden gems in French Polynesia that's truly worth the visit.
Disclaimer: We were hosted by Le Tahaa on a media stay. Please know the opinions expressed are all our own and may not reflect the hotel's own views.