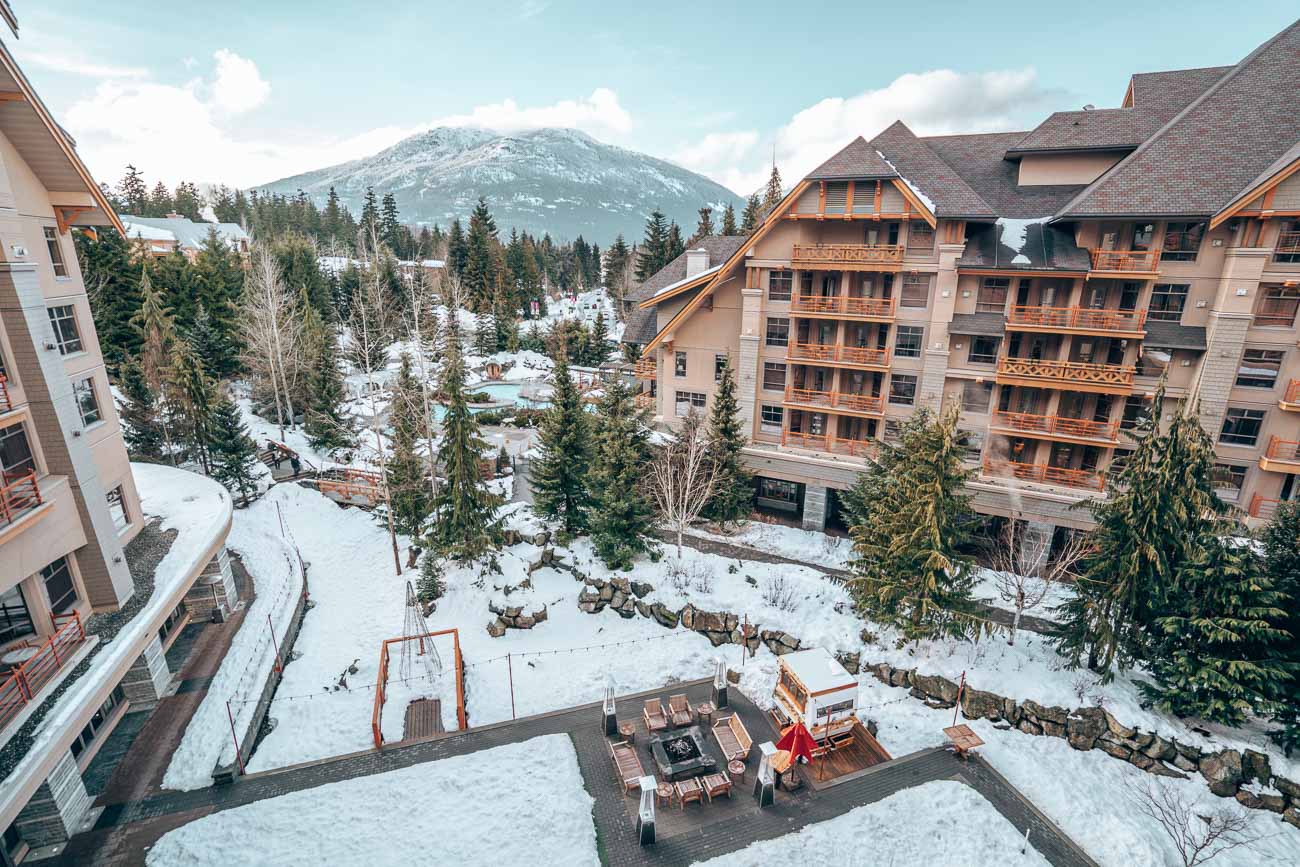 Stepping into the Four Seasons Whistler, the sweet scent of hot apple cider and wood-burning fire gently wrap you in a blanket of coziness. The cold mountain air quickly fades as you are greeted by smiling bellman and friendly faces at the front desk. The mountain-lodge energy is very much alive and we quickly realized that this property has a lot to offer beyond the traditional "lodgey" feel. There are endless "instagram moments" throughout the common spaces, so read to on learn more about what we loved.
The Four Seasons Whistler is located just 5 minutes walking from the base of Blackcomb Mountain and 5 minutes by car to Whistler Village. While it is not quite ski-in-ski-out, they have a ski concierge both at the Blackcomb village and right at the base of the mountain. Ski concierge is there to help you put your skis on, off and carry them for you (#perks). The property also has a shuttle and car service that will take you to Blackcomb and Whistler. The complimentary car service has a fancy Mercedes, so worth asking for a ride ;).
Lobby & Check in experience: 5/5
We arrived at 10am to a stunning lobby filled with cozy seating areas, a crackling fireplace and warm cider. It was a wonderful start to a holiday on the mountain.
Check-in was quick as our room was not yet ready (since it was so early). We were told we'd get a call as soon as it was ready and then we were off to change into our ski gear in their beautiful spa. While we were out when they called, the room was ready a short hour or so later, which I thought was an excellent touch. They put a rush on the room and I appreciated how quickly they were able to finish it and they called us right away, as they promised they would.
We entered our 1-bedroom Deluxe Executive Suite and were floored by the size. At 850 square feet, the suite had two full bathrooms, a large living room with fireplace, balcony and large master bedroom. The bathroom in the master room was massive and contained a deep soaking tub – a delight after a long day of skiing.
While the room was a bit dated, the bed was comfortable and had soft, pure white linens that made me never want to get out of it. The smell of fresh, clean laundry is my favorite hotel smell.

The view was lovely, of the pool and courtyard as well as the mountains behind it. There are two televisions in the suite and we chose to spend most of our TV time in the bedroom, since the bed was so comfortable. The toiletries were L'Occitane, which was lovely and the bottles were sizable enough that two people could use them without running out for several days.
Overall, the room was comfortable, spacious and quiet. The turndown service was timely and did an excellent job as well.
The Four Seasons shines in the facilities side of the house. From the funky cedar barrel sauna, to the Tipsy Snowman bar experience in the courtyard, there are a number of features that make this property unique in Whistler.
The pool and hot tubs are maintained at a perfect temperature and are incredibly spacious. They serve beverages out in the pool area after 3pm, even in the dead of winter. We ordered a mulled wine and it was delivered directly to the sauna….whhhhaat?? That was awesome. The sauna is outdoors and situated right next to the pool. It's a blast to run between the pool, cold snow and the sauna – seriously, try it!
From 4-6pm, there is a bar that opens up in a funky little trailer in the courtyard. I thought this was an excellent use of otherwise, dead space. They serve spiked (or non-alcoholic) hot chocolate, complete with a marshmallow snowman! There is a cozy firepit right in front, so you can enjoy your beverage while chatting with other guests. This was one of my favorite features of the hotel.
There is a full service spa attached to the pool area and we did not have a chance to check that out this time. However, we will certainly do so next time!

Another cool feature of the Four Seasons Whistler is the local art prominently featured throughout the property. We had a great time exploring the onsite gallery, as well as the later on that evening when we found two artists working on their pieces outside the restaurant. We ended up buying two sculptures from Kathleen Tennock because we fell in love with them! The artists are resident artists to the Four Seasons and they are there to create beautiful art and share the local culture and artisanship with guests like us. I thought this was an elegant and wonderful experience and I deeply appreciated Four Seasons' commitment to the local culture.
Sidecut bar and restaurant is located on the lower level and it was super energetic and fun. The bar was packed as the singer/guitarist played, which was a real treat. The bar has a number of cool, fun cocktails – such as this one, served in a smoke-filled box. It was a fun production and made for a cool story.
Sidecut restaurant is a lovely looking steakhouse, which we did not explore this trip. We ended up having a movie and pizza night in our suite, which was my preferred method of dining ;).
True to the Four Seasons experience, the service is excellent. From the front desk staff who is there to assist with anything you need, to the bartender who delivers your wine straight to the cedar barrel sauna outdoors, we had a great experience due to the service of the staff. When we arrived, the bellman were quick to whisk us away to Whistler Village to get our ski stuff and were helpful and friendly along the way. While we didn't stay long, I do believe wholeheartedly that if you ask the staff for something, they will never say no.
"Mountain lodge" is the first thing that comes to mind when I think about the style of the Four Seasons Whistler. The lobby is cozy, warm and makes me feel so happy after a long day of skiing. They've done an excellent job with the common areas, updating the resort with fun and quirky "instagram moments" such as the Tipsy Snowman cart, beautiful lit archway and outdoor sauna. While the rooms may be nearing their time for an upgrade, the mountain chic lodge vibes are clear and spectacular around the property.
Overall, we loved our stay at the Four Seasons Whistler. It's location in Blackcomb, stunning architecture and 5-star service really shone throughout our time on property. Meeting the artists in residence was a real treat and we will never forget our experience, now that we have two beautiful ceramic bears at home. Anyone looking for a wonderful, high-quality stay will feel right at home at the Four Seasons Whistler. We're excited to return in the summer next time to experience everything they have to offer in the warmer months from activities, to dining to the stunning views of Whistler mountain.
Disclaimer: We were hosted by Four Seasons on a media stay. Please know the opinions expressed are all our own and may not reflect the hotel's own views.