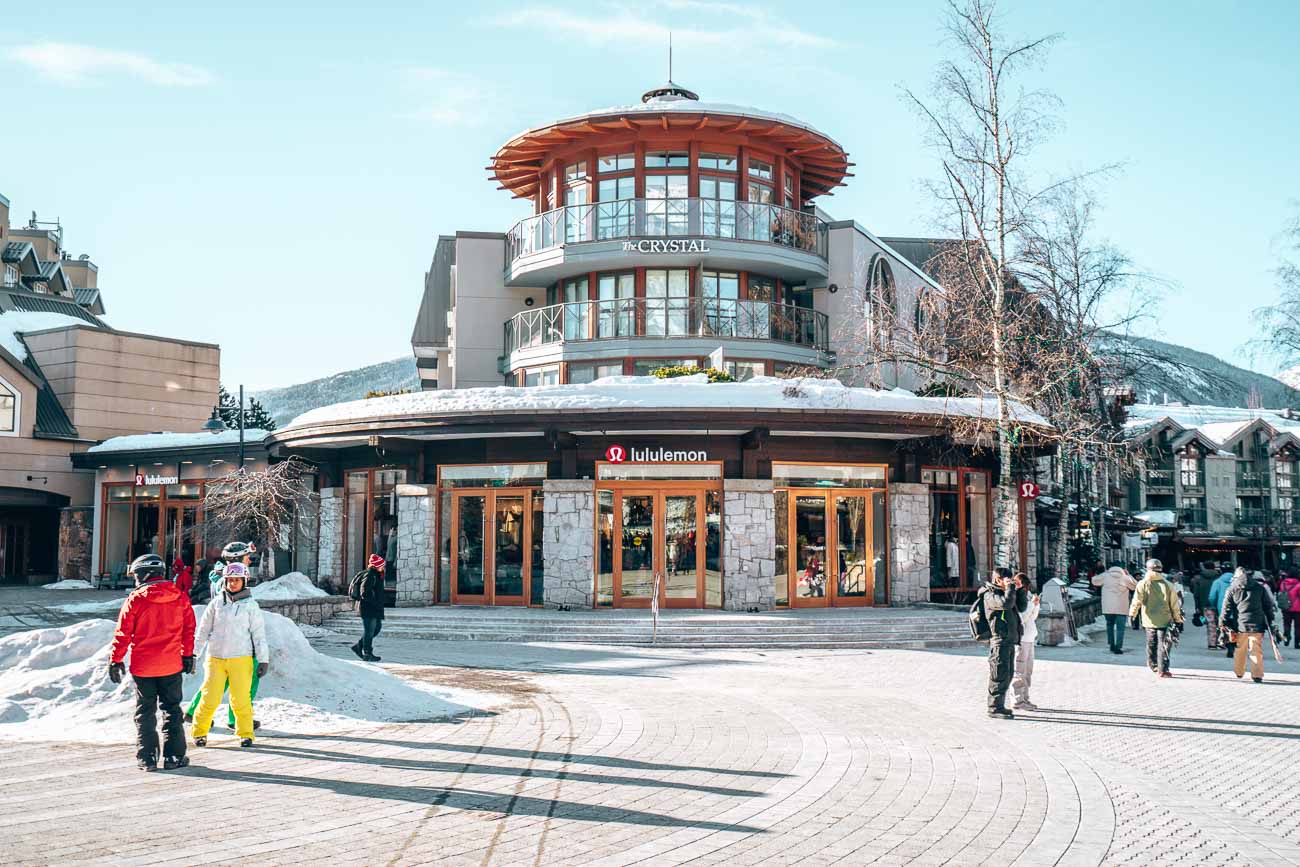 Centrally located in the middle of Whistler Village is the newly renovated Crystal Lodge. Stunning views of downtown and the mountains beyond, excellent dining options and fresh-feeling rooms make this an excellent option for those seeking affordable accommodations in Whistler. Read on to find out what we loved!
When you talk about prime location, it's hard to beat the centrality of the Crystal Lodge. It is located directly in the middle of the Whistler base village, and just two short minutes from the gondola. Its prime location is a huge draw for me. We would have a delicious breakfast before grabbing our skis and hitting the mountain for day. At the end of the day, we wandered back to the hotel for apres-ski and enjoyed the evening festivities in downtown Whistler. It's all walking distance, making it an easy experience in ski boots.
Lobby & Check in experience: 4/5
The lobby itself is newly renovated and has a cozy fireplace, multiple seating arrangements and a beautiful picture wall. There are multiple ways to enter the lobby, which can be a bit confusing if you're coming from the village side for the first time. Though the multiple entries can get you turned around, they are also incredibly practical. It's easy to get into the hotel from anywhere in the village, which is nice when it's minus ten degrees outside! However, if you arrive the correct way through the front doors, you're greeted with kind staff and a lovely, clean lobby.
We were unable to check in right away since we arrived at 2pm, but we left our luggage and went snowmobiling. Upon our return, our luggage was already in our room and we checked in swiftly to our third floor Crystal King room.
There are three floors that make up Crystal Lodge. We were checked into our third floor room and headed to the elevators to check it out. There are two elevators and the option of stairs, so it is easy to find your way to your floor from any entrance to the hotel.
Our Crystal King room was 220 square feet, and newly renovated. While the room is quite small when you have a lot of ski gear, it is clean, cozy and has modern amenities. The room has tea and coffee, a sizeable mini-fridge and high speed wifi. The bathroom is small but has a deep soaking tub (nice after a freezing cold day) and delicious smelling Paya products.

Overall, the room was exactly what we needed for a great weekend in Whistler. The ability to get to the shops and restaurants as quickly as you could get onto the mountain is an excellent perk. We had a small window with a view of the beautiful village down below and the mountains in the distance, it was a lovely way to wake up in the morning.
The Crystal Lodge has everything you need for a great getaway. There's a fitness center, outdoor pool and hot tub, sauna, parking and indoor access to Starbucks and several restaurants. You don't need to go outside of the hotel for pretty much anything!
Guests can start their morning at Wild Wood for breakfast, grab a coffee-to-go at Starbucks and relax in the sauna after a nice workout, without ever needing to see the outdoors.
The property does also offer ski storage onsite, which is a great benefit. Once you return from your day on the slopes, you can drop your skis in the lobby and pick them up in the morning, instead of lugging them all the way to your room.
There are a number of dining options within Crystal Lodge and we had the pleasure of trying multiple. There's a Starbucks, Old Spaghetti Factory, Wild Wood and Basalt Wine & Salumeria.
The true standout was Basalt. We were hosted for Apres-Ski at Basalt and it was absolutely incredible. Not only was the service from Jamie, our waiter, five stars, but the food was excellent. We spent hours indulging in fondue, charcuterie, truffle fries and delicious cocktails and wine. The energy at the bar and restaurant was alive with happy guests sharing stories of their days on the mountain. The staff were kind, genuine and provided excellent service.

We also dined at Wild Wood Bistro for brunch and it was excellent. The service was very efficient, which makes it a great spot for some pre-ski breakfast. We both ordered egg dishes and mimosas as well as their infamous banana bread french toast. Wild Wood's decor is cozy with big booths and nice artwork.
The access to Starbucks is a huge plus for anything looking for a quick grab-and-go meal or coffee. It's location in the upper lobby of Crystal Lodge is unbeatable.
Despite a few hangups, the overall service was acceptable for the offering. The room-service staff did a great job of making up the room, and generally the staff was helpful whenever possible. Staff members were polite, but made no real attempt to get to know their guests beyond the general "hello" and "goodbye". We also observed that many were not super well versed in the surrounding whistler area or offerings (we got lost trying to find a restaurant next door), though, this is fairly common of many mountain resorts with seasonal staff that come from out of town and typically for only a season or two.
The new furnishings and renovation have brought a general feeling of modernity to the property that we really appreciated. There are many "older" properties around Whistler that could really use a facelift, so Crystal Lodge has a huge advantage if you're looking for fresh, modern and clean. While lacking some character, features like the "picture wall" and modern furniture help to elevate the style at Crystal Lodge.
We also enjoyed the local art that was showcased in the lobby. It was vibrant and interesting, giving you a real sense of Whistler's local artist culture.
Overall, the Crystal Lodge is an excellent choice for travelers looking for a central, downtown experience in Whistler. The modern rooms, access to shops and restaurants and great facilities make this a no-brainer option for travel both in winter and summer. We would not hesitate to return and hope to check out some of the many summer activities in Whistler on our next trip!
Disclaimer: We were hosted by Crystal Lodge on a media stay. Please know the opinions expressed are all our own and may not reflect the hotel's own views.