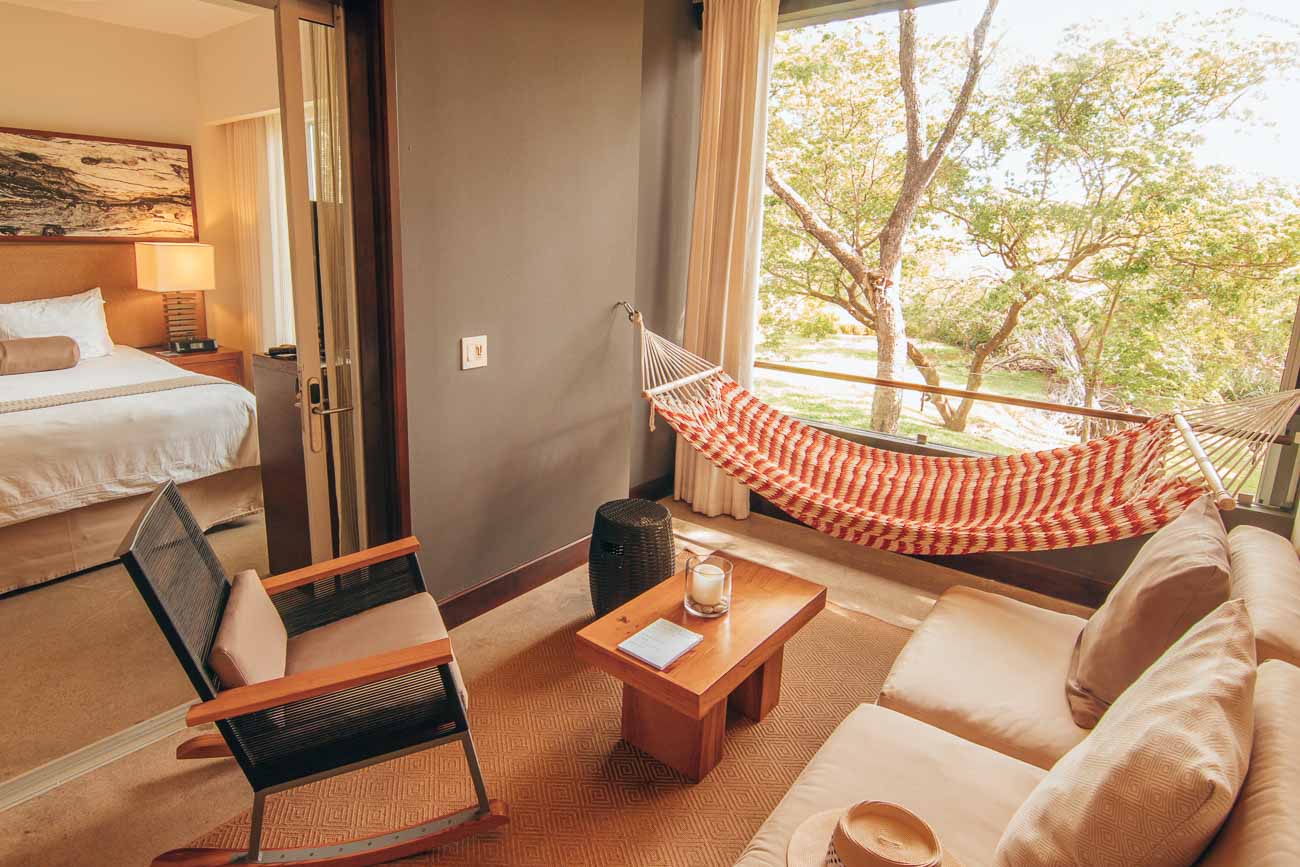 Arriving at El Mangroove was like entering into my favorite Spotify 'beach chill' playlist. The soft sounds of a deep bass, buddha-bar of course, combined with the warm and inviting lighting, welcomed us into the open-air lobby. We were greeted with cold, scented towels and fresh local juice, and instantly we knew our stay would be just perfect. Overall, our experience was nothing short of wonderful and we're excited to share it with you.
In terms of proximity to a town or airport, it's excellent. It's close enough to be easy to get to (Liberia airport is only 20 minutes away) and if you have a car, you can get to Playa Del Coco in 30 or so minutes. Without a car, transportation in Costa Rica is a bit expensive, but it is doable. You can take a water taxi for about $75 USD one way to Playa Del Coco. If you make a day of it, it's worth the expense. The taxi boats stop along the way and take you wherever you want. One thing to keep in mind with location is that no beaches in Costa Rica are private so there will almost always be non-hotel guests on the beach. That being said, I was so impressed by the security of this hotel. You could not turn around without seeing hotel employees everywhere and I never felt unsafe or insecure for even a moment.
The lobby is stunning. It's light, open, airy and so welcoming. There is chill music playing in the background and ample room to sit in the lobby. I kind of wanted to just stay there and hang out all night, but then again, the entire property is like this. The check in experience was quick, easy and delivered with a smile. They gave us cold towels and juice to cool down, which was so appreciated.  The staff were very friendly and helped us to our room within only a few minutes of arriving at 6:30pm. The lobby is the "main hub" of the hotel and is connected to the restaurant and pool area.  All the rooms are only a short walk from the lobby. While the lobby is expansive looking, the property is cozy and small and very easy to walk around.
The rooms are incredibly cool and very well designed. We stayed in a Bark Suite in building #2 and it was gorgeous. Upon entering the room, you realize you are actually on a patio! The patio is your living room, complete with a big sofa, hammock, and screen to keep the bugs out. I also noticed right away that the shower has a nice window into the outdoor living space so you can admire the view from the shower.
To the left is the door leading into the perfectly air-conditioned bedroom and bathroom. The bed is large and comfortable and the sheets are to die for. Every detail in the room is thoughtfully considered and includes natural wood elements, beautiful sheets and pillows and a gorgeous, large almost-floor-to-ceiling window. There is a minibar (not free, but was well-stocked) as well as a large 42 inch tv with plenty of English channels.
The bathroom includes eco-conscious products and they are displayed in glass containers (instead of the personal often-too-small-sized bottles). All of the typically amenities are available: vanity kit, sewing kit, shower caps, etc. They also offer a number of other toiletries and you can simply call and ask if you need them. They conveniently provide a list of items you can request in the bathroom. The closet had ample hangers, a safety box, and also contained the gorgeous shower with a rain shower head. Of course, my favorite thing is taking an amazing long shower and immediately bundling up in a nice robe. I can attest that this is exactly what happened about 5 minutes after check in and it was glorious.
El Mangroove offers a lot of different options to its guests: pool, beach, two restaurant options, activities and a wonderful spa that we did not get to try this time (but it looked incredible). The pool and beach do offer a full service bar, towel service and they have sunblock and aloe vera next to the pool. You will not want for anything at El Mangroove. They do also have a full service gym…that I always tell myself I'm going to try and didn't make it to this time. For a small property, there are so many options, depending on what you want to do. They also have a beautiful shop on property that sells clothes, bathing suits and other items you might need.
The "main" restaurant is located next to the lobby and is stunning. There is a beautiful, long bar in the center and it's surrounded by towering trees. This is where they serve the breakfast as well and it's excellent.
Next to the bar, there is ample seating and some gorgeous hanging chairs to grab a drink and relax in:
Throughout the property, you will find places to relax, grab a drink and enjoy your surroundings. We found hammocks, rocking chairs and firepits all around.
Their "casual" restaurant, which was my favorite restaurant, is located in a large thatched roof hut facing the beach and you eat with your toes in the sand. I thought it was too bad that this wasn't their main restaurant because I seek out beachfront eating anytime I go to a tropical place. It was such a beautiful restaurant and they had excellent cocktails. The menu was a bit more casual than the other and offered a range of dishes: American grilled chicken all the way to "Mahi Mahi in a bag", which was tasty. I'd recommend the fish dishes as that seemed to their specialty. If it were my restaurant, I would have made this the fancy one, but that could just be my taste.
We had the opportunity to go on a private Island Hopping tour that the hotel offers.  It was so much fun! The poor captain and tour guide were so gracious and dealt with our endless requests to stop for photos. We toured around different secret beaches and they brought paddle-boards and snorkels for us to play with. They provided a full lunch complete with fruit, cheese and ceviche as well as unlimited wine, beer and water. We had an incredible day! I am pretty sure we went way over the time we were supposed to but the captain and tour guide didn't mind at all. I would highly recommend the splurge on an activity through the hotel.  Because it was organized through the hotel, we knew that it would be 100% safe, fun and high quality.
The service was 100% 5 stars. We found this to be true everywhere we went in Costa Rica. People are friendly, helpful and will go out of their way to get you what you need. From check in to check out, the staff were wonderful. Everyone also spoke excellent English, which was a huge plus. We had dinner one night at the beachfront restaurant and a friend of ours ordered a drink and didn't realize it had an ingredient she didn't like in it. She told the bartender and they immediately brought a new one and asked her to taste it before they walked away to ensure it was better. It was a nice gesture and goes to show you that they genuinely care about your needs.
I mentioned this early on, but I was obsessed with their "vibes". Chill music all over, cool decor, natural wood, hammocks…what is better than that? My least favorite kind of hotel room is the one where if you close the blinds, you could be in Chicago, instead of Costa Rica. Well, El Mangroove was definitely not that hotel. It's a beautiful property and every detail throughout was thoughtful and beautiful.
Something that really blew my mind was that from the water, you could really not see the property. The hotel is situated amongst the mangroves and the trees and due to its natural, earthy tones, you could not see it. It's low to the ground and just fits right in with nature. It was something really special because I have gotten used to beach areas where the towering hotels overtake the natural beauty of the environment I'm in.
In fact, the name itself is reflection of the hotel's style, 'El Mangroove' is a has its own unique 'groove' that fully embraces Costa Rica's 'Pura Vida'.
Overall, we had a wonderful experience at El Mangroove. The property is the perfect example of a boutique hotel that is stylish and uses its local surroundings to create a great experience for its guests. The boat tour we did and the gorgeous pool area were enough to keep us fully occupied for the two days we spent on property. In fact, the pool was so nice that we spent most of our time there, instead of the beach (which is really uncommon for me). This is definitely a hotel that I would recommend if you're looking for a boutique property in Costa Rica.
Disclaimer: We were hosted by El Mangroove on a media stay. Please know the opinions expressed are all our own and may not reflect the hotel's own views.