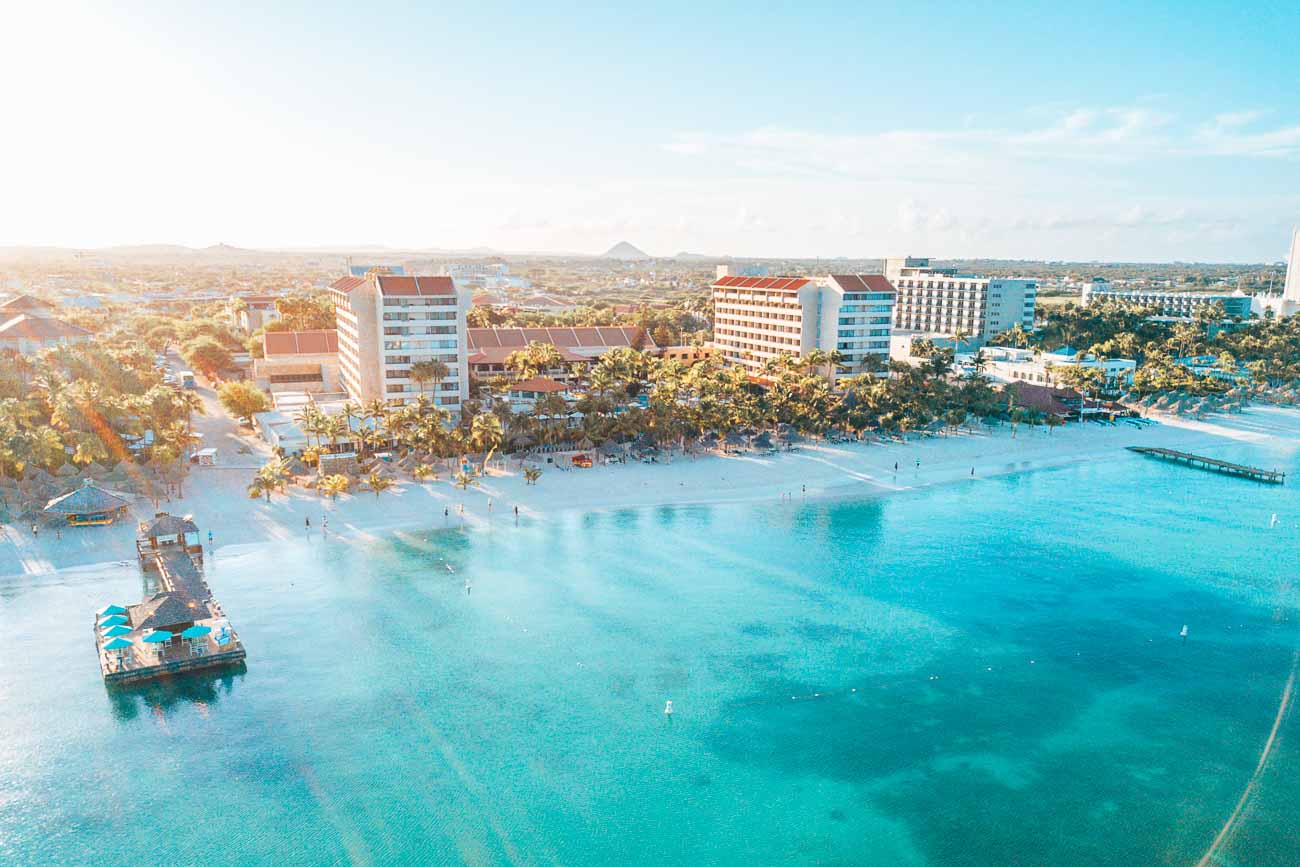 Max and I first experienced Aruba back in June after a wedding in Curacao and we fell in love with the island. We were invited by the Barcelo Aruba for a long weekend in October and we knew we couldn't say no to going back to paradise. The expansive, and seemingly endless, blue water, white sand and kind people were just some of the things we loved about the property. Read on to learn more about our experience!
If the hotel is located on Palm Beach, it's almost impossible to go wrong and the Barcelo is no different. The hotel is a short, 20-minute drive from the airport and is located across the street from a number of shops, restaurants and bars. The property is expansive and there is an excellent, wide beach directly in front of it.
It's located next to the Riu and two boating piers, where a number of activities leave from including scuba diving, sunset cruises, day trips and more. Since Palm Beach is the main hotel zone in Aruba, all the tour companies provide pick ups and drop offs from any hotel on the beach, making it very easy to stress-free to book excursions. We've done a few tours through De Palm Tours and they are clearly the #1 company on the island in terms of fleet, offerings and good reviews. They, too, do pick ups from all hotels on the beach.
Lobby & Check in experience: 4/5
As you pull up to the front doors, the kind (and jolly) bellman greet you before you can even get out of the car. The lobby is a grand and bright room with skylights, providing a lot of natural light. The main hotel bar and casino is to your left, leaving a bit of smoke hanging in the air. The check in desks are immediately to your right and as we were arriving at peak check out time, there was about a 10 minute wait. We were provided two alcoholic beverages, which was a nice welcome treat after the red-eye to JFK and 4 hour flight down there.
Once we got up to the front desk agent, they informed us that we actually were supposed to check in on the 9th floor as Royal Level guests! While I wish we had been informed of this earlier (often bellman ask you your name or booking type if there are two different lobbies), I was excited to check out this special check-in area.
Upon entering the 9th floor concierge room, I was delighted to be handed a glass of champagne and a cold towel. There are snacks offered on the far wall of the lounge (little cakes and cookies). We were checked in quickly and while our room was not yet ready, we headed to the Royal Level Lounge and restaurant for another glass of champagne and some relaxation after the red-eye flight. Overall, it was a nice experience and the Royal Level perks were off to a great start. It's worth noting that in-room wifi is included for Royal Level guests, but is not yet included for anyone else (not sure why- that is a pretty standard amenity these days, in our opinion).
Around 2:30, we received access to our Royal Level Master Suite on the 7th floor and WOW is all we can say. The room is 2,120 square feet and makes up the entire ocean-front wall of the resort. There are three of this room type on the 7th-9th floors. There is a full dining room, living room, half bath, bedroom, full bath and three balconies. There are also 2 tubs: 1 indoor and 1 outdoor….I knowwww right??
The room is truly massive and made for entertaining, with nothing but blue ocean directly in front of you. The bedroom technically faces the resort, but from the bed, you have a great ocean view as well.
The minibar was stocked with water, beer and soda and the toiletries in the bathroom were plentiful. While they were not local products, they smelled nice and seemed to be of good quality.
The room was also very quiet, which was much appreciated when it came time to sleep, as we could not hear any neighbors. While the resort does play music at the pool during the day that you can hear in the resort facing rooms, it is turned off right around 6pm so as to not disturb guests.
The Royal Level comes with complimentary room service, whereas other room types do not have access to this, which was a great treat and we took full advantage on our last night.
The Barcelo Aruba has everything you need for a perfect beach vacation: a pool, gorgeous beachfront, pool service and more. The property has a gym & spa as well as multiple bars, restaurants and shops. There are two shops on property in the event you forgot sunscreen or other necessities, but keep in mind there are numerous shops along the beach as well. There is also a casino (as with most hotels in Aruba), but Max and I did not go so we cannot speak to that facility.
Every night, there is live entertainment in the lobby bar, ranging from solo guitarists to singers and a live band. Most guests hung out here at night after dinner with a cocktail or two.
The only downside in our opinion with the facilities is the intensity at which people obsess over the beach and pool chairs. There is no reservation system ( as some hotels have in Aruba, which I did not understand until now), so guests were up at 4:30am to stake their claim on the chairs. I only know this because we were up that early for activities like kiteboarding and saw people sprinting towards to beach in the pitch black morning. They literally had to, somehow, remove a chair from the stack of chairs that were tied down – I don't even know how they did it.
It really was shocking and we heard many guests commenting about this throughout our stay: that guests would drop their towels and not return until 2pm, so a pool chair or beach chair sits empty all day. I can't really fault the hotel because this is clearly a problem at almost every hotel here, but it would be nice if the staff could abide by the posted "2 hour rule" and remove unclaimed items after 2 hours. It would have been particularly nice to offer a private section to Royal Level Guests since they pay a premium for benefits and most hotels with a premium offering do provide a private section of beach (i.e – Excellence hotels, etc). The only reserved beach area was for timeshare owners of a certain status (and trust me, they made sure you weren't allowed to use their section).
The property offers tours, mostly through De Palm Tours, and handle all scheduling for you via the concierge. We were ecstatic to test out the sunset cruise, that set off just five minutes down the beach from the hotel (outside the Rui). We had an amazing time on the tour and are so happy the Barcelo utilizes De Palm, rather than Red Sail (who we had a bad experience with last time). They offer a variety of activities like sunset tours, daytime excursions and scuba diving.
Overall, however, the property ticked all the boxes when it comes to facilities required for a great beach vacation. I love the option of the expansive pool area, though prefer the beach myself and was grateful to Victor for always keeping our drinks full.
We are sad to say that the food & beverage experience was the only area we really felt was lacking at the hotel and there was just no way around it. We tried to find the best options, the best ambiance, and just weren't able to rate the dining any higher than a 2. We spoke with multiple guests throughout our stay, many of whom had been to the property many times, and they all said the same thing: the food had gone downhill. We are not sure what happened in the last year or so, but apparently it used to be fabulous. We tried multiple restaurants throughout our stay and the quality was just not what you would expect from this tier of hotel. The exception to this was breakfast (where you could get fresh omlettes and good bacon) as well as the room service we had on our last night (clearly had been freshly prepared). Based on our experience with the food, I would recommend venturing out to the "outdoor mall" across the street to check out some of the gorgeous restaurants, as many folks did. We recommend checking out MooMba, down the beach about 15 minutes walking.
A nice perk is that Royal Level guests have access to a private lounge on the 9th floor, next to the check in lounge. They serve breakfast, lunch and dinner here and we had lunch here daily as we did enjoy the Pita sandwich and garlic bread they serve. We also loved the escape of coming to a perfectly air conditioned lounge, with great views and wonderful service.
That being said, the cocktails were good! Wine and beer were also the standard Linaje brand that most all-inclusives serve. Bartenders were generous in their pours and kept the drinks coming. However, management provides only very small cups to serve the drinks, so bartenders would either waste a whole blender of beverages or give you 6 tiny cups of piña colada when you ordered. Most guests went to the gift shop next to the beach and purchased big yeti-style tumblers for $10-20 as the bartenders were more than happy to make beverages in your personal mugs. Our recommendation is to bring a reusable cup, tumbler or bottle if you don't want to deal with the tiny cups :).
Interestingly enough, service is typically where we ding most of our hotels in our hotel reviews (typically for having mediocre or unacceptable housekeeping). However, the staff at the Barcelo Aruba were incredible! Housekeeping was always excellent, friendly and did a great job. The staff at the hotel in general were so sweet and were willing to go to great lengths to make you happy. At dinner one night, I asked if they had any non-dairy dessert and the waiter said no, but he would be happy to run to another restaurant's kitchen to get sorbet for me. It was a nice gesture and I appreciated it, despite not taking him up on it. Similarly, Victor at the beach was always sprinting around and working as hard as he could to make every guest happy.
Service at the Barcelo Aruba was a real stand out. Overall, we really enjoyed every encounter with the beach staff, wait staff and housekeeping.
When we review style we look for consistency across the property, theme of the outlets and general hotel and whether or not you could close the blinds and truly feel like you're still in that location. The style at Barcelo Aruba is consistent across its outlets and the hotel. The furnishings and decor feel very grandiose and expensive, albeit on the more dated side for a beach property. They've done a wonderful job in the rooms to make them feel fresh and beachy with the blue tones and white tiled floors, which is really nice. The style is also consistent in their dining outlets. The asian restaurant has its own theme, versus the Royal Level Lounge that was decorated in its own theme. We thoroughly enjoyed the differentiation in spaces overall.
Overall, we had a wonderful experience at the Barcelo Aruba. We certainly hope that the food offerings are corrected before our next visit, but we would 100% return due to its great location, excellent service and spectacular beachfront.
Disclaimer: We were hosted by Barcelo on a media stay. Please know the opinions expressed are all our own and may not reflect the hotel's own views.