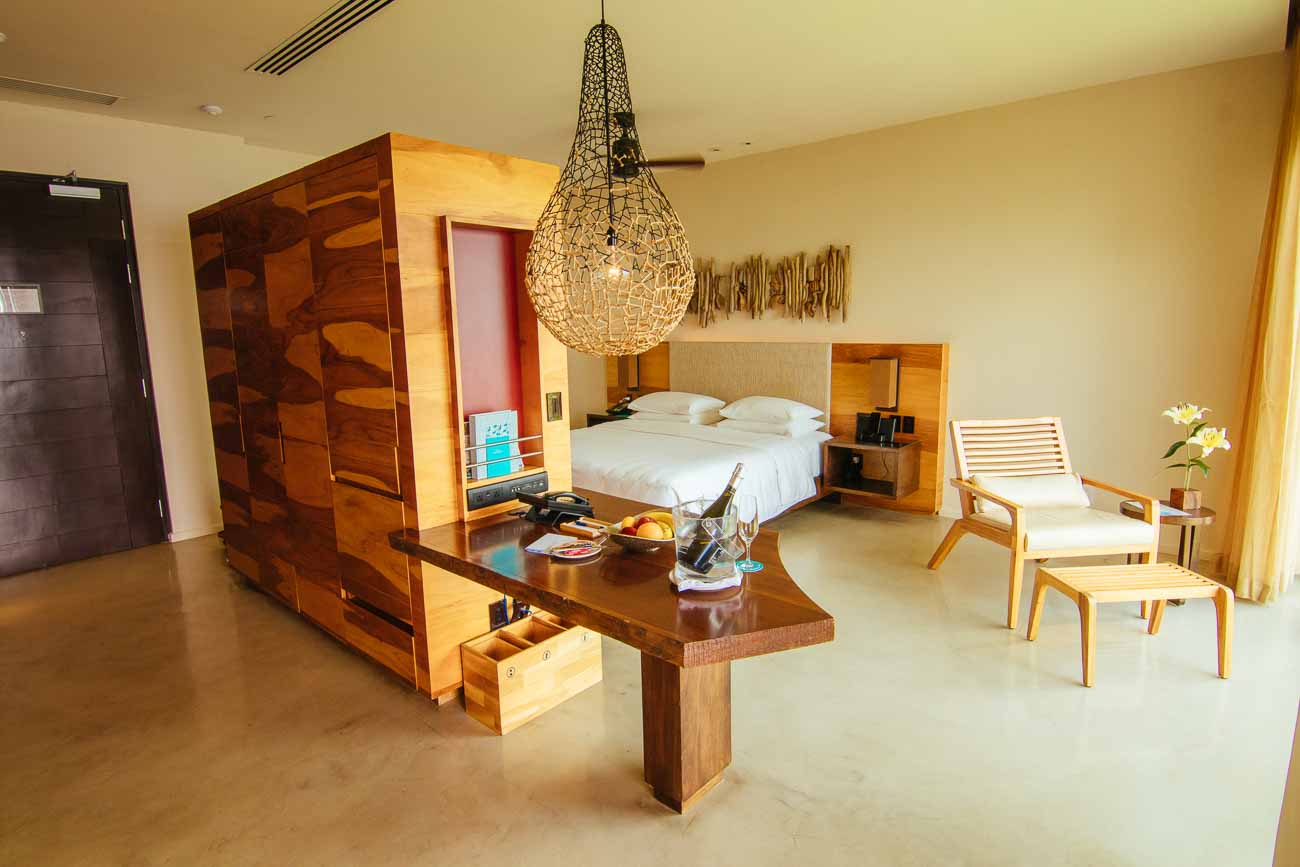 Of all the properties we have stayed at this year, I can accurately say that this one was the most overwhelmingly positive surprises of them all. When we arrived, we were whisked away (literally, whisked) down into the stunning open air lobby and everyone we met said "welcome home". I genuinely believed them when they said those words and I felt it. I almost cried because I knew we were only staying for one night and I could already tell that this was somewhere I needed to explore longer. Overall, we had an incredible experience.
If you're looking for an escape, this is it. The property is located in the gated Peninsula Papagayo and its as close to a private beach as you're going to get in Costa Rica. Yes, the property is far from a central town or activity hub, so if you're looking for a hotel close to restaurants and bars, you won't find it here. However, the seclusion and privacy brought with it peace and quiet and a private beach with no one bothering you about renting jet skis or braiding your hair off property.
Before you arrive at the Andaz, you drive up to a gated entrance. Once inside the secured gates, you are literally in heaven. The peninsula complex is absolutely stunning. It's home to both the Four Seasons and the Andaz and the landscaping, towering palm trees and beautiful lawns are breathtaking. When we pulled in, we both immediately just said, "wow." There is a marina nearby and in the evenings, you can watch the lights flickering on the bay. We did hear that there is a dive bar down in the Marina but we didn't check it out this time.
Lobby & Check in experience: 5/5
The lobby, much like the rest of the property, is absolutely breathtaking. When we pulled up in our car, we were greeted by the staff and walked down the entrance to an open air pagoda overlooking the trees and bay. The emphasis on "open-air" buildings was very clear and this theme continued throughout the rest of the resort. The lobby is large, open and inviting with ample seating, water, snacks and plenty of staff in case you need anything.
Checking in was fun, which is not usually what I'd call check in. Every guest gets a short massage in a massage chair facing the gorgeous view. So while Max was blissfully taken care of, I was served iced tea and given a scented towel while seated on a very comfortable couch overlooking the view. The staff all told me, "welcome home" and I definitely felt at home. Before I knew it, we were taken to our absolutely stunning room via golf cart. By the way, from the second we arrived, I never saw my luggage until it was waiting for me in our hotel room…that was impressive.
In full transparency, one of the reasons I was so surprised about the Andaz was because I did not expect the rooms and views to be so incredible. If you're not familiar with Hyatt, they tier their properties from 1-7, 7 being the highest. This property is a category 4 so it's in the middle of the pack and it's a great value when using your free night (more on this here). I have absolutely no idea how this is classified as a category 4.
This is far superior to most properties I have stayed at that are classified much higher. So imagine my surprise when we arrived to a bay front room that was nicer than most hotel rooms I have been in in a long time. The room was technically just a room, but it was separated into distinct spaces quite well. The lighting in the room is gorgeous, modern and provides a beautiful glow in the evenings.
When I walked in, I saw how open and airy the room was. Like much of the property, Andaz tries to bring the outside in with floor to ceiling windows, fully opening doors to the balcony and even the shower has its own room with a door to the balcony. The bathroom was large and open as well and they provide all the amenities you need.
The bed is large, comfortable and facing a TV with several English channels. There is a small desk area next to the sliding doors and there are ample electronics charging options in the room including USB ports.
The balcony is large and includes a sofa and table as well as a shade that you can pull down in case of rain or bugs. We never put it down because we loved the view way too much.
The Andaz also provided two fedoras and two pairs of flip flops in the room for every guest. They let you take these home with you and I thought it was a really nice gesture and also they were incredibly useful.
The property is not lacking on the facilities front. There are three beaches, a family pool, an adults only pool, full spa, fitness center, 4 restaurants and enough staff to drive twice the number of guests around in golf carts at any moment.  On our next trip, it's my goal to check out that spa but we did walk around and it looks incredible. There is also a relaxing pool and steam room at the spa/fitness center that any guests can access.   Everything is well maintained and looks brand new around the property and staff members were constantly cleaning while we were there. The great care in which they keep the property makes it feel like no one has ever slept in your room or dined at your table before. They offer complimentary valet parking and free shuttle service to their beach club.
Something I didn't understand before arriving was the beach situation, so let me break it down for you. There are three beaches: one full service beach on property where you can order drinks, food and do water sports. There is a second beach on property that is more for the "casual stroll" where you can admire the waves and natural beauty around you (there is no service on this beach). Then, there is the Andaz Beach House, which is a short shuttle ride and golf cart ride away and is a super chill beach club with a full service restaurant and bar as well as jet skis, etc.  The beach house reminded me a lot of what you see in Tulum: hammocks, loungers, cool music playing and shaded beach chairs set right at the waters edge. All the beaches are technically in the bay and you get the same warm, calm water at them all. The Beach House is a nice place to relax for the day and get a little tipsy on delicious piña coladas. It feels like more families hang out at the beach on property since it's just a walk away from your room.
Before going to Costa Rica, people kept telling us the food wasn't amazing and for the most part, it wasn't. However, the Andaz, and Chao Pescao in particular, blew our minds. Not only were the cocktails of Jorge perfect, but every dish was incredible. There was such an elegant twist to traditional dishes and everything we tasted was excellent.
The hotel has four restaurants and unfortunately for us, we only got to eat at two of them. However, when we return, we'll be sure to provide a full recap. Ostra, their fancy restaurant, was closed for a private event but we spoke with some guests who said their dinner is excellent as well.
Breakfast is served in Rio Bhongo and it offers both a la carte and buffet options. You can, of course, also order room service. We had an excellent breakfast at Rio Bhongo. We indulged in every part of the buffet and the food was excellent. They also have a barista who makes incredible coffee. He will come to your table and make traditional Costa Rican coffee drinks and was truly a master of his art.
Overall, the restaurant options are excellent.  There are a number of options to choose from every day and there is really something for everyone. Every restaurant had the same open-air feeling as the lobby and you were dining amongst the trees and the views of the bay. It was a really incredible experience to feel like you were always outside. As you can tell in this photo, Rio Bhongo didn't even have walls- it was spectacular.
We were invited to try a Mixology class when we first arrived on property and I thought it would be fun. I've done mixology classes in the past and they've been ok. Usually you get to watch the bar tender make a drink and then you get to drink it. Not in this class! We spent two hours with Jorge who was so passionate about his art. He guided us through different ingredients he used, why he used them, told us the history of various liquors and we got to try a number of incredible cocktails. He also gave us a rum tasting, which was so fun.
We left there quite tipsy and realized that it was so much more than any other class we've ever done at a hotel. We had an incredible time and I would highly recommend it.  We have also heard the barista class is exceptional as well and I have no doubt that that is true.
The activities schedule changes on property, but there were activities all day long every day for people to attend. This is a great perk since the hotel is a bit secluded so you will never get bored at this property.
You can also borrow paddle boards and non motorized items like snorkels down at the beach, which I highly recommend since the bay is very calm and peaceful to float around in.
I have nothing but excellent things to say about the staff. Everyone went above and beyond to greet us, support us and provide excellent service. I would say that they treated us better because we are bloggers, but I know for a fact that it goes deeper than that and let me tell you why. When you pass by a golf cart on property at night, you'll notice that they don't have their lights on or they are pulled over to the side of the road with no lights on. At first I thought, "oh weird, maybe I should let him know he's driving around in the dark", but then I realized they do it so that the guests aren't blinded by a speeding golf cart. This subtle but remarkable gesture was done by every single golf cart we passed that night. I've only ever noticed that properties like the Ritz Reserve in Dorado Beach did this and it greatly shows how well trained and service-minded the hotel employees are. There are subtleties like this all around and not a single staff member we met displayed anything other than excellent service.
The Andaz had such a great energy. Not only was the entire property nestled in and around the trees, but there was always chill music playing mixed with the sound of the monkeys and birds right beside you. The neutral, earthy tones and beautiful wood features added stylish elements the furnishings and decor. The feeling of nature and being outdoors was the center point of every experience on property and you can tell the hotel takes great care in maintaining its surroundings and this experience as a whole.
Overall, the Andaz Papagayo was everything you could want from a vacation in Costa Rica. The service, decor and available activities were 5 stars and it's clear that the staff was trained by the best. The rooms provided a tranquil retreat, while still being amidst nature and the wildlife. Whether you spend 1 night or 1 week on property, there is no shortage of activity, relaxation and delicious food to take advantage of.