The pandemic has been an interesting time to travel – services and amenities were all but abandoned, much like the airports. Truth be told, I've actually enjoyed traveling during the Pandemic: flights were always on time and the airports and planes were virtually empty. We've also had incredible luck with discounted business fares, upgrades and smooth travel experiences. That being said, the lack of amenities, food, beverages and general service has been bummer to say the least. We had the opportunity to fly Business Class on Air France on a recent journey to Mykonos, Greece and we can safely say, Air France beats all US airlines by miles. While some of their services were adapted, the overall experience was exceptional. Be sure to check out our full video tour and review on YouTube!
We flew on one ticket from Mykonos (JMK) to San Francisco (SFO) so we only checked in in Mykonos. However, we did have an overnight layover in Paris CDG so we left the airport to stay at the Hyatt Regency CDG on a great points deal of 16k for their top tier suite.
The next morning of our flight, we came back to the airport. While there was no line at all at the check in counter for business class/ sky priority passengers, the line for immigration and security was absolutely outrageous. I will say, thank god for the "fast track" lane because it was significantly shorter than the standard line. This is not an isolated experience, as the Paris CDG airport is notorious for its long lines and inefficiency. In February 2020, all flights were delayed over 2 hours one day because every passenger was stuck between the immigration and security line due to employee strikes and computer malfunctions. There seems to be something always going on at CDG. However, it is worth noting that depending on the time of day, that line will take you anywhere from 45 minutes to an hour and a half. We highly recommend planning for 3 hours before your departure time for this reason alone.
Thankfully, there are a number of Air France lounges within Charles de Gaulle Airport that you can access based on your departure terminal and gates. The lounges available to international departure guests are pretty much the same, but keep in mind that you do have to go to the one that corresponds with your gate number. To avoid overcrowding and cater to different gates, Air France has two distinct lounges in the international departure terminal at both ends. I spent a while trying to figure out the lounge access online, but it really just comes down to your gate. Follow signs to your gate and you will find a lounge.
The lounge offers full breakfast, lunches and dinners as well as snacks and an open bar. They have ample showers, restrooms and space for lounging or eating. During COVID-19, they have altered their buffet arrangement, so you can go up to the agent who will plate the food for you. You can still pour your own drinks, but you cannot touch the food.
The boarding area was large and had signage for Sky priority boarding as well as groups 1-6. They called pre-boarding first and then Business Class, allowing business to board before others in groups 2-6. Le Premiere boards separately and at their leisure so they do not call that class. Despite being some of the first in line to head down to the jet bridge, there was a holdup and essentially the entire plane had to stand and wait for about 15 minutes before getting onto the actual plane at the entryway of the jet bridge. They didn't make any announcements so we were all left to wonder what was going on.
Despite this, once we boarded the plane quickly, we found our window seats, 4L and 5L in the front half of the cabin.
The Boeing 777-300 is made up of 4 La Premiere closed suites, 58 Business Class flat bed seats, 28 Premium Economy recliners and 206 standard economy seats. The Business Class cabin is huge and separated into two cabins. We much prefer the smaller cabin feel and selected seats 4 and 5 to ensure we were in the small cabin. The front cabin, directly behind La Premiere, has 4 rows with 16 seats. Lavatories and the galley are located behind this cabin with 11 rows following of 42 additional business class seats. This cabin is significantly larger, but for travelers who love being on the wing, you might prefer this area.
The seat itself is a Cirrus Zodiac reverse-herringbone, one of the three distinct types of business class seats in their fleet. In terms of "bad" seats versus "good" seats, there's really no bad seat on this plane. All the business class seats are more of less the same. Personally, I would avoid row 6 and 9-10 for the proximity to the lavatories and galley as well as row 15 due to missing windows. I would also avoid row 20 as the final row of business class before hitting the premium economy lavatories.
On the flight to Paris, we were seating in 4E and 4F, the center seats, which was very pleasant as we were traveling together. There is a middle partition that is removable, and the stewardess removed the partition once we were seated so we didn't have to lean forward to see each other. While being able to chat and share meals was nice, I prefer a window seat so I can control the lighting and also watch takeoff and landing. Solo travelers will likely prefer this option as well.
Here is what 4E and 4F look like:
The seat itself is very space and does feel very private, despite your body being positioned close to the aisle. All the seats face away from the aisle. The televisions are cleverly designed to pop out of their position so you have the optimal angle. The TV does not tilt up or down, so keep that in mind when positioning yourself for TV-mode. I am 5'7 and was able to comfortably lean back with my legs up and still watch TV. I liked this TV configuration, because even when you are seating in E or F, you cannot see your neighbor's television, which I always find incredibly distracting. The TV also has an interactive remote that I relied heavily on. The space in the seat is quite big so I never leaned over to use the touchscreen. I simply relied on the remote.
The seat is comfortable, even on the 11 hour to SF and the footwell is very wide compared to comparable products on Delta and United. Both Max and I were able to comfortably extend our legs in the lay-flat position and had ample room for our feet as we turned over during the flight. The pillow and blankets are down-alternative and very comfortable.
There is a USB charger as well as an outlet for charging laptops or other devices. There is also a very convenient cubby with a door that houses the provided headphones as well as space for items that tend to go flying during takeoff and landing.
Overall, the seat comfort and style was beyond our expectations. The Air France signature colors were elegant, chic and beautiful. The lighting in the cabin was conducive to relaxation and seemed to change seamlessly throughout the flight.
Here is what 4L and 5L look like:
Amenities & Entertainment
Pajamas or slippers were not provided on this flight, but we did receive an amenity kit shortly after boarding. The kit contained trial-size Clarins hand lotion and body cream (which they did provide more of if you asked ;)), socks, a very comfortable eye mask, a toothbrush kit, earplugs, a pen and an eyeglass cleaning cloth. It was simple, but I found myself using all the elements of the kit throughout the flight.
There was a wide selection of movies, TV shows and music and content available throughout the flight. While there were not updates from June 1st to July 3rd, we did not find ourselves getting bored of the content. They also offered content in many different languages as well as captioning.
There was a huge music selection as well, including a decent selection of meditative and soothing tracks.
Wifi was available on the flight, starting at $9 USD for 1 hour. I did not end up connecting to the internet, however, I did connect to the wifi system for free messaging and was able to receive messages. The service was very slow and sending messages was hit or miss.
Dining was one of the highlights of the experience. Upon boarding, we were offered Pommery Brut Royal Pommery champagne or orange juice – you can guess what I chose ;). There was also a bottle of Evian in the compartment next to the seat. They provided the Business Class menus for us to peruse during takeoff.
Approximately an hour into the cruising altitude, beverage service began as they prepared lunch. While the standard 4-course meal was not available due to COVID-19 precautions to speed up the experience, I felt the flight attendants did and excellent job making sure the experience felt like normal with the 2-course procedure.
They provided us with white tablecloths, no warm towels though, and a tray with the starter of Smoked Salmon with lemon cream as well as the cheese platter, dessert and the side salad. I promptly put my dessert and cheese platter to the side to save for the end of the meal and dug into the Smoked Salmon. This was served with a selection of wines, cocktails and, of course, the champagne. During this "first course", they came around with a bread basket of warm baguettes and rolls.
The entree choices were braised beef cheek, roast poultry, pollock with seaweed and lovage sauce or a vegetarian dish of artichoke, polenta and burrata cheese. Both Max and I went with the braised beef cheek, which was lightyears better than United's fairly good beef short rib.
Our beverages were always full as they came through the cabin constantly to check on guests. The whole experience took around 45 minutes to an hour. I saved my dessert for a fresh shot of illy espresso and a glass of Chateauneuf-Du-Pape Jeanne 2017 Maison Ogier.
Shortly after the meal service, the flight attendants set out a snack stand and bar in the galley between the mini-cabin and the larger business-class cabin. I found myself sipping on a number of espressos and cappuccinos throughout the flight since it was a daytime flight. There was a long delay between meals and while I was content, there were a number of passengers, including Max, who did get pretty hungry by the time the second meal came around. One guest did ask for an express lunch if it was available somewhere around 5 hours into the flight and they happily obliged. It did feel like there should have been a mid-flight light meal offered.
The meal we received shortly before landing was a leek in rhubarb dressing, a crispy goat's cheese puff and a delicious red berry panna cotta. This was another excellent meal and hit the spot.
Overall, the dining was exceptional. After flying on US-based airlines throughout the pandemic, it was incredible to experience an airline that was doing their best to maintain their service levels and not use the pandemic as an excuse to serve snack boxes or prepackaged sandwiches.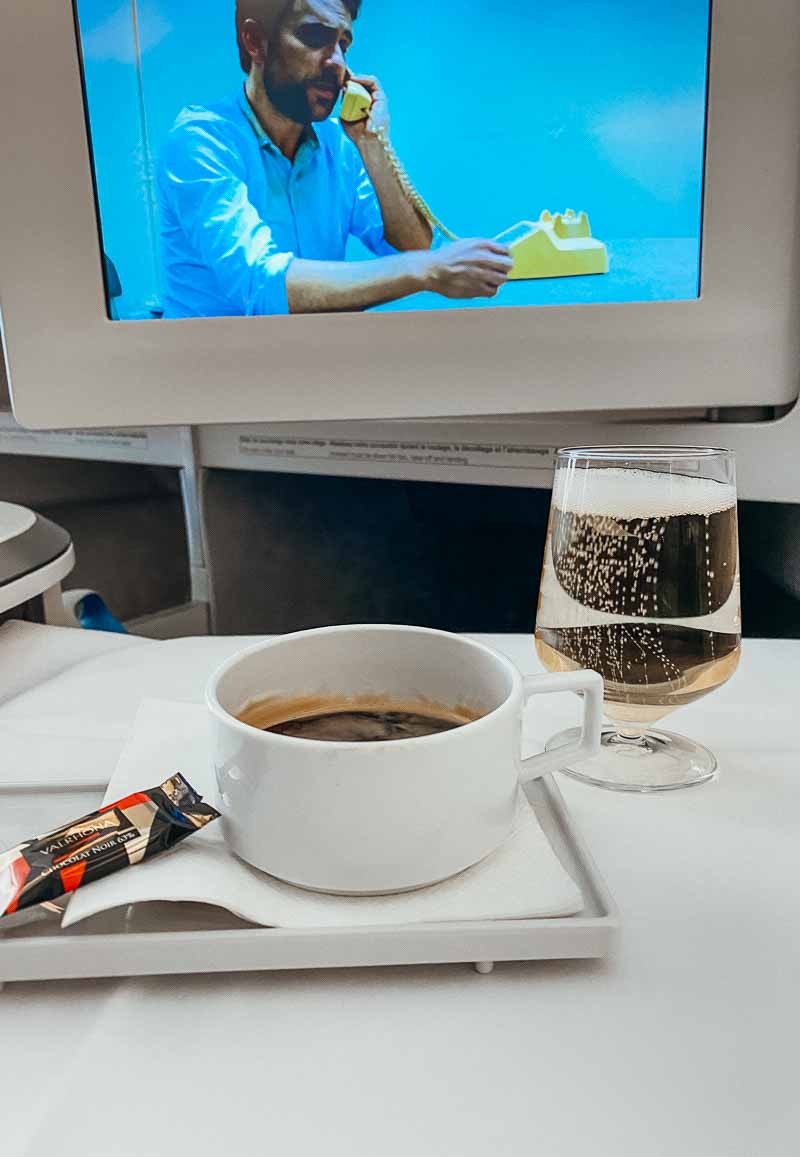 The service was excellent throughout the flight. The flight attendants were attentive, without being irritating, patient and really treated travelers as guests at a fine-dining restaurant. Whether it was the simple gesture of serving you wine as a true sommelier would by pouring elegantly from the bottle, or checking in and providing recommendations, they went above and beyond what many travelers have become accustomed to during this pandemic time.
Overall, we had a wonderful 11 hours in the sky with Air France. After our initial flight from SFO to CDG in the same class, we were almost afraid to be let down, but they did not disappoint. When the world returns to normal, we hope to have the chance to experience this incredible offering again. The seats were comfortable, the service was excellent and the food and beverage was beyond expectations.