Flight Review: Air France Business Class Paris (CDG) to San Francisco (SFO) Boeing 777-300
The pandemic has been an interesting time to travel – services and amenities were all but abandoned, much like the airports. Truth be told, I've actually enjoyed traveling during the Pandemic: flights were always on time and the airports and planes were virtually empty. We've also had incredible luck with discounted business fares, upgrades and smooth travel experiences. That being said, the lack of amenities, food, beverages and general service has been bummer to say the least. We had the opportunity to fly Business Class on Air France on a recent journey to Mykonos, Greece and we can safely say, Air France beats all US airlines by miles. While some of their services were adapted, the overall experience was exceptional.
PS – check out our flight TO Europe here: https://youtu.be/3zTXsGH-RGA
Thankfully, there are a number of Air France lounges within Charles de Gaulle Airport that you can access based on your departure terminal and gates. The lounges available to international departure guests are pretty much the same, but keep in mind that you do have to go to the one that corresponds with your gate number.
To avoid overcrowding and cater to different gates, Air France has two distinct lounges in the international departure terminal at both ends. I spent a while trying to figure out the lounge access online, but it really just comes down to your gate. Follow signs to your gate and you will find a lounge.
The boarding area was large and had signage for Sky priority boarding as well as groups 1-6. They called pre-boarding first and then Business Class, allowing business to board before others in groups 2-6. Le Premiere boards separately and at their leisure so they do not call that class. Despite being some of the first in line to head down to the jet bridge, there was a holdup and essentially the entire plane had to stand and wait for about 15 minutes before getting onto the actual plane at the entryway of the jet bridge. They didn't make any announcements so we were all left to wonder what was going on.
The Boeing 777-300 is made up of 4 La Premiere closed suites, 58 Business Class flat bed seats, 28 Premium Economy recliners and 206 standard economy seats. The Business Class cabin is huge and separated into two cabins. We much prefer the smaller cabin feel and selected seats 4 and 5 to ensure we were in the small cabin. The front cabin, directly behind La Premiere, has 4 rows with 16 seats. Lavatories and the galley are located behind this cabin with 11 rows following of 42 additional business class seats. This cabin is significantly larger, but for travelers who love being on the wing, you might prefer this area.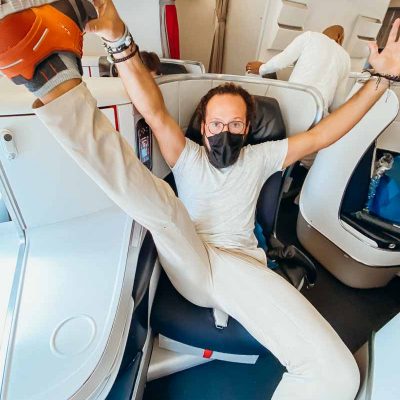 FLIGHT REVIEW OF AIR FRANCE BUSINESS CLASS
Looking for the written version of this video? Check out our review, here.
Read More
On the flight to Paris, we were seating in 4E and 4F, the center seats, which was very pleasant as we were traveling together. There is a middle partition that is removable, and the stewardess removed the partition once we were seated so we didn't have to lean forward to see each other. While being able to chat and share meals was nice, I prefer a window seat so I can control the lighting and also watch takeoff and landing. Solo travelers will likely prefer this option as well.

Pajamas or slippers were not provided on this flight, but we did receive an amenity kit shortly after boarding. The kit contained trial-size Clarins hand lotion and body cream (which they did provide more of if you asked ;)), socks, a very comfortable eye mask, a toothbrush kit, earplugs, a pen and an eyeglass cleaning cloth. It was simple, but I found myself using all the elements of the kit throughout the flight.
Overall, we had a wonderful 11 hours in the sky with Air France. After our initial flight from SFO to CDG in the same class, we were almost afraid to be let down, but they did not disappoint. When the world returns to normal, we hope to have the chance to experience this incredible offering again. The seats were comfortable, the service was excellent and the food and beverage was beyond expectations.
New

to

our

channel?


Here's why you should subscribe!

We create weekly videos from video hotel reviews to travel tips, showing you to the best things to do in the best destinations around the world. We'd love for you to join us!