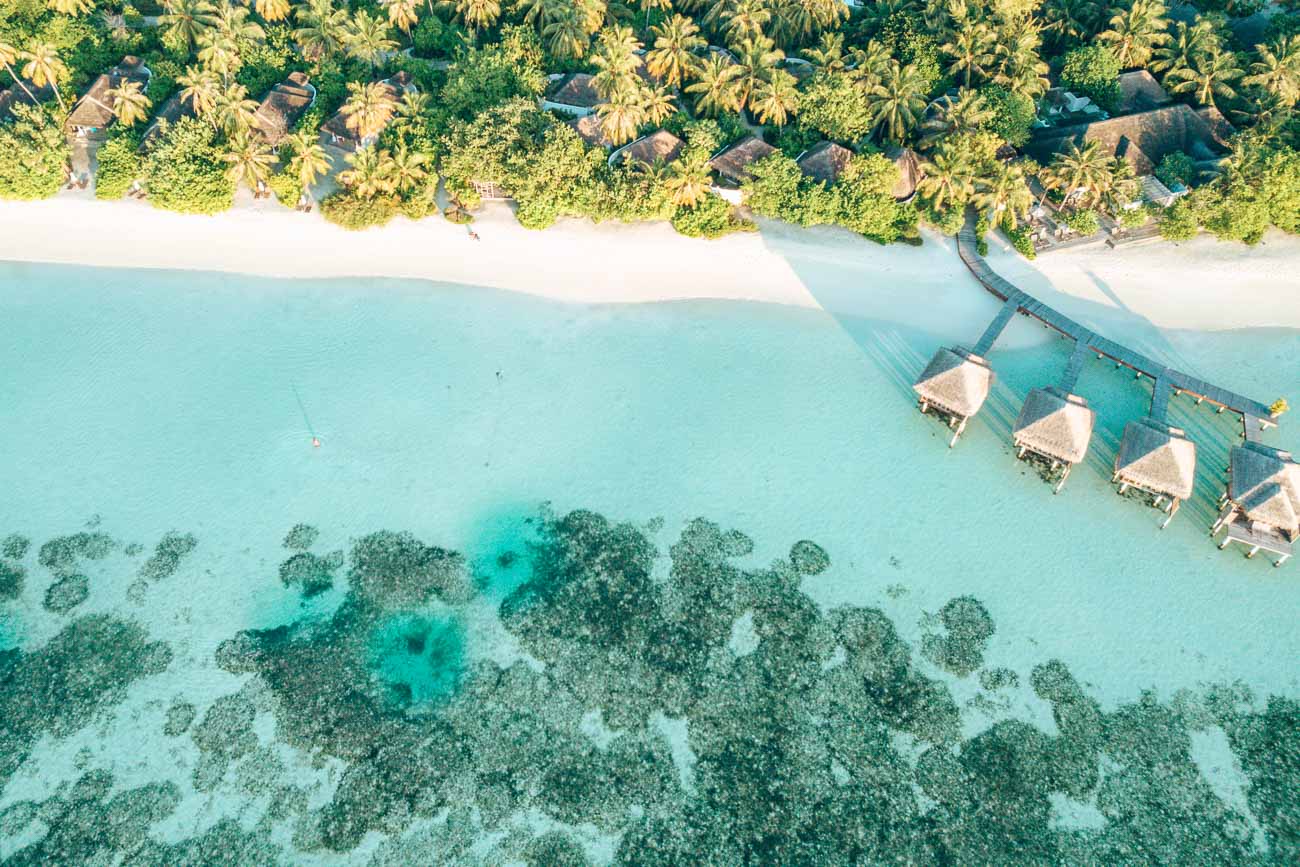 The Maldives is an incredible country and should 100% be at the top of your bucket list right now. When we were researching The Maldives before our trip, there are a lot of things that we wished we had known beforehand. Hopefully, these five tips will help you as you make your plans for your Maldivian adventure.
Getting to the Maldives is hard and typically quite expensive. Tickets from the US range anywhere from $1,200 to $3000+ dollars for a roundtrip back-of-the-bus economy ticket.
The lower end of that spectrum mostly guarantees you a nice 40+ hour journey through a few other cities before arriving in Male. Booking your ticket is just the start of one hell of a journey from wherever you are in the world.
However, here's a great tip for you: book a roundtrip ticket to a hub in Asia or the Middle East (depending on your location). Booking a roundtrip ticket to Singapore, for example, from San Francisco can run you as low as $450 if you get a good deal through Scott's or Kayak, etc. From there, book a round trip to MLE (Male). Using Singapore as the example, you can get a roundtrip fare for as low as $250 and it's a short, 4.5 hour journey from Singapore! This can save you thousands of dollars and also give you a nice stopover in a cool city for a couple days.
Booking a roundtrip from a city like Singapore is easy on airlines like AirAsia or Scoot. Since regional flights go far more frequently, it's much easier to find a reasonable fare from a major hub in that region.
Lastly, did you know there are a couple international airports in the Maldives? We didn't either. While you will most likely be flying into Male on your long-haul flight, keep in mind you might need to take a smaller domestic flight to get to the south (Gan International). For instance, if you stay at the Shangri-La, your boat transfer from Gan is included in the cost of your room. However, you have to take a domestic flight from Male to Gan to get there (somewhere around $200-300).
Now, once you get to Male, it's important to remember that you will most likely need to get to your hotel by seaplane. There are few hotels with boat transfers that are close enough to Male to take you by boat.
The Seaplane industry is fascinating in the Maldives. There are two seaplane companies in the Maldives that operate completely independently from each other. There's Maldivian Air and Trans Maldivian. Different hotels use different airlines and they do not talk to each other.
A few hotels do operate their own seaplanes but this is fairly uncommon. More than likely, you will be taking a combined transfer to your hotel through the above companies.
There are two things to note when it comes to seaplanes: cost and inter-hotel transfers.
If you've ever looked at a hotel booking for the Maldives, you may have noticed that by the time you get to the confirmation page, they may have tacked on $1000 for two roundtrip transfers. Yes, most of the hotel transfers cost somewhere between $450-550 dollars per person roundtrip from Male. This can be crippling for your budget so bare this in mind when you plan your vacation budget.
Through all my research, I have seen deals come up with many properties where they will include the cost of the transfer if you book a certain package, room type or special offer. It's worth investigating any hotel offer pages for deals like this.
The other note is around inter-hotel transfers. As many people do, we visited three properties in the Maldives while we were there. However, we were totally unaware of the seaplane transfer situation when we planned it. Our first and third hotel operated through Trans Maldivian.
However, our second hotel operated through Maldivian Air. This meant that we had to be flown back to Male International before getting on a plane back to essentially where we had just come from. And then we had to do that again before our third property. This was quite a hassle and we ended up spending about 5 hours at the Male airport between transfers on the first hotel due to the flight times.
I would highly recommend asking your hotels what airline they use and informing them of your plans so that you can best coordinate your transfers. Our hotels did a great job coordinating for us to the best of their abilities, but ultimately, it's up to the airlines what times they run. If you're lucky, you may be able to skip the Male airport altogether and jump from one hotel to another. While the hotel lounges you wait in are fantastic, it's a bummer to miss out on a whole day due to transfers.
Male international: home of abandoned booze from all over the world! Many people travel with a bottle of wine or whiskey on their vacations and we happened to bring a bottle of wine from Thailand with us. However, the moment we cleared customs and picked up our luggage, we were brought to security to hand over the wine they saw in our checked bag in the scanner.
No tourist is allowed to enter the country with alcohol from the outside. They are super nice at the airport and will store your alcohol while you are in the country, and you can pick it up on your way out. However, you may not bring in your booze. We did see a few people peeling off the red security stickers that indicated they had to declare their items, but we chose to follow the law and hand it over.
The Maldives is governed by traditional islamic law with conservative local laws and customs. Alcohol is not for sale in the city of Male for the most part, other than duty free (at steep prices). As such, hotels and resorts are your only real option if you're looking for alcohol. The government seems to turn a blind eye to the resorts so don't expect to see a Margaritaville at the airport anytime soon. This explains the high prices when it comes to alcohol in the country in general. My advice? Leave your alcohol at home and budget in the cost of booze for your holiday.
Speaking of alcohol, it can get pricey! Depending on your property, alcoholic beverages tend to range from $15-30 per glass or drink. Many hotels do offer happy hours and dining packages to offset the cost. That being said, you will notice that most hotels your look at will offer a myriad of F&B packages to pick from. These can be pretty overwhelming and confusing, so let me break it down for you. Typically, you will have some or all of these options:
Room only: nothing is included in this rate- just your room
Bed & Breakfast: Room is included + breakfast for two people at 1 or some of their establishments during standard breakfast hours. Room service is usually not included.
Half Board: Room, breakfast & dinner. This option typically includes two meals and no alcoholic beverages. Note: some hotels do not include water or soft drinks in this option either. Room service is rarely included.
Full Board: Room, breakfast, lunch & dinner. This does not include alcohol or room service usually.
All-inclusive: This option includes your room, all meals and beverages (including alcohol).
To find the right meal plan for you, I'd recommend writing down what you typically eat and drink on a normal vacation. Take a guess at what it would cost you to eat every day on your holiday. For example, at a high end hotel we may estimate the following spend:
Breakfast: $70
Lunch: Rarely eat lunch on holiday
Pre-dinner drinks: $50
Dinner: $100
So, in my inflated estimate, I may spend somewhere around $250 a day. It's really up to you to think about your budget and how much you're willing to spend. Consider the fact that food and beverages are a bit higher priced in the Maldives due to high transportation costs of goods. Review the pricing options for the dining packages. If the cost of the "all-inclusive" package breaks down to just a bit more than your budget, it could be worth the investment so you don't have to worry about the costs on your vacation. There's nothing worse than saying no to a mimosa because you don't want to pay the extra $15 bucks at breakfast. However, you may find that the all-inclusive package comes with a ridiculous price tag. When I was debating my purchase at Lux South Ari Atoll, the all-inclusive came to over $1000 a day for the two of us. That's $750 MORE than what I budgeted for my daily meals. In that case, the all-inclusive cost was 100% not worth it because I couldn't eat and drink that amount to save my life. We settled for a half-board package at this hotel, which at least alleviated about $300 a day between breakfast and dinner.
To be honest, all the hotels offer different prices and different packages, so I would recommend writing down the cost of the options and breaking it up by day to see what the daily price would be including your room. This was helpful for me when I was booking our trip.
Culture exists – and it's beautiful
The most incredible and frankly, surprising, tidbit about the Maldives that we discovered was the vibrant culture. Call me ignorant, but I didn't quite consider how beautiful the culture of a country made up for isolated islands really could be. We discovered this first at the beautiful Milaidhoo Island Resort. Milaidhoo is particularly good at hiring Maldivian employees and embedding the rich culture into everything: from the furniture to the decor and cuisine. While it's easy to forget about the cultural elements of a country when you're at a posh 5-star resort, you can see elements of their culture all around you. The Maldivian cuisine, for instance, is a beautiful blend of Thai and Indian food with a focus on seafood (of course). The staff at Milaidhoo were so proud to share their delicious cuisine and it made it so fun for us to explore.
We also discovered at both Niyama and Milaidhoo, that they incorporated beautiful woodwork and traditional furniture throughout the property. For instance, both the properties had traditional Maldivian daybeds on the outdoor patios of our rooms. These daybeds are found in most Maldivian homes and was a nice homage to their culture. Milaidhoo went so far as to hire woodworkers on island to build all their furniture custom in the Maldivian tradition. I encourage you to seek out the staff and learn more about Maldivian culture on your trip- it really is very beautiful.
The Maldives is truly a dream destination and they have so much to offer tourists all over the world. I hope you found some of these tidbits helpful as you start to plan your dream journey to this beautiful country! Have any other thoughts? Let us know in the comments!