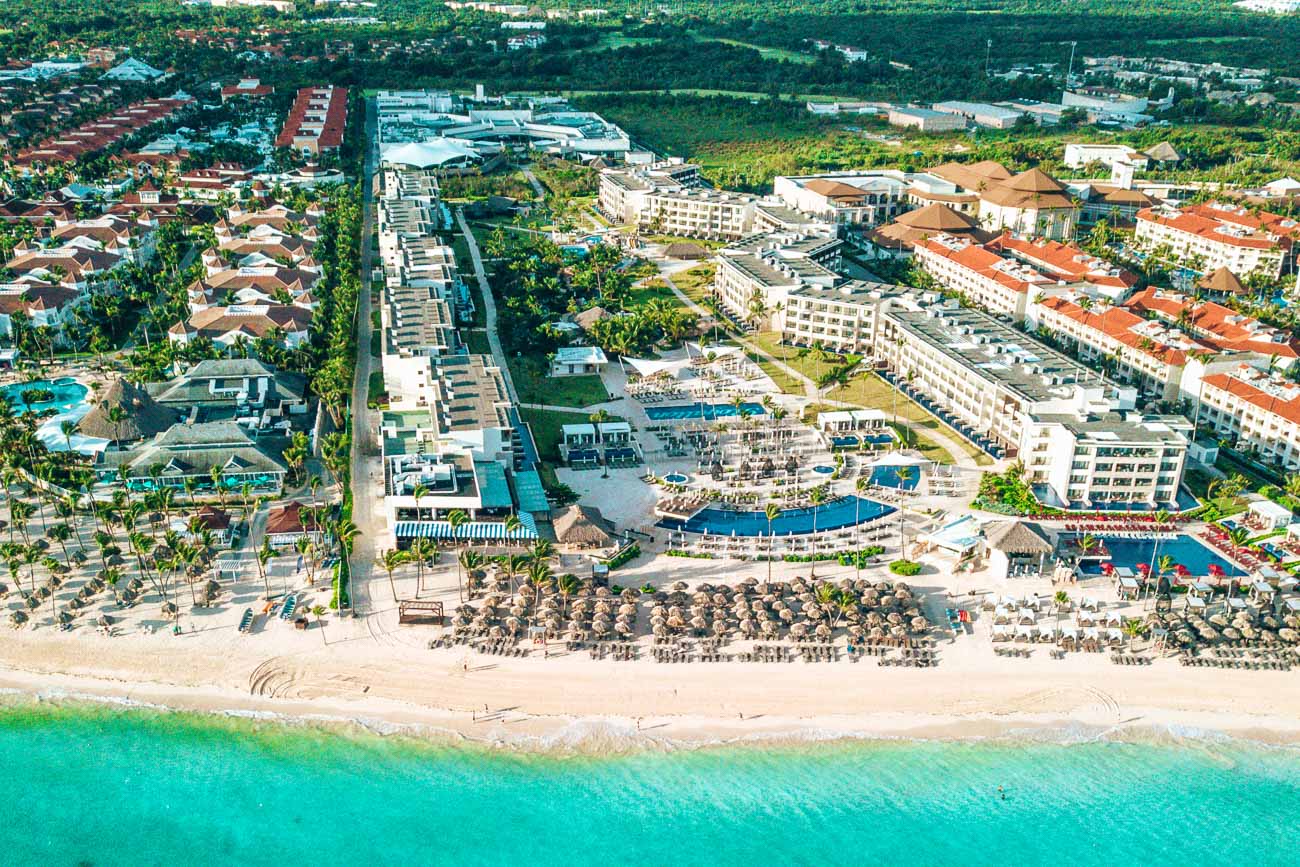 Picture yourself lounging on a pristine beach with crystal-clear waters, sipping a refreshing cocktail without a care in the world. Punta Cana offers a wide variety of all-inclusive options, ranging from luxury 5 star resorts to just-ok options. In this article, we'll break down what to expect at a true 5 star luxury resort in Punta Cana.
How do you know which resort is actually 5 stars?
We all want to be winners in the world, but we can't all be the best at everything… and the same goes for hotels. You'll find by filtering by "5 stars" will often pull up a verrrryyy lose list of "5 star" properties on sites like google or trivago. These properties allocate themselves the 5 stars and therefore show up in the rankings. Similarly, TripAdvisor allows hotels to pay for higher rankings, so who can you trust?
Check Online Reviews:

Pretty much ignore the star rating the hotel gives itself and check out their reviews across different channels like google maps and TripAdvisor. Pay attention to both positive and negative feedback. We usually advise filtering by 3 star reviews to see what people felt was good and bad.

Read Professional Reviews:

Look for reviews and ratings from reputable travel and hospitality websites like Forbes Travel Guide and Conde Nast Traveler.These sources often provide detailed assessments and ratings for hotels and resorts. And of course, check our hotel reviews if you haven't already to see where we've been and how they rank.

Research the Resort's Website:

Visit the resort's official website and explore the information provided. Look for any awards or certifications they may have received, as these can indicate a higher level of quality, for instance, if they have a Forbes 5 star.

Check the details of the All-Inclusive Packages:

This will be one of the most obvious factors in knowing what is truly 5 star. 5 star resorts offer much more than just a buffet restaurant for breakfast, lunch and dinner. They'll offer a la carte restaurants and special experiences. Take, for instance, the Hyatt Zilara's incredible suite of dining options – this is true 5 star facilities.

Look at Photos and Videos:

Examine photos and videos of the resort, both on its website and on travel websites. Pay attention to the quality of amenities, facilities, and the overall appearance of the property. It's particularly easy to filter by traveler photos on TripAdvisor to see how the spaces look after guests have been there over the years. Photos on a hotel's website may be old or outdated.

Research the Location:

Consider the resort's location. Some 5-star resorts in Punta Cana are situated in prime beachfront locations with beautiful views and lots of hotels, like Bavaro. Others may be more remote, providing a quieter and more exclusive experience such as Cap Cana or Uvero Alto.
What to expect: Accommodations
There's a wide variety of accommodation types available in Punta Cana thanks to the massive amount of resorts across the peninsula. Depending on your style and interest, you'll find just about anything you could imagine.
Almost 100% of the resorts will start their base level rooms at "Junior Suite". While the rooms aren't typically anything resembling a suite as a standard room, they will includes a small seating area, desk area and king bed. In most resorts, you will have a balcony to enjoy the Caribbean weather.
The room types don't change too much until you get to actual suites. What you will pay for between a standard room and a suite is typically the view. You will see standard view or garden view, partial ocean view, ocean view and ocean front. You will also find the swim-up rooms in this segment of room types.
In a garden view room, you will not be able to see any water and may be on a lower floor. Partial ocean view will have a sideways or obstructed view. Ocean view will have a sideways but more clearly visible view and ocean front will be the pinnacle view type with the room on the end cap of the hotel building.
Swim up rooms are hit or miss at most resorts because, while you do have a lovely (usually very cold) pool at your doorstep, you are not typically in a private room. Many swim up rooms face the main walkways that every guest passes through to access the property. When our travelers book swim-up rooms, we always want to set the expectation that it is usually NOT private so if you're looking for privacy, book an ocean view or ocean front instead.  Also, the pools are rarely heated at the swim-up rooms so unless the sun is baking on your patio, it will be brisk.
Rooms at luxury all-inclusive resorts in Punta Cana include elevated minibars with premium liquors, wines and beers as well as snacks.
When considering room types, think about how much time you want to spend in the room and what your priorities are. I personally prefer an ocean view over a swim-up room as I like the privacy of a high floor balcony and a great view.
Dining at luxury all-inclusive resorts in Punta Cana tends to be the same across the board. All the properties will have a buffet that is open throughout the day. They will also have a variety of a la carte restaurants open for dinner that typically include Italian restaurants, a steakhouse and a Japanese restaurant.  The quality will vary depending on the hotel so be sure to check reviews or contact us for help :).
Where dining will differ across the hotels is when it comes to club level versus standard rooms. Club level rooms at luxury resorts typically also includes access to a club level restaurant. At Hyatt Zilara, for example, guests have access to the beachfront restaurants for a la carte breakfast and lunch exclusively for them. At Royalton, guests have access to a private restaurant not accessible to anyone else. If a la carte breakfast is important to you, I would recommend looking into booking a club level. Similarly, club level rooms have access to a private lounge with an upgraded bar. Some bars are better than others – at Royalton, there was no difference in the alcohol, versus at Hyatt Zilara, the upgraded bar was a noticeable difference.
What to expect: Amenities & facilities
Luxury resorts in Punta Cana will include a variety of similar amenities and facilities.
In room amenities typically include a minibar with snacks, alcoholic and non-alcoholic beverages. The bathroom toiletries include shampoo, conditioner, body wash, lotion and amenities like cotton swabs and more.
On property, you will find full service spas for a charge, a fitness center and a full suite of activities to join free of charge. You can expect daily volleyball, water aerobics, yoga and often even spin classes or boxing classes. Be sure to ask for the menu of included classes on arrival so you don't miss anything.
Punta Cana is an incredible destination for a luxury all-inclusive vacation. Between unlimited dining and activities, upgraded bars and beautiful beaches, it's worth consideration for your next holiday. If you're looking for a deal, be sure to reach out as we have partnered with a number of luxury hotels to offer perks and discounts for your next vacation! Happy travels!