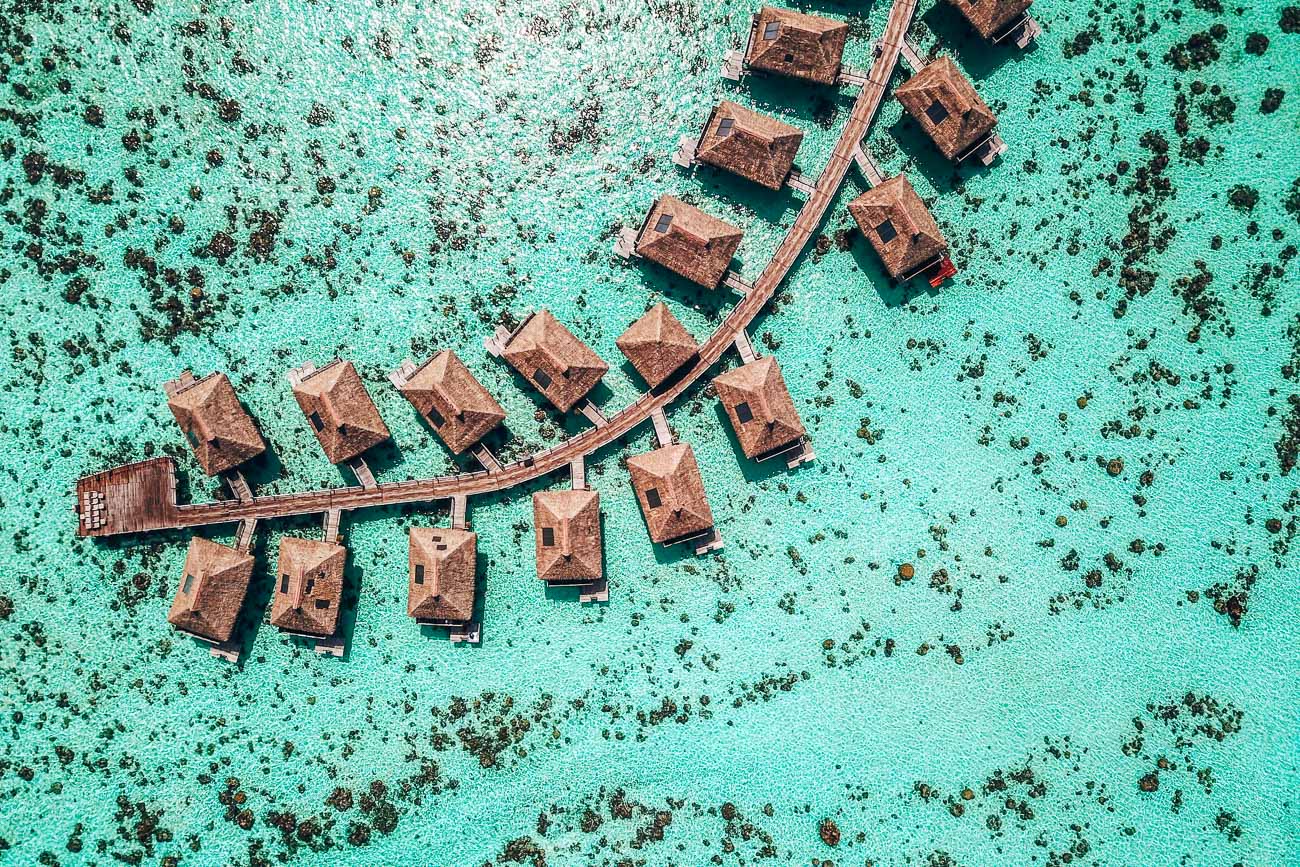 If you're like me, you've looked at a place like Tahiti and thought, "wow, I want to go there" and then looked at hotel rates and flight prices and thought, "…nevermind". I've spent the last few years obsessed with finding the best deals anywhere I go.  I've gotten some pretty insane flight deals (like $250 roundtrip flights to Barcelona) but it's often harder to hack the hotel game since spectacular deals are far and few between.
But I'm here to tell you that it is possible! Thanks to credit card points, hotel loyalty programs and sheer persistence, you can find some great deals and end up spending absolutely nothing for a beautiful (and often upgraded) room.
The first step is getting the right credit cards.  The top two cards in my wallet for hotel purposes is the Chase Sapphire Reserve and the Hyatt Chase card.  Both of these deserve to be the top two for a number of reasons.
The Chase Sapphire Reserve:
The Chase Sapphire Reserve gets you 50,000 bonus points right off the bat as a signup bonus if you meet the minimum spend. Couple that with the fact that you get 3x points per dollar for any travel and dining related purchase and it's hard to say no.  Travel and dining purchases count literally anything: flights, restaurants, your Starbucks addiction, hotels, airbnb, parking, uber, lyft…you name it, it counts. It adds up quick and I don't even spend that much money. Max and I have accumulated quite a bank of points by simply using this card for our everyday spend.  We even saved up enough points to get both of us from SFO to Yangshuo, China roundtrip for free a couple years ago using the sign up bonus.
Now, a lot of points-obsessed people focus heavily on the value you get from each point. You will find people who absolutely refuse to spend the points unless they transfer them to specific airlines at a certain rate, maximizing the value of their points.  Therefore, what I'm about to say is probably not what a lot of people want to hear.  While I do often spend my points meticulously by researching every possible transfer option, I also like to live in the moment and if I get a good flight deal to Tahiti (like my $700 roundtrip ticket), I'm not going to pass up the chance to book a Panoramic Overwater Bungalow at the Hilton Moorea Resort & Spa on points and save myself over $2,000 US dollars.  While yes, I might not be maximizing my points down to .00000001/point, I am able to stay in incredible hotels for free! On the Chase Sapphire Reserve ultimate rewards portal, you can book hotels and your 1 point is worth 1.5 points so you end up spending fewer points per dollar than you would on the AmEx portal, for example, and that can often be a worthwhile way to spend your points.
For example, I just did a quick search for the Hilton Moorea a few months out and found I can book a King Overwater Bungalow for $588 or 39,205 points.  Considering you get a sign up bonus of 50,000 points (plus whatever you spend to get that sign up bonus), you can easily get yourself to paradise and stay in utter luxury for free, at least for a few nights ;).  It's worth noting that the Chase Sapphire Reserve does allow you to book points + cash which helps you're a bit short on points.  It's also worth noting that you are booking through the chase portal, but the reservation goes through a third party (like Expedia) so you are not booking directly with the hotel.
Pro tip: When you book through the Ultimate Rewards portal, call the hotel after booking to confirm your reservation.
I call to confirm that they got my reservation and provide them with my email and phone number in the event they need to reach me. I also let them know of any special occasions, etc. In my opinion, it's important to call the hotel anytime you book through a third party to put a face (and personal information) to the third-party-name booking.
My #2 card is the Hyatt Chase card.  The main reason it's so high on my list is because the points needed to book a night at Hyatt are incredibly reasonable.  For example, to stay at the Park Hyatt in the Maldives, it's only 25,000 points a night! Given that you earn 2x points on restaurants and any airfare and 3x (plus multipliers for Hyatt status) by booking at Hyatt, it's an easy card to earn points on.  I use this card for my own personal expenses and always have enough points in the bank to books rooms when I need them. You also get automatic "discoverist" status, which is not as good as their former Gold tier, but it gives you some perks like 2pm checkout, which is great because who wants to check out at 11am? When you first sign up for the card, you get 40,000 bonus points, which if used correctly, can get you a really great getaway. For example, the Hyatt Regency in Cartagena is only 8,000 points per night for a standard room. That means you can spend 5 nights at a gorgeous property on the beach in Cartagena with your sign up bonus.
I did a quick search for this property and over Christmas week, rooms are starting at $400 a night, and 8,000 points.  This is a steal! You also get a free night annually on the credit card (category 1-4). Some of my favorite places to spend that night are:
Hyatt Centric Fisherman's Wharf
Hyatt Centric South Beach
Andaz Papagayo, Costa Rica
Andaz Shanghai
A great credit card is everything. But a hotel status can really help as well, especially when you've booked your free vacation through your chase portal or the Hyatt credit card.  I got the AmEx Platinum last year and it's been worth the high fee ($550) to have access to Centurion Lounges, Hilton Gold and Marriott/SPG Gold statuses.  Having a status at the brand you book a holiday with can really go a long way to have an elevated experience. Things like room upgrades, late check out and free breakfasts can bring even more value to your vacation that you booked on points.

A perfect example was our holiday at the Hilton Moorea.  We booked our Panoramic Overwater Bungalow through Chase Ultimate Rewards and paid $0.  I called the Hilton Moorea team and let them know I made my reservation and wanted to make sure they had my loyalty number attached to the reservation.  This enabled me to get free breakfast during my stay and the best available room in my category. So for about 45,000 points per night, I was able to get a spectacular overwater bungalow and free breakfast buffet and not stress about the money.
Have you heard of tier matching? This is another perk to having certain statuses.  Brands (hotels and airlines) will often match your status if you ask. For example, did you know Hyatt Discoverists get M Life Pearl?  M Life (MGM hotels) Pearl status gets you free parking in Las Vegas at their resorts as well as a dedicated check in line.  If you get up to Hyatt Explorist, you even get M Life Gold which gives you free valet parking, points bonuses, VIP lines at night clubs and more. Tier matching is a great way to further maximize your loyalty program perks.
In sum, it's possible to stay in incredible hotels by being strategic about the credit cards and loyalty programs you have and a great place to start is with the Chase Sapphire Reserve. It's time to take your dream trip!