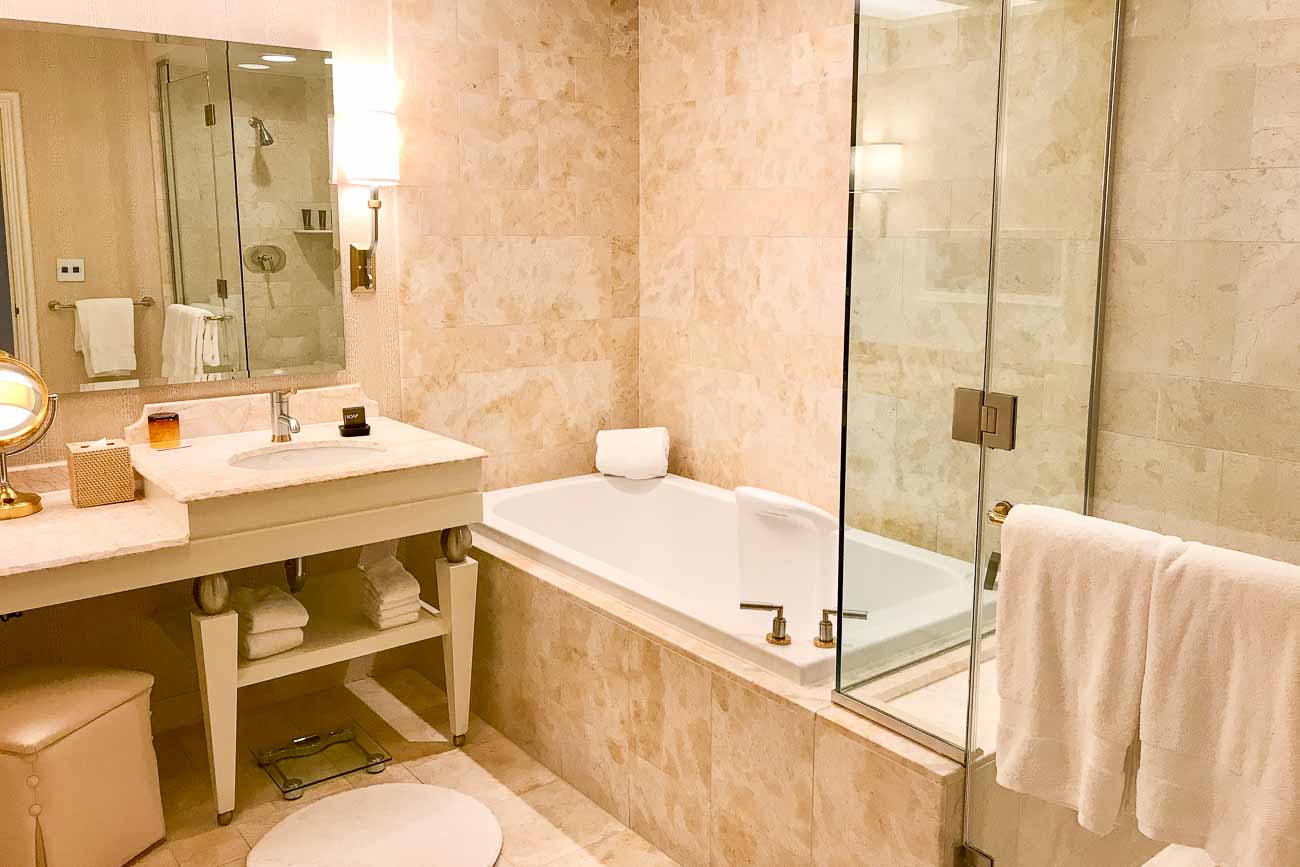 Las Vegas is one of those places where you know that you're getting a great value for your money. It's got everything: luxury, delicious food and more activities than you'll find in most major cities.  And you can have it all for less than you think, especially if you're willing to book Sunday-Thursday.
While my last hotel review in Vegas focused on my obsession with the Mandarin Oriental, this time we stayed at Wynn on the other end of the strip and here's what we thought about it:
10 minutes from LAS international, Wynn is located on the northeast end of the strip.  I'd rate their location a solid 4/5 because while it's far from "city center" (which includes the Cosmo, Aria, etc), it's still just a short taxi ride from the center of the strip and it's got a great location directly next to the Palazzo and across from Fashion Show, an amazing mall on the strip. While taxis/ubers are a must if you are trying to head up to some of the more central areas like the Bellagio, the Wynn is an attraction of its own.  The large complex has everything you could ever want, including an incredible pool area.
Lobby & Check in experience: 4/5
The entrance to Wynn is beautiful, grand and almost…whimsical. The lobby has a stunning central area with trees and a fairytale like setting. Locating the registration desk is a bit of a feat but there are typically staff situated near the door to show you were to go.
I arrived at 3:45pm on a Sunday which is prime check in time. There was a bit of a line when I found the check in area and I was concerned about how long it would take (as it often takes hours at places like the Venetian) but it was only about 18 minutes before I was assisted by the agent. I was offered water and he was friendly enough.
I requested a higher floor room and after reading many reviews I knew to ask for the golf course side if I wanted a quiet room. To be honest, I love the strip view but once you've seen it once, it's just…not that exciting anymore, especially if you have to trade peace and quiet for the loud thumping of the nightclub below.
Pro tip: remember that you will never get anything that you don't ask for! Don't be afraid to ask for what you want! You want to be near the elevator? Say that! You want a high floor? Tell them! If they send you up to your room and it's not what you wanted? Call them and demand a new room (nicely of course) and almost certainly, they will accommodate you.
After he checked me in (about 10 minute process), he sent me towards the elevators…omg I got so lost. I spent the better part of 15 minutes wandering around the casino and somehow ended up in the Tower Suites lounge where the slightly rude employee pointed at the casino and told me to go "that way". However, I found a nice security man on the casino floor who showed me the way.
About 35 minutes after I initially arrived at the property, I finally entered my own personal heaven. I was in room 2422 (golf course facing room – even numbers) and the moment I opened the door, I knew what all the fuss was about. The room is huge! Muted, natural tones welcomed me and the view was spectacular. I was directly facing the mountains and golf course and had a nice view of the waterfall below.
The bathroom was large, had a massive double vanity, separate bathtub and a nice shower with the strongest water pressure I've experienced in a while. Also, the tub filled in less than 5 minutes, which has never happened to me before. I brought my own bath salts, which I'd recommend because otherwise you have to use their soap.
That being said, their products smelled lovely and I liked their shampoo and conditioner. The only thing missing from this room was a coffee maker! That was a strange thing to not have but given that it is a casino hotel, I know they want you out of your room as much as possible.
The closet was sizeable and included two robes (I hate when there aren't robes in the room which seems to happen frequently in Vegas).

The king bed faced the gorgeous floor to ceiling view. There was a nice sitting area with a plush sofa and ottoman as well as a table with two chairs and the desk area. Classic, stylish and clean. While there was nothing revolutionary about the room, everything just simply worked. The lights and drapes were controlled by a tablet next to the bed but you could also do everything from the switches on the wall as well. The technology was not so much the focal point, which was appreciated.
Note: be sure to request non-smoking at check in. Smoking is still allowed in many hotels in Las Vegas so keep that in mind. My floor was non-smoking and I did not experience any issues with this.
The pool area is spectacular. There is a long, beautiful pool as well as an adults only pool at the end of the outdoor area. It's beautifully landscaped and there are trees and hedges separating the space to make areas seem more private. Do keep in mind that the sun is gone at 4pm from the pool area. This is not uncommon in Vegas hotels.
The loungers are comfortable and there is poolside service. I can speak from experience, their piña coladas are worth it ;).
I did not have a change to visit the spa on this trip but I hear great things about it. That'll be my first stop on the next trip.
There are an immense amount of restaurants on property between Wynn and Encore.  My personal favorite was La Cave. La Cave is a gorgeous, modern American tapas bar located across from the buffet.  It's made to look a bit like a wine cave but there is a gorgeous outdoor patio overlooking the pool that is just amazing.  We ordered 8 or 9 items to share between 4 of us (the price of items range from truffle fries, $10, to fantastic steak at $26) and a bottle of Albariño ($61) and loved all of it. The decor is very cool and you can sit at a table or choose one of the less traditional rocking chairs.  I am so glad I found this restaurant as it's now at the top of my list with Spago and Beauty & Essex.  Frankly, I just loved that it was outdoors.
While I've heard the service is hit or miss, I had great experiences with the staff. I made my reservation over the phone to get the best deal and the lovely reservation agent sent me a box of chocolates on my first night. I thought that was a lovely touch.
Given that the hotel is around 3500 rooms, they do try their best to provide personalized service when possible. The staff at the pool could not have been nicer and checked on you frequently.
The only reason I bumped it to a 4 was because I was charge $106.41 for mini bar items I didn't consume. I'm the last person to dig into a mini bar given how absurdly expensive it usually is. I'm not sure if it was a glitch in their automatic charing system (it charges you when you pick up the items) or whatever, but it was added to my bill. Thankfully, I called and spoke with a manager who removed the charges right away.
Pro tip: Always check your hotel bill! It is not uncommon to be charged incorrectly for mini bar items that you did not consume. Being a former hotelier, I saw this all the time.
In sum, I was very pleasantly surprised by Wynn. I thought no one would ever come close to my beloved Mandarin Oriental. However, the rooms were stunning, the price is great if you can get a good deal and the facilities are excellent. I am usually the last person to talk about loving massive hotels, but the staff made a huge effort to provide personalized service.
What's your favorite hotel in Las Vegas?