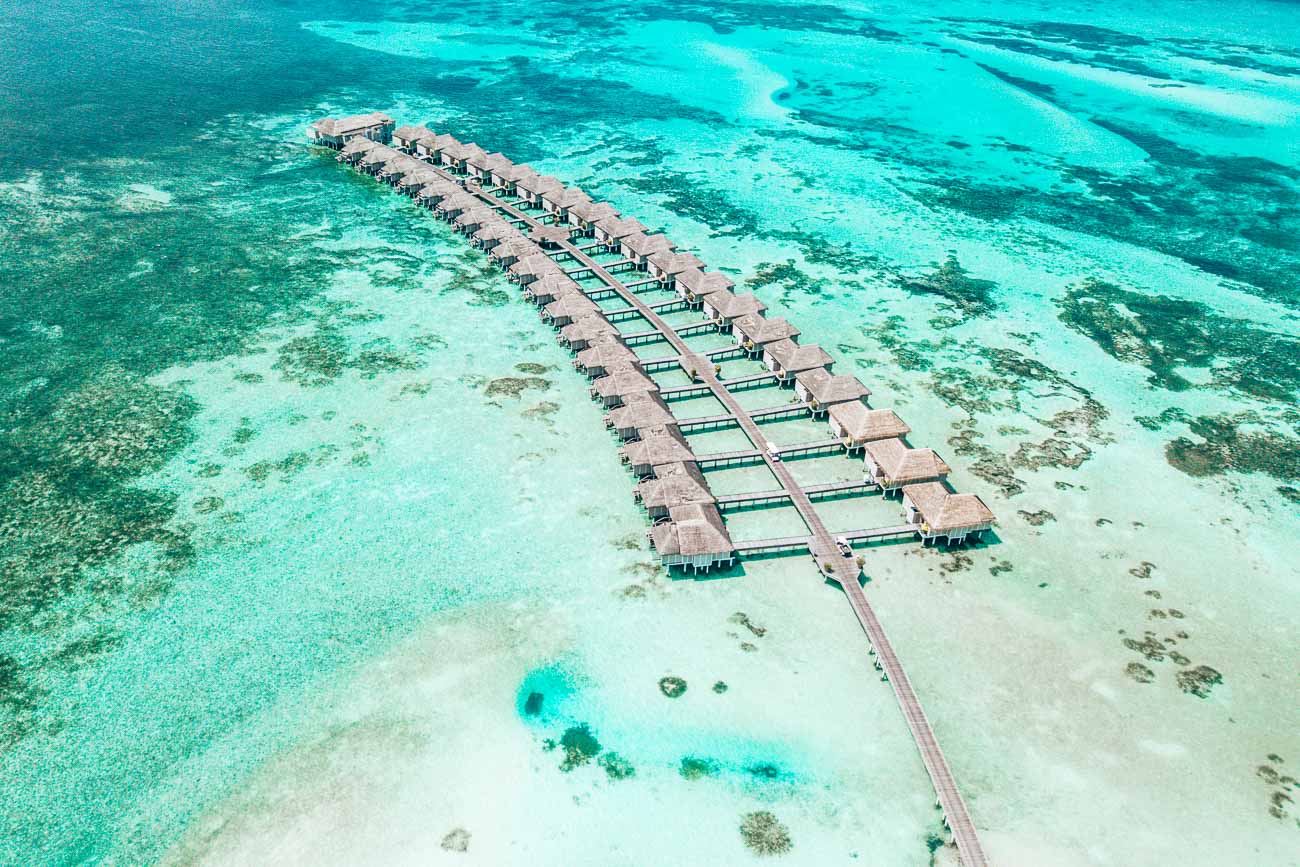 Lux South Ari Atoll was our third and final stop in the Maldives as well as our longest hotel stay. We were ready to unpack our bags and explore a new island for 5 nights before the long journey back to the US. Situated on the very edge of the Ari Atoll in the world famous Whale Shark hotspot is Lux. We can't wait to share our thoughts about this 193 room hotel.
Lux South Ari Atoll is located right at the edge of the reef and is home to Whale Sharks throughout the year just outside the property. Visitors from dozens of neighboring hotels come to this area for all their whale shark dives and excursions, making this a great spot if you're hoping to see these majestic animals. Unfortunately, Max and I weren't lucky enough this time to see one, but we're hopeful for the next trip!
As with most hotels in the Maldives, it's hard to find a bad location. The water is crystal blue in the lagoon and the warm breeze cools you down in the hot afternoon sun. The hotel is a 30 minute seaplane ride from Male International and there are flights throughout the day, making it an easy transfer by seaplane.
Lobby & Check in experience: 5/5
You will discover with most high end hotels in the Maldives, you are brought to a lounge at the seaplane terminal shortly after arrival. Your formal check in experience happens in the lounge while you wait for your flight. Of all the seaplane lounges we went to on this trip, this one was definitely the best. There is a barista brewing espresso drinks, endless homemade goodies like yogurt, breads and other snacks as well as cookies and soft drinks. The lounge is comfortable and spacious. We waited approximately 2 hours in the lounge between transfers (this is a typical wait time).
One thing to note about the transfers that doesn't have to do with the actual hotel but is important to highlight is luggage requirements for the airline. It's vital that you check the policy for every hotel you stay at in advance of your trip. We did not know that each hotel had different allotments based on their relationship with the airlines so I based my packing off the first hotel we stayed at. We had no issues with the other two hotels, but when we arrived for this transfer, the airline said we had to pay them $200 in overages. Thankfully, the Lux lounge stored some of our luggage for free that we didn't need so we could avoid the fee. This is an option for you if you run into the same issue.
Despite the debacle, we arrived at Lux with slightly less luggage and ready for paradise. The lobby is open air, beachy and has a cafe, making it a nice central hub for the hotel. The other two properties we stayed at had lobbies that we never stepped foot into, so it was a different experience to have a central hub. We jumped on a buggy and headed to our room shortly after arrival.
Originally, we had booked the Water Villa, located on the western end of the large island. We booked this room because it was the second highest room type so we assumed it would be excellent and we heard the western end of the property was the quiet, peaceful side. We ultimately ended up switching to a Beach Pool Villa so I'll explain the differences so you can determine what is best for your needs:
We've been lucky in the last year to stay in some spectacular water villas as well as a number of beautiful beach villas throughout our travels. While water villas have some of the most spectacular views compared to a beach villa, they can sometimes lack the space or amenities that you might find on land. The Water Villa at Lux is located on a quieter side of the island with less residences than the East End. It is about a 15 minute buggy ride from the central hub of the island (lobby, beach, most restaurants). It was a bit of a hike to get out there and you pass by the staff quarters which can get quite loud, but buggies run every 15 minutes or so so you don't need to walk. You can also request bicycles to get around and that's a fun way to see the island. Just bear in mind that when biking past the staff quarters, they tend to drive very fast so we were run off the road a few times.
The Water Villa king bed faces outwards, with an unobstructed view of the ocean. There is an adjoining bathroom that is about the size of the bedroom with a soaking tub also facing the beautiful view. There's a double vanity, shower and toilet room as well. The outdoor deck spans the length of the room with two loungers and a small table with two chairs and a hammock. You can swim directly from your deck, but the water here is about 1-2 foot deep and there is a lot of seagrass on this side of the island.
So why did we move to the Beach Pool Villa? Despite how beautiful the view is from the Water Villa and the large size for being a hut on stilts, we were so bothered by the fact that we couldn't really swim off our villa. One of the perks of booking a room over the water is the ability to jump right in and swim directly from your deck into the clear blue seas of the Maldives. While the room itself was comfortable, we knew we wouldn't be spending any time in it if we could help it.
The Beach Pool Villa is a spacious room with a stunning bathroom. The bathroom is open-air and has an outdoor shower, outdoor massive, round soaking tub and a large plunge pool in your own private pavilion. There is also an indoor shower and toilet room. Not sure why you'd use the indoor shower when you have a beautiful shower outside.
Outside the villa is a large covered patio and beyond that, the white sand and crystal blue lagoon. We were just feet from the beautiful clear water we loved and were hoping for in our Water Villa originally. The room also seemed much newer and had beautiful decor. The Water Villa seemed a bit more dated and uninteresting inside. We much preferred the Beach Pool Villa for all these reasons. Also, the location was far more convenient to restaurants, activities and the beach.
In retrospect, if I'd known, I would have booked the Romantic Pool Water Villa. These rooms are smaller, but are located on the blue side of the Lagoon (east end) and have a private pool and are significantly cheaper than the Water Villa and Beach Pool Villa. The water on this side looked so much clearer and bluer than the West End.
All villas come with complimentary drinking water that is locally filtered on the island.
Lux really does have it all: spa, gym, outdoor gym with equipment made of coconuts, 10 restaurants and bars as well as multiple swimming pools, a library and full activities center. You can never get bored here. My favorite facility available was Euro Divers, the onsite dive shop. They have incredibly reasonable prices for scuba diving, which shocked me. One dive was about $100 and they had deals for multiple dives. For reference, a dive at one of our other properties was $250. We completed our Enriched Air certification while we were there because it was reasonably priced at $250. Diving quickly became our go-to and we went out every day with our dive master. Due to the reasonable prices, they had full dive boats twice a day every day. If you're looking to dive in the Maldives, this property is a great option.
I had two spa treatments while on property: a couples massage and a body wrap. The couples massage was really relaxing and took place in a massage room facing a small garden. The masseuse was excellent. My body wrap took place in an overwater hut and that was spectacular. During the wrap, the technician does a scalp massage for 30 minutes and it was heavenly. The treatment was wonderful and I left feeling very refreshed. The facilities are beautiful. The outdoor spa area has a nice covered pool, a sauna, steam and large locker rooms. The women's facilities also have a small plunge pool and daybed.
The property offers bikes if you request them. I found it odd that the bikes came with locks, since at our other properties they did not and it gave me a strange vibe, like they expected someone to steal them. Regardless, we had a great time biking around the large island exploring. We never locked our bikes and had no issue.
A fun perk at Lux is a great game they have going that all of the staff are involved in. Every morning, the gardeners hide a dozen bottles with notes in them giving you various gifts (like a free bottle of wine, etc). I was determined to find one and for many days had no luck since apparently people wake up at 5:30am to go seek them out. I was lucky one morning when we were up for sunrise because we happened to search around a bit and found one hiding! We won a free bottle of red wine that we enjoyed that night for dinner. It's a really cute game that makes for a fun experience if you get up early enough to be one of the lucky few :).
There are 10 restaurants and bars to pick from at Lux and the food is all excellent. The only reason we are knocking the score to 4.5 is due to their reservations issues. The night we arrived, we decided to try the Italian restaurant, only to be told they were booked solid the entire length of our stay (5 nights!!). We then attempted to go to another restaurant, but they only had availability three nights from the day we arrived, and so on and so forth.
We talked to a few other guests who had booked ahead of their stay for every night based on advice from the hotel. I found that odd because I typically try to not make plans on vacation. The pressure of time is why I go on vacation in the first place. The best part of a beach holiday is strolling into a beach restaurant at whatever time you get hungry and sitting down to watch the sunset with a nice glass of wine. Unfortunately, that wasn't the culture at Lux and since people tend to abandon their reservations (naturally) on vacation, a lot of tables stood empty all night, but I was glad we learned that early. That night we ended up at the East Market buffet, which I was not excited about because I typically don't like buffets. However, the quality of the food and the themed restaurant won me over. The dumpling chef was my favorite and he told me to try all his favorite dumplings: they were to die for.
We went on to try a number of other restaurants and all had delicious food.
Beach Rouge was tapas style and has a DJ every evening. I would recommend this restaurant if you are on half board or above. It can get pricey with the tapas, but it's delicious. With half board and above, you get to select 8 tapas and that was more than enough food. Beach Rouge also has a great sunset so come early to enjoy the sunset in their overwater hammocks.
Senses Restaurant offers very good Indian cuisine and was probably my favorite meal while on property. The service was also excellent at this restaurant. We had the chance to sit with our toes in the sand at a table directly on the beach, while enjoying delicious naan and Indian food.
We did try Umami one night (which is not included in the all-inclusive package) and it was good. They do not have outdoor seating so it's a nice option for a rainy day if you need to sit inside.
We ate breakfast every morning at East Market because we loved that side of the lagoon and sitting outside with a beautiful view. The food is delicious and had quite a variety. They make fresh croissants and bread in the kitchen, which paired with the fresh homemade jams, make for a delicious breakfast.
Each morning, Cafe Lux in the lobby, has free coffee and espresso drinks from 7-11am. It was a perfect pit stop after breakfast.
One thing we didn't find out about until it was too late was that the East Bar offers a happy hour at sunset (2 for 1). We went to the Beach Rouge bar every night since the sunsets there were absolutely incredible, but they don't offer a happy hour. We never turned on the TV so we didn't see the advertisement on the Lux channel.
Overall, the service was ok. We had just come from two incredible hotels with some of the best service we've ever experienced so it is a hard comparison to make. We were a bit disappointed in the service, but realize it's much harder to provide 5 star service at such a large property than it is at a 37 or 100 room hotel. Smalls things tended to add up like the fact that the water in your room was free but the same exact water in the restaurant was $4 a bottle. I asked if I could bring my own water and they told me they would charge me for it if I did (…weird). Odd management decisions or policies led to a slightly negative experience in the service department.
Coming from a hospitality background, I am very sensitive and particular when it comes to service provided at resorts, particularly when you're talking about spending thousands of dollars. It seemed to be a bit of a systematic issue as our fellow guests expressed similar disappointments.
Slow service, uninterested staff or buggies flying past guests taking a leisurely stroll on the pathways tend to be hard to ignore. We shared some of our issues to management and were met with a somewhat defensive and lackluster response. However, we chose to ignore the negatives to enjoy our holiday to its fullest.
Unfortunately, despite our best attempts to ignore the slightly negative service experiences, the cherry on top came after we left the property. Since all your transportation is handled through the hotel, they were fully aware that our departing flight out of Male was at midnight. We were told we would be heading to the Lux Lounge at Male to wait for a few hours since we'd be at Male around 6pm. However, when we arrived at the Male airport, ready to repack our bags in the lounge that had been left behind after the airline debacle, the staff told us the lounge was locked up and closed and we would not be going back to it. We were dropped off outside the terminal with, yet another, uninterested goodbye. It was such a contrast to the service we had experienced at the other properties that it genuinely affected our view of the property as a whole, even though we tried so hard to move past the negative service experiences. My recommendation is to make sure, before you leave the property, that you do have access to the lounge if you have such a long wait at the airport. There is not a lot of space to wait and there is no AC in the outdoor area before the checkin area of your departing flight. Note: you cannot check into your flight before 3 hours in advance.
There were a few staff members who were wonderful and kind. The staff at Senses Restaurant, for example, was exceptional. The spa staff, similarly, were excellent.
Lux South Ari Atoll has endless instagrammable spots on property. Their restaurant furnishings, sunset hammocks, hammocks in the ocean and ridiculously cool public restrooms were just waiting for us to photograph them. You can't turn around on the property without seeing something fun to take a picture of, which makes our jobs way easier (lol)! We loved the whitewashed lobby and quirky, punny branding.
The style throughout the property was very hip, young and cool. It didn't quite extend through the rooms, which is the only reason we couldn't give 5 stars here. The rooms were lovely and comfortable, but didn't have the same stylistic elements as the rest of the hotel.
The restaurant list in your room mentions fairly specific and intense dress code requirements for dinner, but rest assured, we went shoeless every day and night and we saw many others doing the same or wearing shorts, etc. I do not think they can enforce the "smart" dress code since you are on an island and you're paying good money to be there. As long as you wear actual clothes to meals and nothing a bathing suit or see-through coverup, you are fine.
Overall, we really did enjoy our stay at Lux. The quality of the food and the fact that so much of their food is made in house was really a highlight for us. We loved the fresh baked pastries, homemade yogurts and jams and endless variety of dining options. While the service suffered, it was made up for by the fact that we filled our days with excellent scuba diving and swimming in the clean crystal blue ocean. The property is reasonably priced for the Maldives and makes for a great getaway for those looking to have a beautiful holiday on a "millennial budget".