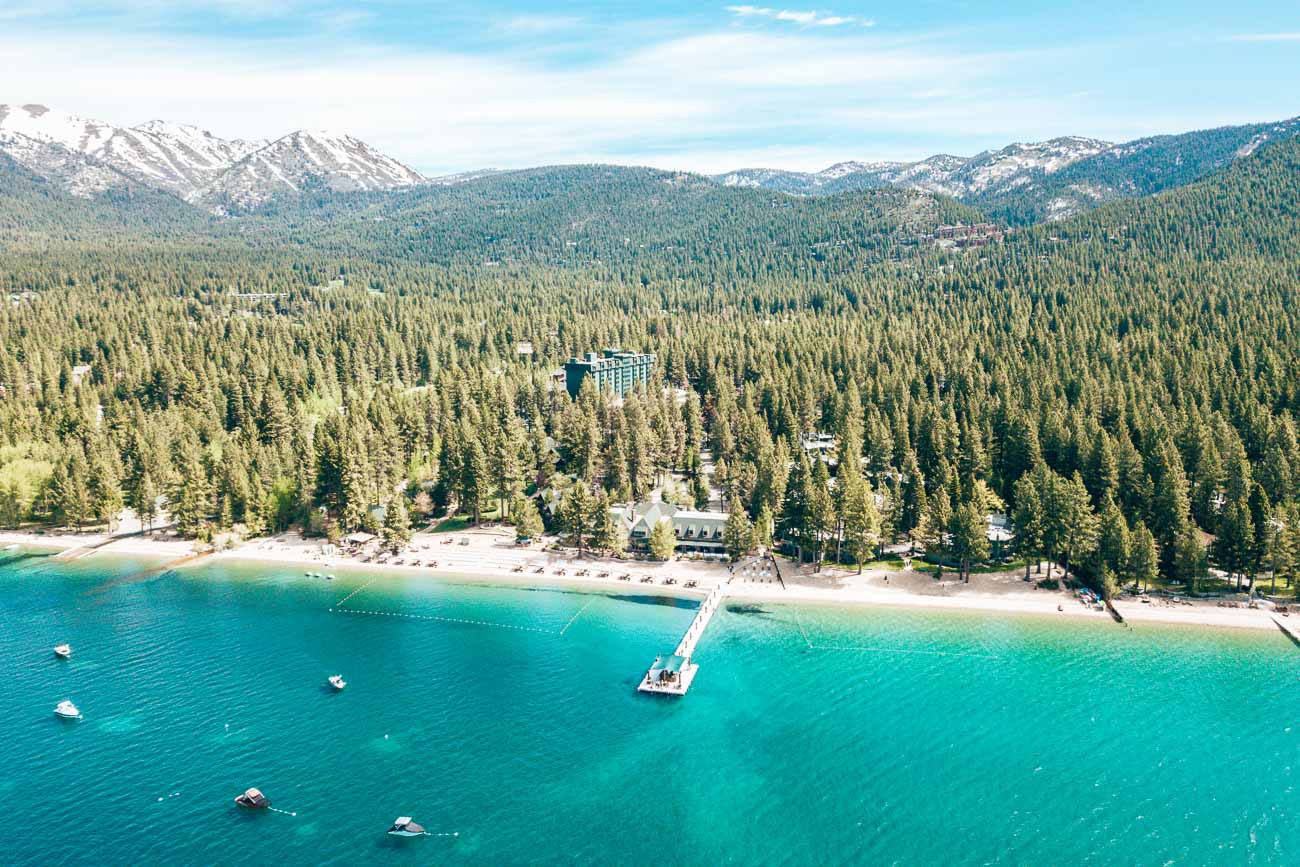 North Lake Tahoe offers so much in the way of activities, regardless of the time of year. Whether you're hitting the slopes or spending your days lounging by the lake, hiking or dining out, Lake Tahoe really does have everything. Max and I had the pleasure of working with the Hyatt Regency Lake Tahoe this past weekend and are so excited to share our thoughts.
Location & How to Get There: 5/5
Lake Tahoe is 3 hours from San Francisco and approximately 1 hour from Reno. We live in the bay area, so it's a quick car ride up to the mountains for us. However, if you're flying, you have a number of options: San Francisco International, Oakland International, San Jose International, Sacramento or Reno.
The most affordable options will be the bay area airports of SFO, OAK and SJC. From there, you can easily rent a car and drive up. Similarly, if you fly into Sacramento or Reno, your best bet is to explore by car, since there is so much to see in Lake Tahoe.
In terms of location, the Hyatt Regency Lake Tahoe could not get a better lakefront location. Being one of the few properties on the lake, the Hyatt has direct beach access, with full beachside service. The property is located in Incline Village, which has a number of shops and restaurants to explore. It's also a 2-minute drive from the famed Monkey Rock hike. If you're looking for a ski-in-ski out property instead, we recommend checking out the other Hyatt points option, Resort at Squaw Creek.
The lobby is one of our favorite features of the Hyatt Regency Lake Tahoe. Featuring an expansive ceiling, large hearth in the middle, and ample seating make this such a cozy place to relax. While the casino is located directly behind the lobby, you cannot even really tell that it's there. You almost forget it exists if you don't gamble.
The front desk faces the large seating area and there are a number of stations. While the lines can get quick busy during check-in and check-out times, we did not have to wait long to be helped. We were checked in quickly and efficiently by our front desk agent. I do have to call out that while we were checking in, another front desk agent, Sydney, was chatting with us and she was such a tremendously helpful and genuinely nice person. She even gave us a whole bottle of sparkling wine to take to our room!
They do serve champagne or apple cider upon check-in, which is a lovely touch.
We have stayed at the Hyatt Regency a number of times in the past, in different room types. On this particular trip, we checked into a beautiful Junior Suite on the 10th floor. The junior suites are large, at 550 square feet, and include a bathroom with separate tub and shower, living area and large king bed. The junior suites are corner rooms that face the mountains and the 10th floor afforded us a beautiful mountain view. I will also add that we had the largest TV that I have ever seen in a hotel room.
The room itself is very comfortable, with ample seating and a cozy king bed. The temperature of the room could be controlled individually and the fan was very quiet. While the walls are surprisingly thin, we did not have any issues (I don't believe we had any neighbors).
The Hyatt Regency toiletries were lovely, featuring a "local" brand out of Mill Valley, California. I always test out the products at hotels and really enjoyed using these Aloe Vera infused products.
It's worth noting that no rooms feature true lakefront views, due to the direction of the building. However, the property offers a number of "cottages" that are lakefront, but they are across the street from the main tower and amenities. My recommendation if you are wondering what to book is to think about your priorities. In the winter, I would perhaps recommend the main tower: closer to the pool, spa and front desk. In the summer, if you're looking for direct beachfront access and incredible views, I'd recommend splurging on the cottages. We stayed in a double room cottage a few years back and loved it, but it was winter so we didn't get to truly enjoy them. I imagine in the summer that they are worth it.
The Hyatt Regency Lake Tahoe has quite literally everything you need for a great vacation. Given the location of the resort, the direct and private beach access is incredible. Lake Tahoe can get so packed on the weekends that it is almost impossible to get parking anywhere near a beach. The ability to stroll down from bed to the beach is an incredible luxury. They have full beachside service, including a casual snack bar and a bar at the end of the pier.
The property also features a wonderful heated pool and two hot tubs (one adults-only and one for kids) behind the main tower, with some of the most comfortable chaise loungers we have ever experienced. There is poolside service, as well as a pool bar/restaurant.
The spa is located adjacent to the pool and offers the usual treatments ($$$) as well as a day pass to access the spa facilities. We had the opportunity to check out the facilities and we really enjoyed them! The facilities are separated by gender and feature a cedar dry sauna, eucalyptus steam room, relaxation lounge and fabulous showers. We thoroughly enjoyed our spa time, moving between the facilities and snacking on dried fruits and nuts.
Next door to the spa is the fitness center, which was really impressive. It's difficult to motivate yourself to work out on a vacation, particularly if the gym is mediocre, lacking in views or missing critical equipment. While the gym did not face the outdoors, it had everything we needed to a perfect workout, including Peloton bikes! I almost wished I had gone to the gym both days just to do another free spin class. We were really impressed by the quality of the machines, how new everything felt and the selection.
For family travel, there is an arcade located on the lower level near the spa and fitness center, which is a great place to let the kids roam free.
Lastly, they offer a complimentary shuttle service that will take you within a couple of miles of the property. This is a great option if you're headed out to dinner, going on a hike or need a ride to the market.
The one thing to note about the facilities is that they do come with a hefty price tag in the form of a resort fee. I wholeheartedly disagree with the decision hotels make to implement these add-ons to the room cost and at a hefty $41 post tax plus the additional $10 for self parking and $22 for valet is no exception. However, at least the facilities are well worth it. The Peloton bikes, full service beach and poolside, etc do really add to the experience; but just just keep that in mind as you book.
The Hyatt Regency Lake Tahoe offers a number of options when it comes to dining, particularly in the summer.
Sierra Cafe is the main breakfast go-to restaurant. They have a great buffet for about $25 per person and includes an omlette station, pancakes, waffles, fruit, charcuterie, baked items, yogurts…essentially all the typical breakfast items. I find the buffet to be a great value and the food is delicious.
Lone Eagle Grill is their high-end steakhouse located directly on the lake. We did not get to experience it this time, but it's got stunning views and they have a great bar and live music. Outside, there are a number of firepits to relax at with cocktail at sunset.
The property also has a saloon that is open late and caters to the late-night and casino crowds. It's a very cool, well-themed restaurant and appears to have a lot of variety in terms of the food they serve (American, casual). They also have TVs with various games playing on them.
Seasonally, they have the pool and beach bars/restaurants as well as a great bar at the end of their pier. Lastly, there is a quick to-go spot, Tahoe Provisions, located in the lobby level for those looking for a quick snack or bite to eat.
Truly, there are endless options directly on property. For those looking to explore, the hotel is located very close to a number of other delicious options like Bite American Tapas, Le Bistro and a local pizza spot that is to die for. The local restaurants are accessible by the complimentary shuttle service that Hyatt offers within a few minutes of the hotel.
Overall, the majority of the staff we encountered were super polite, helpful and efficient. If you needed anything for the room or something was wrong, they responded immediately. They also have a handy messaging option where you can text the front desk. I tested this out and was met by a friendly agent almost immediately.
The only reason we rate the service on the lower side is due to consistency. Across departments, there is a lack of consistency. For example, the first day, housekeeping didn't come until 4pm. The next day, housekeeping knocked on the door at 8am on a Sunday. One front desk agent we encountered was a true gem, while the other was less enthusiastic to answer questions. Nothing was glaringly wrong or rude, it just was inconsistent. We particularly felt this in regards to the housekeeping. I am 100% positive that once the consistency issues are resolved, their service would be 5 stars across the board.
We love nothing more than a wonderful lodge-y style in a mountain town. We believe that the Hyatt Regency Lake Tahoe really excels in this area. The lobby is cozy and has a fire constantly roaring, while you are surrounded by the dark woods and stone accents. The rooms are lodge-y, but modern and fresh. Our Junior Suite had a cozy leather couch, a beautiful wooden wall panel and wood throughout.
Overall, we really enjoyed our stay at the Hyatt Regency Lake Tahoe. The close access to restaurants, shops, trails and hikes couples with the spectacular (and frankly unbeatable) beachfront location makes this a true gem in North Lake Tahoe. We highly recommend a trip to this resort property if you're thinking about a summer vacation in Lake Tahoe.
Pro tip: this is a Category 5 Hyatt, costing 20,000 points per night. Signing up for the Chase Hyatt credit card will land you 2 free nights at this resort.
Disclaimer: We were hosted by Hyatt Hotels on a media stay. Please know the opinions expressed are all our own and may not reflect the hotel's own views.