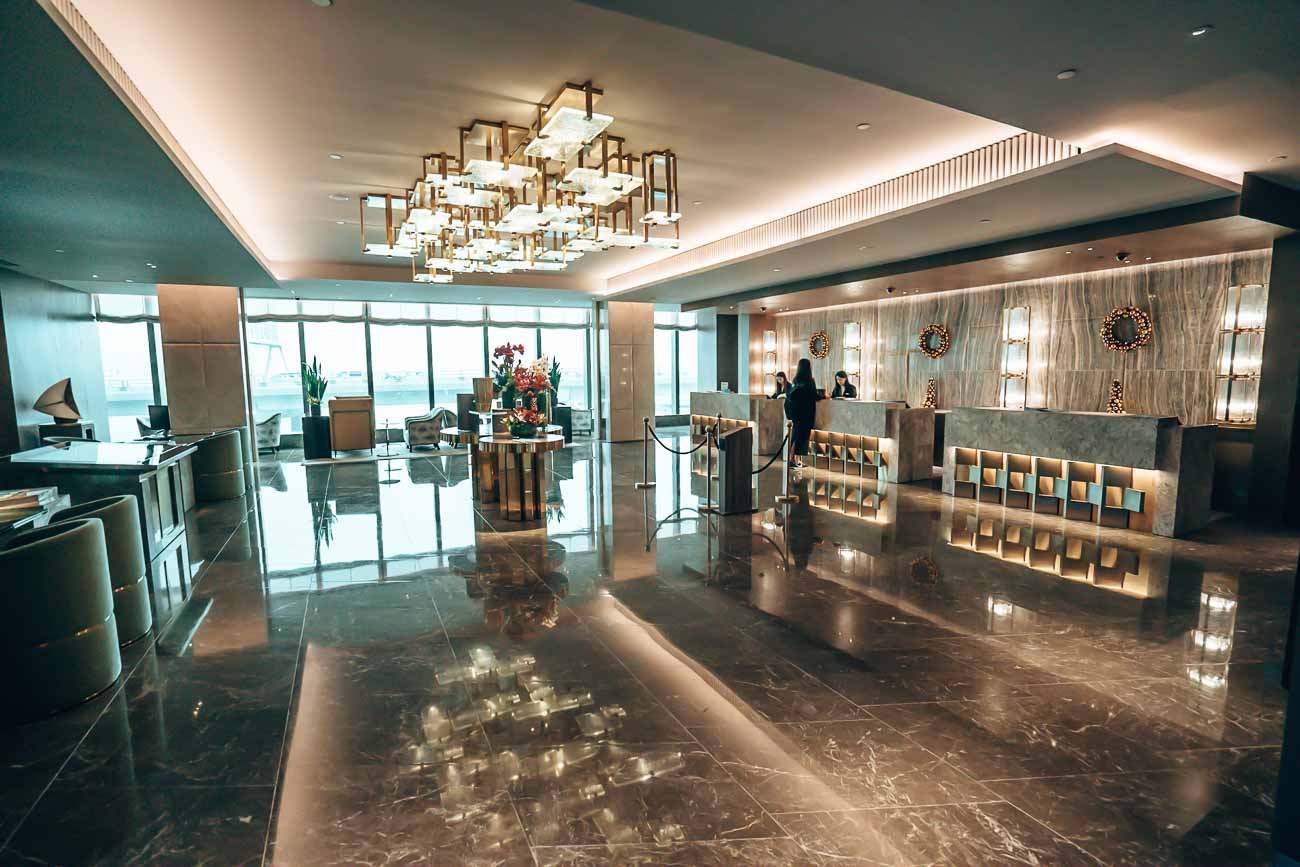 Last year, we ended up getting an incredible deal to the Maldives that happened to have a 3-night layover in Hong Kong. We were ecstatic to visit this incredible modern city. That deal ended up being on an airline that went bankrupt shortly before our flights and long story short, we ended up with an extra night in Hong Kong a bit last minute. I saw that the Hyatt Centric had just opened on the harbor in North Point and thanks to an error in Hyatt's system, I was able to book the highest suite type available at just 21,000 points. While our stay was short, we were able to take full advantage of our time on property.
North Point is a newly up-and-coming neighborhood in the Eastern side of Hong Kong Island. While it's located right next to a metro line, it is a ways out from the majority of Hong Kong's tourist destinations and shopping, making it a little bit tougher as a home base. It is located just a few blocks from the ferry to Kowloon, which makes it easy to get to the main shopping hub. While it states on the website that it is City Center, it should come with an asterisk.
Lobby & Check in experience: 5/5
Our very long flight to Hong Kong landed in the early evening and we quickly made our way to the Hyatt Centric in an uber for $45 USD. The ride from the airport is about 35 minutes. Upon arrival, we mentioned we are staying on the club floor and they immediately took us up to the Victoria Harbour Lounge for a private checkin. We happened to arrive right as their dinner service was about to end in the lounge, so the lovely guest service agent quickly sent us straight to a table to get food and drinks before they closed up the buffet. This experience was amazing. We were starving, craving a glass of cold champagne and ready to relax. She proceeded to check us in at our table and made sure we got seconds before they closed. After we ate, drank and enjoyed, she took us to our room from the lounge and showed us all the features and amenities. Overall, it was an excellent experience.
The next morning, we did check out the lobby and it is stunning. Situated several floors above the ground level, it overlooks the city and was fully decked out with Christmas decorations.
While we booked the second-largest suite type, the King Suite (room 2402), it was still only 150 square feet. Their largest suite, the Victoria Harbour Suite is larger, but still only at 183 square feet. The standard rooms are under 80 square feet. This can make an extended stay quite cramped if you arrive with a lot of luggage. Size aside, however, the rooms are spectacularly modern, elegant, quiet and clean.
The King Suite has a living room with its own full bathroom, closet, stocked minibar and TV. The bedroom has a TV, full bathroom and slightly larger closet. The finishings are incredibly luxurious: marble, gold, metals and soft fabrics to balance it out. The Nespresso and traditional-style kettle are an excellent touch. The bedding was high-quality and supremely comfortable.

Both bathrooms have massive rain showers, branded large bottles of soaps and all the standard toiletries. I do wonder in the post-COVID world if they, along with other brands, will revert back to single-use toiletries.
There is a club level at this Hyatt Centric that all suites have access to. Standard rooms also offer a club option and, in our opinion, it is 100% worth the upgrade.
Overall, it felt like no one had ever stayed in this room. There was absolutely no noise transfer between the walls and outside.
This Hyatt Centric has an excellent assortment of facilities that go way beyond my expectations for the brand. We have stayed at several Centric properties, but none have quite hit the mark like this one.
The property is located directly above a large mall, making it very easy to shop without leaving the air-conditioning. If you want to stay in the hotel, there is a rooftop pool and fitness center, complete with virtual reality equipment. The men and women's room have a steam, sauna and spectacular views from the locker rooms.
The club lounge offers a wonderful place to relax as well as the complimentary food & beverage offerings. Lastly, there is also room service.

The facilities available make it an easy win for business and leisure travelers alike.
There are four dining venues plus the club lounge on property. The Farmhouse serves breakfast, lunch and dinner. Cruise and the Cruise Terrace offer fine-dining for lunch and dinner. The deli offers to-go options throughout the day.
Given our short stay, we only enjoyed the food in the lounge and it was excellent overall. For breakfast, guests can choose from a large buffet as well as the omelette station and a separate Chinese style station. They then serve snacks throughout the day and a full dinner buffet in the evening, complete with complimentary alcoholic beverages. As I mentioned, the club upgrade is worth the up-charge.
From our limited number of interactions, we were impressed with every single person we encountered. The lounge staff was kind, thoughtful and really spent time talking to the guests and making sure they were comfortable and had what they needed. The lovely woman who checked us in started our stay off in the best way imaginable, but the next morning, we were just as impressed with the gentleman who made sure we had plenty of maps, directions and advice on where to go and when.
We also were blown away by the decorations in our room to celebrate our anniversary upon arrival. The thoughtfulness was much appreciated.
The style on property is modern and elegant. The designers of the property put a lot of thought into the finishings and it feels and looks incredibly luxurious. Despite the small size of the rooms, the mirrors, dark tones and plush furniture make it feels significantly larger. The hallways are dark, but not depressing and the main focal points are the lit up room numbers and art lines the hallways. Overall, we loved the style of this property.
Overall, our short stay was incredible. We were excited to experience this brand new Hyatt property and we were not disappointed. Our only recommendation is to book a suite as the standard rooms really are tiny. Next time we return to Hong Kong, I would not hesitate to stay at this Centric property again.