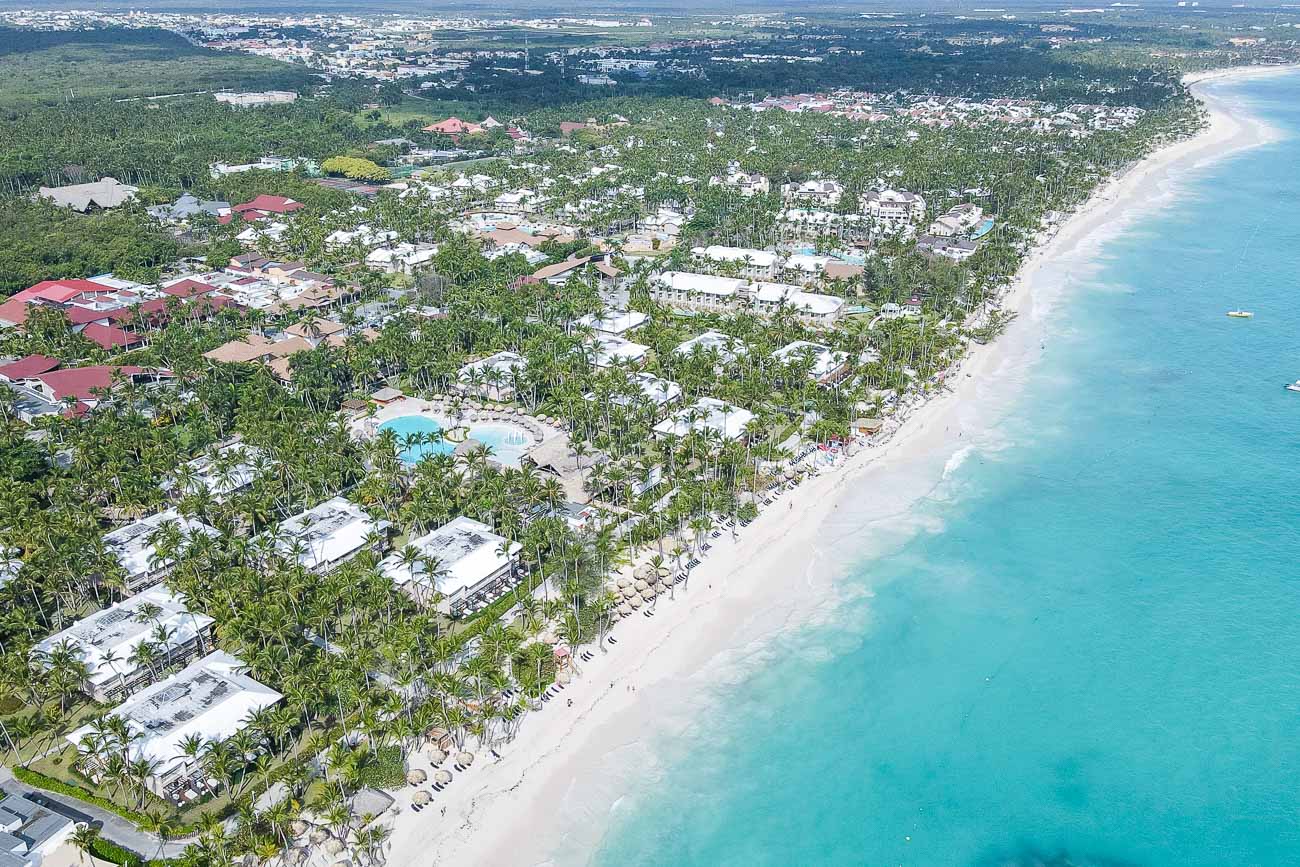 Max and I have spent a lot of time in the Dominican Republic during the pandemic. Before we jump into the review, I wanted to be very clear that while we are traveling during COVID and are lucky to have the experiences we do, we take our position very seriously and wear masks in all public places, including restaurants. Times have changed and hospitality looks very different now. We urge you to travel cautiously and only when you can be sure you are not ill. Please be aware of all state or local regulations for any destination prior to travel.
When Max and I were down in Bayahibe experiencing the new Hilton La Romana, we had a few extra days and booked the Grand Palladium Palace in Punta Cana, since it's been heavily requested by travelers who reach out to us from YouTube, instagram and the blog. We were excited to share with you all our experience and we scored an AMAZING deal, grabbing the Loft Suite Beachfront Panoramic Ocean View for $225 USD a night, all-inclusive. Read on to find out everything you need to know about the Grand Palladium Palace.
If you're looking at booking the Grand Palladium Palace, you might also be aware that there are a number of other properties with a very similar name, mainly Grand Palladium Punta Cana and Grand Palladium Bávaro. What you might not realize, and neither did we, is that all the properties are actually right next to each other and make up one giant complex with TRS Turquesa as well. They all fall into a line on Bávaro Beach, which is a stunning stretch of white sand and teal water.
One thing to note about the location is that this is one of the main hotel zones in the Punta Cana area. There are hundreds of hotels along the public beach and there is so much to look at. If you're into long walks on the beach, then this is the beach for you. In the winter/early spring, there is no Sargassum seaweed that devastates much of the Caribbean, but come the summer months, you start to see the pesky seaweed cover the beautiful beaches as the water gets warmer. We have some favorite properties in the Dominican Republic that is more protected from the nuisance that we'd recommend checking out.
Lobby & Check in experience: 4/5
When we pulled up to the main gate that is home to the several properties in this complex, we were directed to the Grand Palladium Palace lobby where we were quickly greeted with a VERY sweet beverage. While the line to check in was quite long and took some time, all parties were seated in separate sitting areas in the lobby to make sure there was no line at the desk for social distancing reasons and we were collected when it was our time to check in. After about 30-35 minutes of sitting there, they realized they still had not checked us in and found a supervisor who made a new space for us to check in. Marcelo at the front desk was very helpful and told us everything we needed to know about the hotel, what was open, what was not and some tips.
Here's where it gets interesting. We booked this hotel on the American Express travel portal (which is actually just using the Expedia backend). We were provided with red VIP bracelets, which allowed us to make dinner reservations upon check in for our stay. Guests with "normal" wristbands have to make dinner reservations each morning at the front desk and "fight" for the restaurant and time they want. When we later inquired at the front desk why we were given this bracelets (since it was not a media stay and we had no affiliation with the hotel or the brand), we were told it was because we booked on Expedia and this was a very important channel for them at this time, so they made sure to take extra care of the guests booking through this platform. While we never confirmed if this was truly the reason, it's not unheard of. Typically, this red wristband is reserved for guests who have stayed on property 10+ times and even then, it's only granted with management approval. Either way, we much appreciated the less stress around restaurant reservations.
Once we were checked in, we wandered our way to the building housing one of the few Panoramic Loft King Suites.
The property is unfortunately sporting a very dated style, with individual square buildings that house somewhere between 10-20 rooms each. The room itself is dated, but was a great size at 53 square meters. The Panoramic Loft Suite was the highest book able room type for our dates and came it at $225 all-in with taxes and fees. The room includes the lower floor, home to the bathroom with a tub/shower combination, double vanity and toilet as well as the king bed and a small table for two with a small balcony facing the beach. There is a loft with a sofa, TV and powder room.
I would 100% book this room type again because the standard rooms are not particularly private and typically sit directly on the walkways or face other buildings. The Junior Suite, which is the only higher room type, is on the first floor with a pool outside, but faces directly into the hedges and therefore does not afford you the same ocean view. The Loft Suite that was beachfront affords you the best view and also is significantly more private.
The rooms themselves are in much need of a renovation. The closet doors are incredibly difficult to open, the safe is a bit rusted, the bathroom was leaky and felt a bit dingy. To get into the shower, you have to climb on top of the very high tub and step down into the shower, making it a bit dangerous for older travelers or travelers with trouble with stairs. The tub also looked like it hadn't been cleaned, but when we actually ran our hand along the "dirty" parts, we realized it was actually just worn down. Overall, the lighting was a mix of blue and yellow, casting a dingy look on the room at night. However, that being said, if you're not planning to spend your entire vacation inside the room, it's got everything you need for a good vacation, including a free minibar, coffee machine, ample television channels and direct access to the beach. I also appreciated the loft space to have a separate area to work in the room – I don't like sitting and working on the bed. Since the room is away from the main pool, it's also much quieter.
As mentioned previously, the rooms and much of the property is very dated. The pool area at the Palace is small and not on the ocean, but they do play music all day and serve drinks to pool guests. We prefer the beach anytime we are on vacation and they do have beach chairs. Guests do have to pick up towels at the pool are and bring them to the beach. There are a couple of beach bars as well so guests can go and order drinks at the bar.
Most of the restaurants and the fitness center and spa are, however, brand new. They are shared assets between TRS and the other Grand Palladium properties and they are beautiful, clean and feel very new. We really enjoyed these areas of the resort and hope that over time, the properties will be renovated as well to match the look.
At the time, there was not much in the way of nightly entertainment. One night, they played music videos off the TV in the lobby. However, the next night they did have a band singing on the lobby stage and that was very fun.
The Grand Palladium Palace shares a number of restaurants with its sister properties. Due to COVID-19, the occupancy was pretty low all around so the restaurants were open on a rotating basis with 2 open per evening and only the buffet running for breakfast and lunch. TRS Turquesa does offer its own restaurants but guests from any Grand Palladium properties do not have access to their restaurants, however, they have access to the Grand Palladium properties' restaurants.
During our stay, we were able to try the Hibachi at Sumptuori, Mexican served at Poseidon and the Indian restaurant, Bhogali. Overall, we enjoyed our dinners. The only bummer was that Posiedon restaurant does not offer any cocktails so you cannot order a margarita, but you can order beer and wine. The wine was very free-flowing, so not the end of the world ;).
Breakfast and lunch were served at the buffet. The buffet is open for self-serve, but they require guests to wear a glove and a mask when walking around. Most people did follow the rules and many were corrected when they did not follow the rules. However, I did see at the juice stand that guests were pulling their masks down to smell the juice so we skipped juice for a few days- freaked us out a little too much.
Since the other Grand Palladium properties were closed at this time, there were no restaurants open outside of the Palace resort property. They did have a little taco truck open outside the main lobby that served very good tacos- we highly recommend it.
Overall, the lobby bar, since it was the only bar open, was the only reference we had for cocktails. The cocktails overall were, frankly, not good. However, we saw most people drinking wine, beer or gin & tonic. The Gin & Tonic was fabulous! It is served in a large stemmed glass with a dehydrated orange slice. That was by and far the winner and we weren't the only ones who thought that, based on how many people we saw who had them. We tried a large variety of cocktails and they were just…not great.
Overall, the food was quite good and we would 100% recommend the gin & tonic.
The service experience at the Grand Palladium actually really did surprise us in a great way. We've stayed at several hotels along Bávaro beach that all had something in common: lackluster and jaded service by staff, particularly restaurant and front desk service. I would say we had the exact opposite experience here at the Grand Palladium Palace. We were welcomed warmly by staff, the restaurant employees were kind and service-oriented, and generally speaking, the service made us feel comfortable and safe. Over the last few years, I've received many questions asking if I feel safe at hotels in the Dominican as a woman and I can't always say that I do. However, there are many brands that I trust in Punta Cana and Grand Palladium is now on that list. I was never looked at funny or as if I were a piece of meat, which many of you can appreciate. I walked around myself a lot and was 100% comfortable doing so.
The restaurant staff were very focused on providing great service to guests, always being there to refill your glass and make sure you were having a great time. Due to COVID-19 and low occupancy, there was only one bar open: the lobby bar, and the staff there worked very hard to make sure every guest had a drink, was happy and had a smile on their face. There were also an incredible amount of staff there in general so you truly did not have to wait very long.
One of the areas that is a bit of a bummer is around the rules for restaurant reservations. We were lucky with our VIP bands and were able to make reservations with Marcelo's help right off the bat but it is important to highlight that having to make reservations day of can add a lot of stress to your vacation.
One note, watch out for the employees in the lobby with the light blue Travel Club shirts. They are very aggressive and do not leave you alone. They will try and rope you into a presentation – if you don't want to be bothered, say no thank you and move on.
The style of the restaurants are amazing- great, new, clean and include a lot of natural lighting, where applicable. We do hope this is the future style of the entire property because the current facilities, buildings and rooms are dated. There is a lot of potential at the property and for guests who are not spending all day and night in their rooms, the style of the new facilities might be just what they're looking for.
Overall, we absolutely recommend this hotel, particularly if you can get a great deal. We received a lot of questions around the different hotels in the complex, and I'd say our favorites, in ranked order are:
TRS Turquesa
This hotels offers the most access to restaurants and amenities, since the hotel has a number of restaurants that no other properties can access. Turquesa also has the Royal Suites that we were told were closed at the time.
2. Grand Palladium Punta Cana
This appears to be the newest property in the complex with new swim up suites and well-positioned buildings
3. Grand Palladium Palace
The Panoramic Loft Suites are definitely the winner, though dated
4. Grand Palladium Bávaro
This is the oldest property and is in dire need of a renovation
COVID-19 Safety Rating: 4/5
Overall, Grand Palladium as a whole did a great job with COVID-19 precautions. Guests were temperature checked upon arrival and they offer free quarantine if guests test positive before their departure. They also offer free antigen testing onsite for guests traveling back to the USA.
They provide guests with masks upon arrival and masks are required in public areas on property and when interacting with the staff. Hand sanitizer is plentiful and all staff wore masks at all times.
The buffet was open and was a little different than most buffets we experienced during COVID. Guests serve themselves wearing a glove and a mask. I was slightly uncomfortable, though to no fault of the hotel. It was overall well run and pretty sustainable. I would skip the juice bar as people seemed to pull their masks down to sniff the juices before deciding. Gross.
In general, great job to the Grand Palladium – the staff were excellent and we felt incredibly safe.