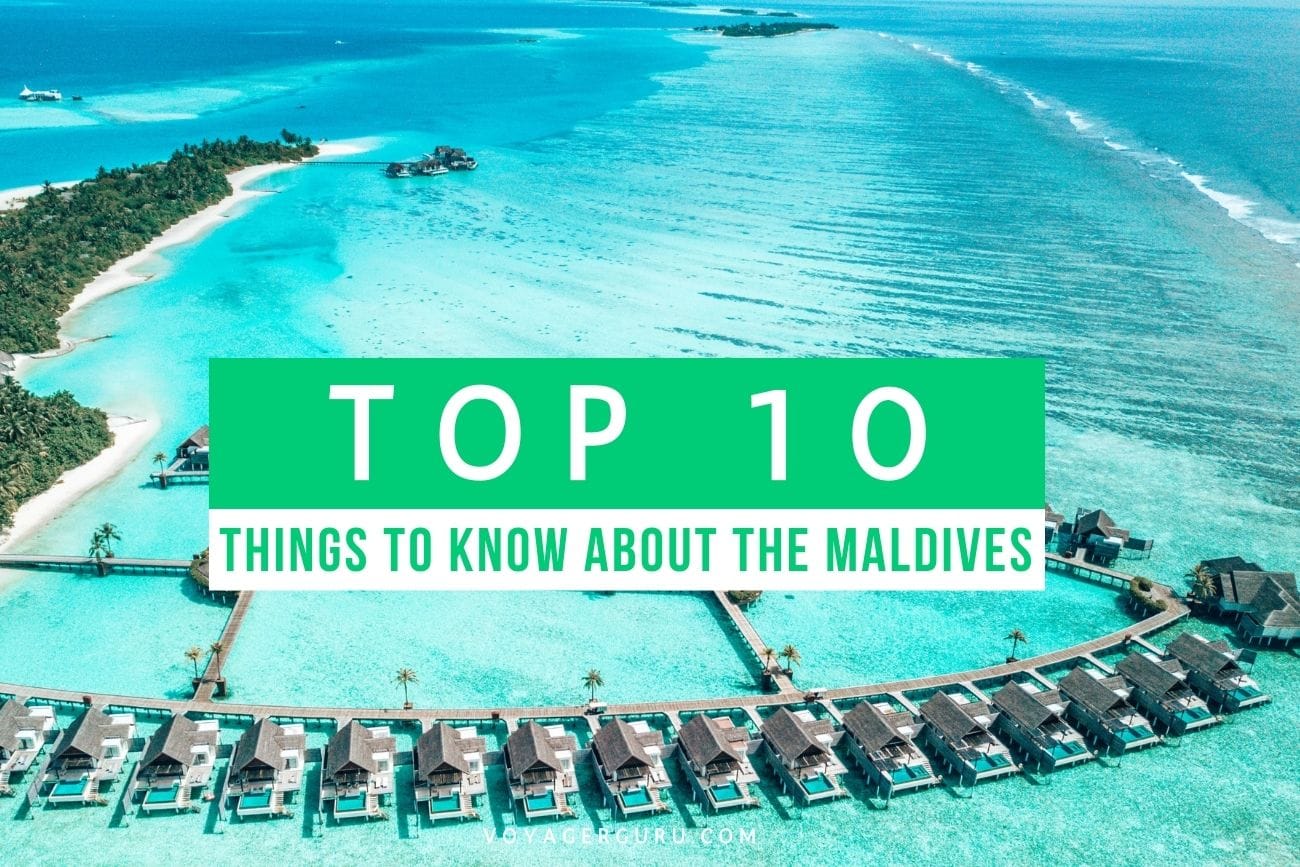 The Maldives is a huge country made up by hundreds of tiny little islands in 26 atolls. While most people assume the Maldives is super remote and far from everything, it's actually located just a few hours from the coast of India, Asia and the Middle East. It's the dream destination, the ultimate honeymoon and one of the most beautiful beach destinations on this planet. However, it can be a very overwhelming trip to plan for so we've compiled the top 10 things you need to know before you book your vacation to the Maldives.
1. Where is the Maldives?
The first thing to know about the Maldives is where exactly it is located. The Maldives is just south of Sri Lanka and India. Many travelers have coupled a vacation to Sri Lanka with a few days in the Maldives, as it is only about 3 hours from the coast. The Maldives is easily accessible from the Middle East (Qatar and Dubai) as well as Asia (Hong Kong and Singapore). Often times, the best flight deals will be booked via Qatar or Hong Kong or even Turkey. If you're having trouble finding a good deal, trying breaking up the flights and looking at tickets round trip into one of the major hubs, like Hong Kong or Dubai, and then looking at round trips from that hub to Malé.
The other thing to note is that there are actually two international airports in the Maldives. Velana International is located in the capital, Malé, however, there is a southern international airport in Addu City, Gan International. While flights are less frequent or commonly found into Gan, this is a great airport to access if you are planning to stay at some of the southern hotels.
2. Best time to travel to the Maldives
Let's be real, there is no bad time to visit the Maldives. November-April are going to be the most popular due to the hotter and less humid/wet weather and the vacation schedules for Europeans and Asians. Prices will often be much higher during this time since it is the most popular. May-October are the "rainy" season, and from our experience, that means it will often rain a few minutes each day. While, yes, of course it can rain more, we find May-October to be a wonderful time to visit due to lower prices and less tourists. Holidays like Christmas, New Years and Chinese New Years will be the most expensive and difficult times to secure a booking, whereas the spring and fall will often have wide open availability.
We were in the Maldives over Christmas in 2019 and we did get some rain, so I would not base your booking on weather alone. This is the case for any travel you do, but in particular, the Maldives popular high season is not simply based on weather. It is based primarily on the vacation schedules of its tourists. There truly is no bad time to visit, and in fact, if you surf or do wind sports, the off-season is when you will have the most consistent good days for those sports.
3. Arrival and Departure flight times are crucial
While on some vacations your arrival or departure times don't really matter because all you have to do is get to your hotel via taxi or car, arrival and departure times in the Maldives can make or break your trip. It is critical to pay attention to your flight schedule for a few reasons. Since the Maldives is a country made up of many islands, your transfers include sea planes, regular planes and boats. If your transfer to the hotel is via sea plane or boat, those hours are pretty limited to daylight. Planes are a little bit of an exception, but they also operate on somewhat limited hours. If your flight is set to arrival around 9pm or 10pm as many do, you will need to spend one night on Malé before transferring to your hotel. The best arrival times are early morning to ensure you are able to catch the first transfer out to your hotel.
Departure flights are either going to be late at night or early in the morning. The best flight departure are in the late evening, so you can spend the entire day at the resort. Keep in mind, that most transfers will not depart after 6pm or so, so you will spending some quality time at the airport. However, this is significantly better than departing in the morning because in that case, you'd like have to spend the night in Malé before leaving. If you are not certain about what options are best for you, contact your hotel and determine what the latest, or earlier, transfers are.
4. How to find hotels in the Maldives
Finding hotels can feel quite overwhelming – where do you even start? The great thing about the Maldives is that there is truly something for everyone. Big brands like Marriott, Hyatt and Hilton offers great experiences where loyalists can earn or spend hard earned points, but there are also dozens of 5-star brands that you may never have heard of. My favorite thing to do is to search on trivago.com . Trivago aggregates all the major booking platforms and displays every hotel available on the internet and the prices related to each of the hotels across different platforms.
My recommendation is to search for "Maldives", your desired dates and then filter by 4 and 5 stars. You'll start to see a long list appear:
From there, I will open new tabs with my favorite hotels and then review their TripAdvisor pages and hotel websites to narrow down my choices.
The other ways to find hotels are through membership sites like Costco Travel and Luxuryescapes.com (free sign up). If you've read some of our other blogs or watched our videos, we've talked about Luxury Escapes before. They often have few, but incredible, deals on Maldives hotels that will include transfers, room upgrades and more.
5. How to book hotels in the Maldives
Now the fun stuff: booking your hotel. We're typically proponents of booking direct whenever possible because they usually have the best deals. This is often true in the Maldives, where booking directly with the hotel will provide you with great additional benefits like late check out, a better room selection or more.
Now, one of the critical things to keep in mind when booking are the transfers. Booking direct OR through a site like luxury escapes that explicitly includes transfers is critical in the Maldives. While in other destinations, we say you can get great deals on the third party booking sites like Booking.com or Hotels.com, the Maldives is the one place I would really recommend thinking twice before booking on an OTA (online travel agency).
The reason for this is Expedia and booking.com simply do not understand that concept of the mandatory transfer. If you book through the OTA, you may see the "full price" and think that's it or think that the hotel will automatically contact you about the transfers, etc. However, you're typically not getting the full picture, or the full price. When you book direct, the hotel has access to your email and full booking information and typically include the cost of the transfer towards the end of the booking process. They will be able to contact you and schedule your transfers directly with you, rather than going through the third party. If you do book on an OTA, keep in mind that you will likely need to contact the hotel directly and do expect to pay them direct for your transfer.
6. Transfers & Timing of transfers in the Maldives
Ahh…the topic of transfers. This is one of the critical pieces that is very different in the Maldives than most destinations around the world. Transfer companies, methods and timing is a very difficult piece of your vacation to manage if you are not sure where to start. Don't worry, we're here for you :).
There are a few ways to transfer to hotels in the Maldives: boat, plane or sea plane. Depending on the distance from Malé, your hotel may offer a boat transfer. Boat transfers are often less expensive than flights and have more flexibility around hours of operation.
Planes are the next level. Domestic flights operate all over the Maldives and many hotels utilize this option. A domestic flight will take you from Malé to a local airport and then you will be either taken by bus to your hotel on that island (like at the Mercure) or taken by boat to your hotel (like the Residence). Domestic flight transfers range a bit in price, but typically fall somewhere in the 250-500 range).
Sea planes are the "quintessential" transfer in the Maldives and they operate small charters that fly between Malé and stop along the way at various luxury hotels. Some hotels, like Soneva, have their own sea plane that flies only between their properties and Malé, but most operate via Trans-Maldivian or Maldivian Airways. Each hotel has an agreement with one of these seaplane companies and the cost and booking is handled directly via the hotel. The advantage to that, apart from not having to deal with it yourself, is that if you book a brand like Hyatt, that cost goes on your bill, earning you valuable Hyatt points. Sea plane transfers are typically the most expensive, ranging from $450-800 per person.
One thing to note, particularly as it related to sea planes, is if you are planning to visit more than one hotel in the Maldives, whenever possible, try to book hotels that utilize the same transfer service. If you coordinate in advance and get lucky, you may get to skip the flight back to Malé and instead get transferred directly to your next hotel. This is a HUGE advantage, because the transfers back and forth to Malé are time consuming. You can see what hotels are operated by each airline on their websites.
7. Beach v. Water Villas in the Maldives
One of the most difficult decisions you will have to make are whether to choose a beach villa or an overwater villa. I know, tough life. But really, this is important. People always ask us what our preferred room type is or assume we will always pick the overwater villa, but that's not necessarily true. Not all overwater villas are created equal. Some hotels will offer overwater bungalows, but they will be smaller and darker than their beach villa counterparts or simply not over desirable water. Sometimes, the beach villa is significantly nicer, larger, with access to gorgeous sandy shores and blue water with a bathroom the size of the room itself. We have stayed at properties before where we have actually moved rooms due to the overwater villa being far less appealing. For example, one overwater hut we stayed in, you could actually not swim from the balcony due to the grassy bottom and six inches of water. We decided it was much more pleasant to stay in a gorgeous beach villa that accessed pristine teal water AND had a private pool.
If you're looking at two different hotels and wondering which one to choose, it may just come down to the room type. What rooms are you looking at? What are the amenities available? How big are they and do they have the location over water or on the beach that you are looking for?
Our recommendation is to google the hotel on Google Maps and click over to the satellite image feature. From there, you will be able to see what the water looks like for the overwater bungalows and what the beaches look like for beach villas. Some hotels have nothing but teal blue water, while others may have some grassy or coral features in the water that may not be what you are looking for.
8. Additional costs to plan for
No vacation is complete without those added costs, am I right? ;). Whether you are looking at an all-inclusive or an a la carte hotel experience, it's important to keep in mind any extras you should expect to pay. One thing that may help you choose your hotel, particularly if you are deciding between two properties, is the cost of the food. We have found that it really depends on the hotel, but the cost of food and beverages range from surprisingly reasonable all the up to just absolutely outrageous. The same logic applies for activities and spas. Some hotels are super reasonable, while others are just straight-up shocking.
Our recommendation is to review your hotel choices' websites for information on activities, spa pricing, food & beverage options and cost and transfer costs. If the hotel does not list their pricing, head to TripAdvisor and you'll quickly discover how people felt about the cost of extras. For example, one of the all-inclusive hotels (Heritance) we stayed at had exorbitant prices, even for the Maldives. While the all-inclusive experience was incredible from a dining perspective, it truly blew our minds that the activities were just THAT out there. TripAdvisor reviews feels the same way:
If you are unable to locate the food menus on the hotel website (which is often the case, or they mask the prices), google the hotel name + "food menu" and you can often find menus posted to flyertalk forums or TripAdvisor. For example, I did a quick google search on "W Maldives Food Menu" and found their options, which are quite a bit higher than some travelers might expect.
One thing to note is if you are between two hotels and the room costs are comparable, consider investigating deeper into the cost of the extras. Is one hotel offering free breakfast? That reduces your daily cost. Is one all-inclusive? that reduces your cost SIGNIFICANTLY. Does one hotel offer $150 massages and the other offers them for $425? That's a cost as well. Consider digging deeper into the add-on costs to get a complete picture of the true cost of your vacation.
9. It's a conservative Muslim country
Something that is not often discussed is that the Maldives is a conservative Muslim country that is governed by Islamic law. Oddly, it's something that is strangely hidden from view upon landing at the Malé airport. You may notice that very few women have hijabs, or head scarves, at the arrivals terminal. However, step foot outside of the airport and you'll see that every woman is covered. So what does this mean? Nothing really for your luxury vacation. However, it is important to know for a few reasons. One, the cost of alcohol is taxed enormously at 25%. Also, you will not find any alcohol in Malé, at the airport or in the airport lounges. No mimosas for you as you wait for your transfer ;). Drinking alcohol is not allowed on the main island and you won't find any liquor in the duty-free, either. Alcohol is also not allowed on local islands, either. The only alcohol you will find is at your resort hotel on the private island.
Similarly, if you do happen to be going to a local island, it is our recommendation that you dress appropriately. For example, we stayed one night on Malé after a late arrival and I did choose to cover my shoulders to be respectful of the local culture and regulations. On local beaches, bikinis are not allowed, and in fact, tourists have been arrested for not following the law in the past. This is not a problem on your private island resorts, but it's just something to know.
10. Is the Maldives right for you?
The last thing to know before you book is if the Maldives is right for you? Here's what the Maldives is not. The Maldives is not a cultural immersion or a place you can go and explore and "be one with the locals". The Maldives IS, however, a private, secluded luxury experience on pristine blue waters and gorgeous sand. It's safe, quiet and there truly is a hotel for everyone. It's critical to pick the hotel that's right for you, because, frankly, you will be stuck there. Apart from some hotels that offer excursions to local islands on occasion (though, not during COVID-19), you really don't have anywhere to go. It's important to understand what your dining options are, what's included in your booking package and what activities you have access to and the cost. If you're the type of person that gets bored on a beach vacation, really think about what you need to do to have a good time in the Maldives and find the hotel that is best for you. Perhaps it's something like the new Crossroads complex, that involves multiple hotels, a marina and a shopping mall. If you're the type of person that doesn't want to even run into another guest, consider the Milaidhoo resort where Max and I only ran into one other couple.
In conclusion, the Maldives is really an incredible destination. There is a lot of planning that goes into a trip to the Maldives and we know it can be overwhelming. Hopefully, these tips will help guide you in the right direction, enabling you to book the vacation of your dreams. Do you have questions about specific resorts or need help finding pricing of activities, etc? Reach out in the comments below or shoot us an email and we'll be happy to look it up for you!