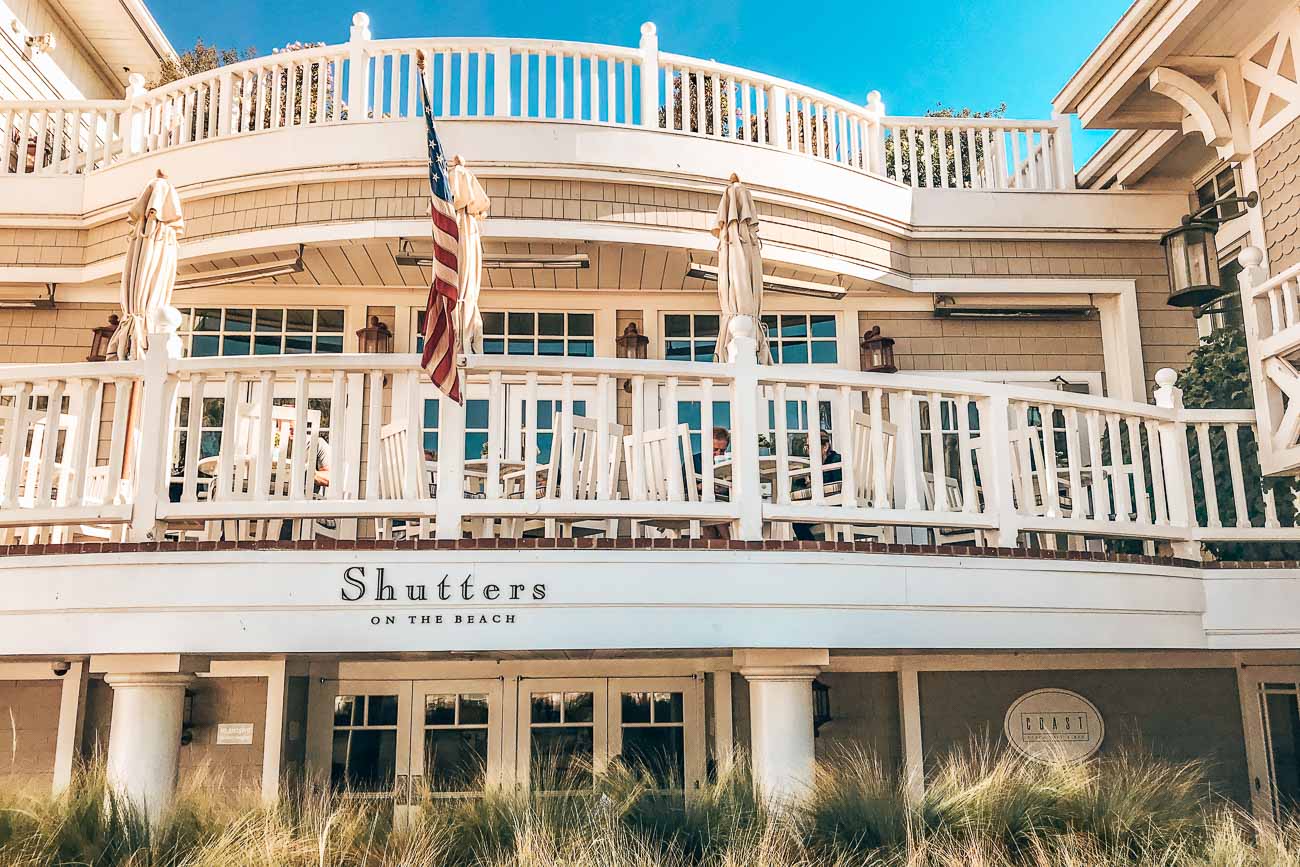 Ten years ago, I stayed at Shutters on The Beach in Santa Monica when I was looking at colleges with my mom and I've been dreaming about going back ever since. Finally, I got my chance this past weekend and it exceeded my expectations.
Located directly on a pristine stretch of beach in Santa Monica, the moment I pulled into the circular driveway of Shutters, I felt relaxed.  A ten minute walk from the Santa Monica pier and a $5 Uber ride to Venice, you are in a perfect spot to explore the Los Angeles area.
If you plan to travel to West Hollywood, Beverly Hills or other surrounding areas, just keep in mind that LA traffic is no joke and it can take anywhere from 20 minutes to over an hour.
Lobby & Check in experience: 5/5
I was greeted immediately by a bellman dressed in a nice vineyard vines button down and khakis who took our luggage. Entering the lobby felt like I was walking into the most cozy living room in the world with ample seating, bar and outdoor terrace facing the ocean.
Check in was quick. We had booked using American Express Fine Hotels & Resorts which gives you perks such as free breakfast, spa credit and an upgrade, if available.  Unfortunately, no upgrade was available that weekend and Marco at the front desk sent up a bottle of sparkling wine, which was a nice gesture.
He also explained the other benefits available to all guests on property which includes morning coffee/tea in the lobby and free bike rentals. Definitely take advantage of this- the boardwalk is gorgeous, long and you can bike forever.

After we checked in, we headed up to the room.
Just like the lobby, the rooms are cozier than any bedroom and each room comes with a big jetted tub in the bathroom. Little touches like books on the bookshelf, trinkets and even a yo-yo make you feel immediately at home. We shared a room with two beds and it was large enough for the two of it. The balcony is small but adorable and we did have a partial ocean view when sitting on the balcony.
Upon walking into the room, there is a large bathroom with a separate shower, jetted tub and nice vanity.  Above the tub, you'll find a number of items you can purchase directly within your room like sunscreen, toiletries and …other more intimate items ;).
There are also two plush robes and slippers, which I will always be happy to see.  Lastly, the toiletries provided are Malin + Goetz and are excellent.  You're provided with the standard: shampoo, conditioner, body wash and moisturizer.  They were replenished each day.
The bedroom has two large beds with overstuffed pillows that face a gorgeous bookshelf and flatscreen TV. Just FYI, the TV does pull out of the wall so it is easier to see than when it is tucked into the bookshelf.
The first two mornings, we were out early so I never noticed that we didn't have a keurig in the room but suddenly on day 3 it appeared after housekeeping. Not sure why, but regardless, I was happy to see it. They provide decaf and regular coffee pods.

While you can tell that some work needs to be done to update the rooms, it never felt "old". You can tell, however, that the wallpaper in the bathroom could use a refresh.
The most important part of the room experience for me is quiet.  While you do hear street noise, the walls are well insulated so you cannot hear your neighbors.  This is vital for me when judging hotel rooms and Shutters passed the test.
Shutters has a number of excellent facilities ensuring that you don't have to leave the property at all if you don't want to.
The lobby bar has live music and delicious beverages for a casual evening.  Above the lobby, you'll find a nice pool with ample lounge chairs open all day.  One Spa is small but has a variety of treatments ($$$) and one of the best pedicures I've ever had. I have never used the fitness center since the Santa Monica boardwalk is a perfect place to exercise, but I have checked it out and it offers enough equipment to get the job done.
The facilities are well managed, clean, gorgeous and if I hadn't had plans this past week during my stay, I would have just slummed it at the pool the whole time.
Given the location of Shutters, it's impossible to go wrong with dining on property. Not only is the view incredible, but the food at each of the restaurants is delicious. Breakfast at Coast on their patio is a must and an afternoon drink at the lobby bar patio is a must as well. I did not have a chance to experience 1 Pico this trip, but have heard the food is fantastic and the wine list is even better.

The lobby offers complimentary tea and coffee each morning and I did try the coffee. I usually don't like most hotels' black coffee but theirs is excellent.
In the evenings on Wednesdays through Sunday, the hotel sets up a buffet style table in the middle of the lobby from 5-9. I did think it was complimentary when I walked by one night but you do have to pay for it, I found out later. Regardless, the spread is very nice and it's a nice complement to the bar menu.
I have to mention the minibar because it's one of the things I love most about a hotel stay and sadly many hotels are getting rid of this feature. However, the minibar at Shutters is fully stocked and actually decently priced. You can get 2 glasses of wine at the bar for about the same price as a half bottle of Rosé in the room. Housekeeping also stocks the room with wine, champagne and short glasses.
I am often overwhelmed by how incredible a hotel itself is and then the service disappoints me and ruins my picture-perfect view of the property. However, Shutters excels in this department. Every staff member is pleasant, professional and kind. They are willing to help before you even ask and will do their best to make anything happen that you need.
The first time I experienced this was during check in when Mario sent up a bottle of wine without us asking for anything. This trend continued throughout our stay.
Housekeeping was timely and came twice a day. When we called and requested anything, the items came up within minutes.

The attentiveness is a skill that is difficult to acquire and almost impossible to sustain but it seems that Shutters is just very well run.
Overall, I am glad that my expectations were exceeded. I had dreamed of returning to LA after my first couple stays here many years ago and Shutters still remains at the top of my list of Favorite US Hotels. The service, rooms, amenities and location are unbeatable in the LA area for me.
What's your favorite LA hotel?